I have always been amazed by the wrong or right CEO's impact on a company's fortunes and stock price. That one person in a 10,000 person plus organization can change a firm's prospects for good or ill always seemed a bit illogical to me. A corporation is not an entity like a basketball team where a Lebron James can make any team an instant contender. That being said, it is quite something when the right person can be such a change agent on the sentiment for a stock.
Marissa Mayer's appointment to head Yahoo (NASDAQ:YHOO) is a perfect example of this. The stock has been a market laggard for years and a succession of CEOs had been unable to turn around the one-time internet juggernaut. Since the one time executive from Google (NASDAQ:GOOG) came over to lead Yahoo in July, the stock has been on fire. The company successfully monetized a 20% stake in Alibaba in September which was already in progress for some time. The new leader has said all the right things to investors about the future direction of the company. She has talked about the need to improve the customer experience, make strategic acquisitions and change the culture of the company (ex, no work at home). The stock has had a huge run over the last six months as a result (see chart). I would rate the stock as a hold given its recent outperformance but it will be interesting to see if Yahoo can continue its momentum.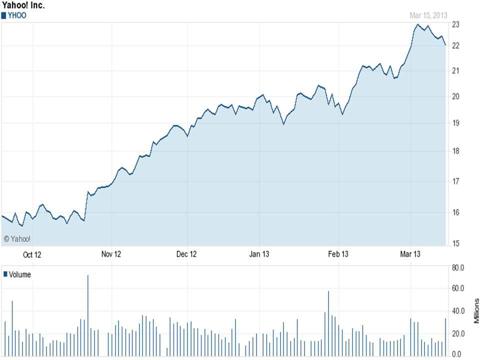 So what other market laggards will benefit from new leadership and reward investors like Yahoo? Here are a couple that might show their beleaguered shareholders some hope.
Newmont Mining (NYSE:NEM) Corporation produces gold and copper from its assets located in the United States, Australia, Peru, Indonesia, Ghana, New Zealand, and Mexico.
Management change: The company's COO took over for the previous CEO who had run the firm for five years starting in March. The new CEO had 30 years of experience at Rio Tinto (NYSE:RIO) prior to moving to Newmont as Executive VP in 2011.
4 reasons NEM offers solid value at $40 a share:
The stock is cheap at just over 8x 2014's projected earnings.
NEM yields a juicy 4.3%. The company initiated a dividend policy that links the company's dividend to the price of gold. If gold was to go to $2500/ounce, the payout would be approximately $4.70 a share from $1.70 now.
Newmont should grow revenues by some 5% this fiscal year but analysts expect revenue growth to accelerate to just under 15% in FY2014. 80% of the company's current sales come from geopolitically stable regions (North America, Peru, Australia/New Zealand).
The 20 analysts that cover the stock have a median price target of $51 a share on NEM, over 25% above the current price.
VeriFone Systems (NYSE:PAY) designs, markets, and services electronic payment solutions worldwide.
Management change: Richard McGinn took over as interim CEO for much reviled Doug Bergeron, who has been CEO since 2001. A series of management changes has just been announced while the search for a permanent CEO continues.
4 reasons PAY could be a great turnaround play at $20 a share:
The previous CEO had lost all confidence of investors with the last set of dismal earnings results. Susquehanna has already upgraded the shares to "Positive" from "Neutral" following the ouster. It also raised its price target from $20 to $25 a share. Look for other analyst firms to follow suit.
The stock trades at under 9x 2014's projected earnings, insiders are hold onto their shares and Verifone could make an interesting M&A target (Susquehanna).
The stock sells near the bottom of its five year valuation range based on P/E, P/B, P/CF and P/S.
Growth is expected to resume in 2014 on an upgrade to accommodate smart cards and analysts project a better than 6% sales increase in FY2014. The stock also sports a small five year projected PEG (.41).
Only time will tell, but just maybe these management changes are what these two market laggards need to reverse their long term underperformance against the overall market (see chart) and reward their long time shareholders.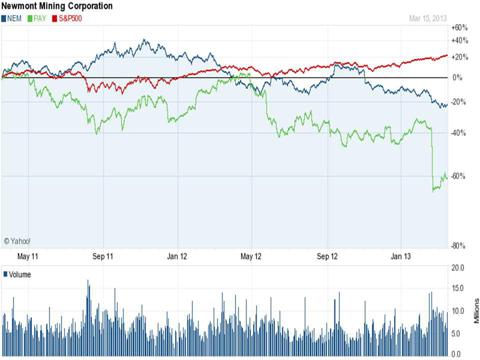 Disclosure: I have no positions in any stocks mentioned, but may initiate a long position in NEM, PAY over the next 72 hours. I wrote this article myself, and it expresses my own opinions. I am not receiving compensation for it (other than from Seeking Alpha). I have no business relationship with any company whose stock is mentioned in this article.