With negative EPS and a Market Cap of $125 Billion, Amazon (AMZN) seems on its face to be incredibly overpriced. However, I don't think this is the case. After taking the time to look at the facts a little closer, I'm fairly confident that shorting Amazon is a bad idea.
Amazon Can Undercut Wal-Mart
Amazon's business model involves pricing all of their merchandise as close to cost as possible. Since Amazon does not have stores, they are able to save millions over their competitors. By housing all of their merchandise in "Fulfillment Centers" and taking advantage of bulk shipping rates, Amazon is able to optimize the sales process, while at the same time passing tremendous savings onto the consumer. Although Wal-Mart (WMT), Target (TGT), and other major retailers sell online, it is not possible for them to benefit from the approach that Amazon has taken.
"Walmart has failed to keep up with the innovation, and now other companies are successfully changing consumers' behaviors in a way that is slowly killing the world's most famous retailer." (DailyFinance)
Amazon Prime: A Near Term Liability, That Has Huge Long Term Potential
Amazon Prime currently costs $79 per year, and grants consumers access to Amazon's library of Streaming Media content, and free shipping on "Prime fulfilled" goods. For price conscious consumers, who are frequent Amazon customers, and are currently using a service such as Netflix or Hulu that costs $100 annually, Amazon Prime makes sense. I suspect the "Kindle Fire" is being used by Amazon as a promotional tool for Media content, that is aimed at all frequent Amazon users, that are currently paying for an alternative "premium" streaming platform.
Furthermore, CIRP's market research found that the average Prime member spends $1224 annually on Amazon compared to $505 for non-Prime customers. If we assume Amazon goods cost an average of 10 percent less than Wal-Mart, the average Prime user is saving at least ($122 - $79 + $100) = $143 Annually
Amazon's Fulfillment Centers
"Fulfillment Centers" are essentially logistic center warehouses. Since Amazon has removed brick and mortar stores from its equation, they are able to optimize the distribution of their merchandise, and sell many commodities at very close to cost, with every item becoming a potential loss leader.
Although Wal-Mart and other major retail outlets also sell products online, it is impossible for them to compete with Amazon's "Prime Fulfilled" free two day shipping (including free returns) or the "roughly at cost" pricing that is offered.
Amazon has been rapidly expanding its fulfillment center network, securing warehouses in multiple countries. By doing this, it is able to grow its "Prime" user base and sell more units of its products, resulting in even further reduced costs, and additional savings to its customers.
Amazon Add on Program
Amazon is able to use its knowledge of consumer buying habits to incentivize the pairing of certain goods. Whenever a "Prime" user buys two or more products at one time, Amazon's margins also benefit.
"The new Add-on program allows Amazon to offer thousands of low-priced items that would be cost-prohibitive to ship on their own. We've kicked off the Add-on program with thousands of new Add-on Items, and we're adding more each day. Add-on Items ship with orders that include $25 or more of items shipped by Amazon, and you can get them delivered to your doorstep with free shipping." (Amazon)
Kiva Systems Acquisition
Since Amazon doesn't have stores, most of its capital expenditures go towards building, maintaining, and tooling, their fulfillment centers. Last year, they bought Kiva Systems, a warehouse automation company for $775 million. If Amazon can successfully automate its fulfillment centers, I suspect it will experience very material earnings growth long term.
Conclusion
I don't believe Amazon is a bubble. Their business model makes sense, but only if you look at it in a very long term context.
If Amazon can keep their prices low, continue the success of their Prime offerings, and hold onto their consumer base, I suspect it could eventually emerge more valuable than Wal-Mart. The main difference between Wal-Mart and Amazon is the scale of their revenue (Wal-Mart has more), and the fact that Wal-Mart is currently very profitable (Amazon is not). As the below chart shows, Amazon and Wal-Mart's Gross Margins are nearly identical.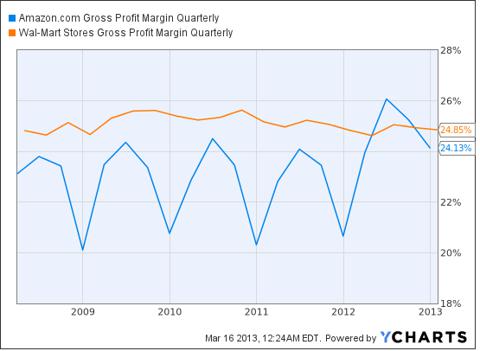 Once Amazon's fulfillment centers are fully deployed, and primarily automated, I suspect they will lead to tons of untapped annual profit. In my view, Amazon's innovative approach to retail is very deserving of the current market valuation it has received.
Disclosure: I have no positions in any stocks mentioned, and no plans to initiate any positions within the next 72 hours. I wrote this article myself, and it expresses my own opinions. I am not receiving compensation for it (other than from Seeking Alpha). I have no business relationship with any company whose stock is mentioned in this article.