With an income producing yield of 7.6%, I wanted to evaluate how Energy Transfer Partners (NYSE:ETP) looks as a potential investment and take a look at the potential risks. The company is involved in the midstream transportation and storage of natural gas in the United States. ETP has 69,000 miles of natural gas, refined products, NGL, and crude oil pipelines. Energy Transfer Partners is structured as a master limited partnership (MLP).
ETP completed its merger of Sunoco in October 2012. Sunoco generates cash flow from its gasoline retail outlets located on the east coast, the Midwest, and the Southeast areas of the U.S. Mergers/acquisitions such as this are a part of ETP's primary objective of increasing distributable cash flow by expanding existing operations or through strategic acquisitions.
The partnership generates fee based revenue from transporting fuels through its pipelines and by the storage of fuels. Revenue is also generated by purchasing natural gas, transporting it through its system, and then selling it to electric utilities, independent power plants, and other companies. The Sunoco merger has provided ETP with revenue from the sale of gasoline, middle distillates, and convenience store items.
For the past twelve months, ETP has raked in $1.2 billion in operating cash flow. The 7.6% yield comprises 90% of total operating cash flow. The total payout to unit holders was $1.08 billion, which leaves $120 million left over to invest in the business.
Next, we'll look at some of the risk factors that are unique to the business. Cash distributions will fluctuate based on performance and other external factors. Cash generation depends on the amount of products being transported through the pipelines and gathering systems; the level of throughput in the processing and treatment operations; the amount of fees charged; and the price of natural gas, oil, and other products.
The partnership could dilute unit holders by selling additional partner interests. The partnership agreement allows ETP to sell an unlimited amount of additional limited partner interests without the approval of unit holders.
ETP has $16.22 billion in debt, which could limit the ability to make cash distributions and could limit future financial and operating flexibility.
Increases in interest rates could negatively affect results of operations, cash flow, and financial condition. Investors will need to keep a close eye on any changes in Fed policy in the coming years as interest rate hikes could hurt ETP.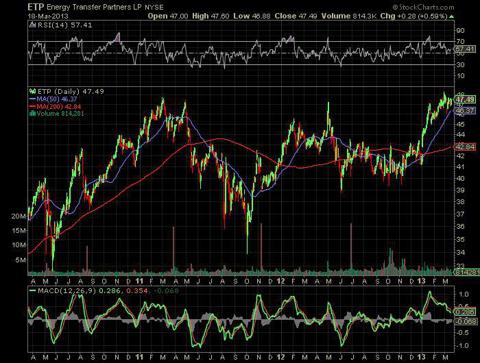 ETP stated in the recent 10-K filing that it wants to simplify the organization in 2013, 2014, and beyond. The partnership is looking to optimize its asset portfolio to enhance unit holder value. This may include sales or transfers of non-core assets or businesses. ETP will also look at considering future growth opportunities and acquisitions.
I presented the primary risks in the article to make investors aware that Energy Transfer Partners should be thought of as a 'buy and keep a close eye on' rather than the traditional buy and hold strategy that is used with large cap dividend paying Dow components. As of right now, the risks are just possible scenarios. Therefore, an investment in Energy Transfer Partners looks intact at the moment. In the meantime, investors can enjoy that nice 7.6% yield.
Disclosure: I have no positions in any stocks mentioned, and no plans to initiate any positions within the next 72 hours. I wrote this article myself, and it expresses my own opinions. I am not receiving compensation for it (other than from Seeking Alpha). I have no business relationship with any company whose stock is mentioned in this article.