There is no doubt about it: Italy's economic situation has worsened considerably during the current quarter. Only last week the OECD forecast that Italy's gross domestic product is likely to fall by 4.2 percent in 2009. This follows hot on the heals of an earlier statement where the OECD said the situation in Italy this year and next was "much worse" than it had previously thought, and that Italy would not come out of its recession until "some time" in 2010 at the earliest. According to the earlier forecast, the OECD expected GDP to fall this year by one percent and then by a further 0.8 percent in 2010.
The Bank of Italy has also changed its forecast and now suggests that GDP this year will fall by 2.6 percent. In January (the last time they revised their Italy forecast), the IMF forecast a fall of 2.1 percent. This is almost certain to be revised downwards in the April World Economic Outlook forecast review. Only today the Italian employers' lobby Confindustria cut its forecast for 2009 GDP, saying the economy will contract by 3.5 percent while public debt will climb to 112.5 percent of GDP.
And these forecasts are not drawn like rabbits out of a hat, since evidence of the deterioration in Italy's economic performance is now to be found everywhere. But perhaps nowhere is this clearer than in the most recent exports and industrial output numbers. Italian exports plummeted 26 percent in January from a year ago, the biggest drop since records began in 1991, with the drop in exports leaving the country with a trade deficit of 3.6 billion euros.
click to enlarge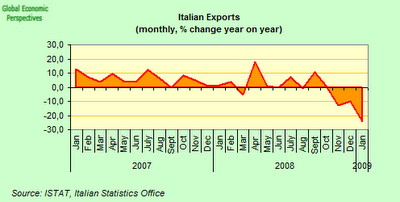 Meanwhile Italian industrial output fell for a fifth month as what is now the country's worst recession in more than 30 years forced companies to keep cutting output and jobs. Production dropped a seasonally adjusted 0.2 percent from December, when it fell a revised 3.9 percent. From a year earlier, adjusted production fell 16.7 percent, the biggest decline since records began in January 1991.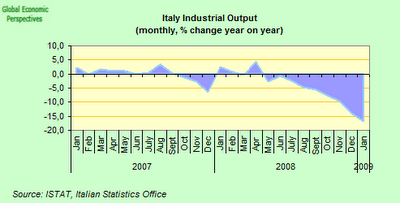 As we can see from the revised output index, after remaining pretty much stationary from early 2007, production really started to slump in May 2008, and hasn't looked back since.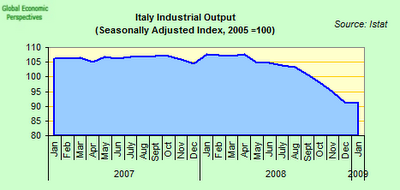 Italy's manufacturing PMI fell again in February to 35.0 from January's 36.1, and was only marginally above November's series record low of 34.9.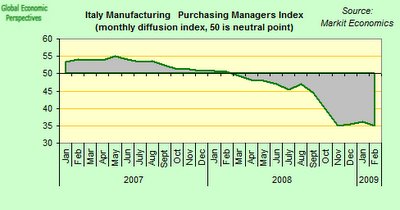 Italian business confidence fell to a record low in March as concern that the fourth recession in seven years will damp orders more than offset by lower oil prices and borrowing costs. The Isae Institute's business confidence index dropped to 59.8, the lowest since the index was created in 1986, from a revised 63.2 in February.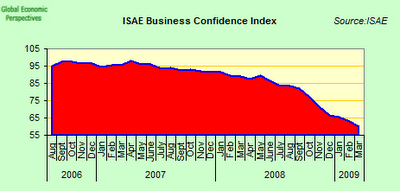 Italian executives also reported having more problems getting credit in February, when the report showed that 40.2 percent of those surveyed said the credit situation worsened, up from 33.5 percent in January. The new orders sub component also fell, to minus 65 from minus 58 in January, the lowest since 1991. And manufacturers' expectations for production over the next three months fell to minus 24 from minus 20.
Retail Sales Fall
Italian retail sales contracted for the 24th consecutive month in February as the credit crunch tightened its grip on spending, and consumers put off purchases of cars and home appliances.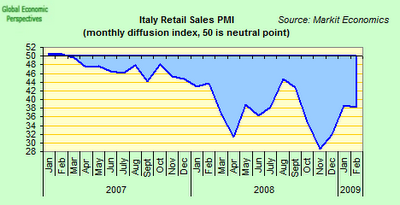 Services Decline Confirms Accelerating Contraction
Italian service sector activity sank in February to its weakest level on record, the latest sign of a deepening recession in the eurozone's third largest economy. The latest Markit/ADACI PMI survey and the Index, spanning companies from hotels to insurance brokers, fell to 37.9 from 41.1 in January to hit the lowest level since the survey began in January 1998.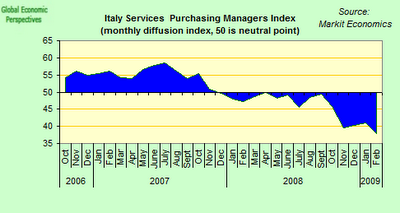 GDP Growth In Long Term Decline
Italy's fourth quarter GDP fell a downwardly revised 1.9% from the previous quarter, the largest drop since 1980, compared with a downwardly revised 0.7% contraction in the third quarter of 2008 according to data published by the Italian statistics office Istat last week.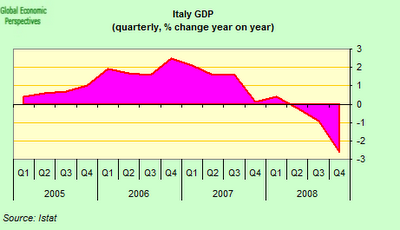 On a year-on-year basis, GDP fell a downwardly revised 2.9%, also the sharpest drop since 1980.
Business investments fell by 6.9% during the quarter, consumer spending fell 0.6%, while exports plummeted 7.4%. As can be seen from the chart below, given the endemic weak state of Italian household consumption, GDP growth tends to follow export growth.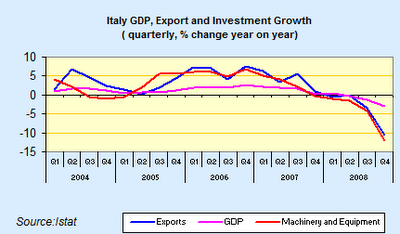 Although, of course, household consumption has now been falling back sharply since early 2007.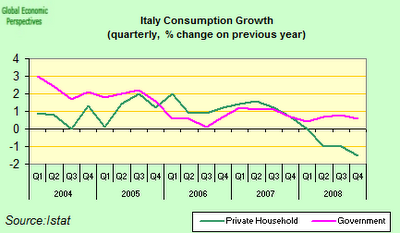 2008 data for Italian GDP has now also been published, and again the latest drop of an additional 1.0% has not been seen since 1975.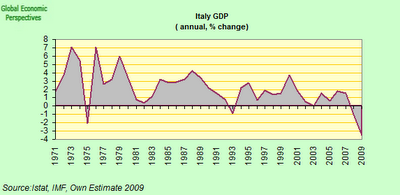 Italy's economy will shrink by around 2.6 percent this year, a member of the Bank of Italy's executive board said on Wednesday, adding to the central bank's previous forecast of a 2.0 percent contraction made in January.
Since January, Italian economic data has been consistently bad, with business confidence and purchasing managers' indexes plumbing new record lows. The government pencilled in a forecast of -2.0 percent in its Stability Programme issued in February, but many analysts have cut their forecasts even lower than the BOI. Intesa San Paolo, Italy's largest bank, has a forecast of -2.9 percent.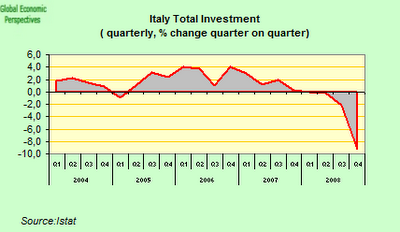 Italy's unemployment rate rose in the fourth quarter to the highest in more than two years as the recession deepened, prompting companies to reduce production and jobs. Joblessness increased to a seasonally adjusted 6.9 percent from 6.7 in the previous quarter, the Rome-based national statistics office said today. The number of unemployed rose to 1.73 million in the third quarter, when 1.69 million people were out of work.
Little Room To Maneuver As The Credit Crunch Tightens
For some time now Italy's government has been abandoning its optimistic rhetoric and adopting a more sombre assessment of the economy. Giulio Tremonti, the finance minister, recently told a conference that 2009 would be "even more difficult" than last year, with two leading newspapers quoting him as saying Italy faced a "horrible year."
Tremonti said the government would look next week at providing more to help the growing rolls of unemployed, on top of €8bn it says has already been set aside for extra benefits.
Italian consumer confidence fell for the first time in three months in March, with the Isae Institute's consumer confidence index dropping to 99.8 from a revised 104 in February.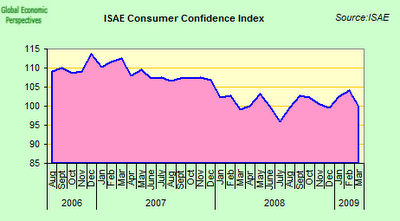 Growing evidence suggests that the crisis is really hitting the Italian economy in a kind of back-to-front fashion, with the slump in the real economy (and especially the economic crisis in Eastern Europe) threatening to drive Italian banks into more and more difficulty. The finance minister is under growing pressure from other cabinet members to increase government spending further, but understandably, Tremonti keeps pointing to Italy's huge public debt as a major impediment to any serious stimulus plan. So it is simply a question of grin and bear it.
Tremonti admitted at a recent meeting with banks, companies and unions that Italy had seen a greater tightening of credit market conditions in recent months than most other eurozone economies. On the other hand he pointed to the fact that Italian banks had shown a "strong interest" in taking up the government-backed bond offer (which only totals €12bn) at the same time as he rejected criticism that the 8.5 percent interest rate they carry was too high.
Intesa Sanpaolo (OTCPK:IITSF), which is Italy's biggest bank by market value, has announced that it will apply for 4 billion euros worth of the bonds after it posted a 1.23 billion-euro fourth-quarter loss on write-downs. This makes Intesa the third Italian lender to take advantage of the country's bank aid package, following similar decisions by Banco Popolare and UniCredit (OTCPK:UNCFF).
At the same time, the credit crunch is evidently producing some sort of housing crisis and the sale of residential properties dropped 15 percent last year, according to OMISE, a government agency that specializes in collecting data on real estate. Property specialist Nomisma forecast house prices will fall 8.5 percent in the second half of 2009, and for a country which has not seen much of a housing boom, this drop is significant.
Italian Prime Minister Silvio Berlusconi has announced a housing plan designed to make it easier for property owners to carry out home modernisation. According to Il Sole, Italians will be able to add as much as 20 percent of the current size of their homes without planning formalities. This is obviously rather controversial, and Bank of Italy Governor Mario Draghi was himself pretty non-committal in his testimony before a parliamentary commission last week, restricting himself to saying that the "plan could act as a stimulus, although the short-term effect on economic growth is uncertain."