Ten months ago I recommended Safety Insurance Group (NASDAQ:SAFT). Its share price is down since then, but far from out. While I prefer absolute returns my sense of well being dictates I must look at 2008 through a relative lens. Relatively SAFT was a great performer, beating the pants off the S&P500 by 22%; SAFT is down 20% over the last ten months while the S&P500 has fallen 42%.
In a tough 2008, Safety managed to increase book value by 5.6% to $37.17. With the current share price of $30.84 representing a discount to book value of 21%, P/B is 0.83. As the graph below shows, SAFT has increased book value every quarter.
The dividend yield is now a healthy 5.2% easily covered by earnings and SAFT continues to be profitable.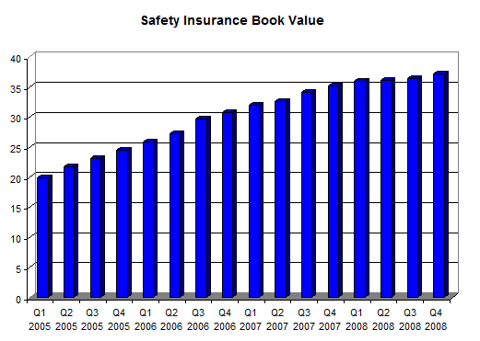 So is it time to pop the champagne and forget about SAFT until the next dividend payment or could you now find a better place for your money? Well, that decision is up to you, but I ask when isn't it a good time to pop the champagne? Let's look at some more numbers before deciding whether SAFT is a buy, sell or can't make up my mind. As the following data shows the trends for SAFT have been down ever since 2006. Earnings are falling, written premiums are falling and their once legendary combined ratio has faltered.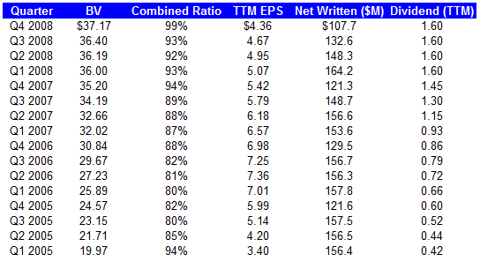 Yes Safety's insurance business may soon consolidate making the current price a screaming buy, but I don't like to count on future events, especially when they are against the current business trends. With bargains abounding, is SAFT currently a buy?

Here is my range of estimated returns for SAFT for one to three years. I have assumed book value grows at 3% a year, almost half of what it did in its worst year year of 2008, and the dividend remains constant at $0.40 a quarter. The probable returns from SAFT appear good, especially considering the limited risk due to the stock price trading below book value. A 5.2% dividend which represents a mere 37% if earnings looks safe and an increase in investors appetite for equities should see SAFT once again trade hands at a P/B of 1.3. While there is likely better potential elsewhere, SAFT still deserves a spot in my portfolio as it reduces my portfolio risk with attractive probable returns.
Disclosure: Author is long SAFT shares