Click here for Part VII
Why is Biglari Holdings, Inc. Stock Cheap?
Sardar Biglari burst onto the investment scene in 2008 with his successful proxy fight for The Steak n Shake Company. While only 35 years old, he has assembled an outstanding investment record over the past sixteen years that is largely unknown and unappreciated. Biglari Holdings, Inc. (NYSE:BH): Sardar Biglari - Bet The Jockey is a series of eight articles to investigate Biglari's investment results since inception, the strategies he has used to achieve these results, analyze his concentrated investment decisions and the likelihood that he can achieve outlier status and outperform the market over the long term. Part VII looked at the current valuation of Biglari Holdings, Inc. stock, while the final article in this series looks at why Biglari Holdings' stock is so cheap. The story is messy and not particularly well understood or appreciated from several different perspectives.
1) Sardar Biglari has established an outstanding track record over the past sixteen years as a value investor and allocator of capital. Unfortunately these results are not readily available or widely known. As a result, Biglari's investment acumen is not reflected in the price of the stock.
Actual historic investment results for The Lion Fund are provided only to limited partners and are not publicly available. While there is no easy way to determine Biglari's actual results, it is possible to piece together his historical investment performance through several different sources. Harvard professors Fabrizio Ferri, V.G. Narayanan and James Weber had the opportunity to review The Lion Fund investment results from 2000 to early 2007 in preparation for their Harvard Business School case study on Friendly Ice Cream Corporation. They reported that average annual investment returns exceeded 20% for the seven-year period, while the S & P 500 ran close to a 1% average annual return over the same period. A $1,000,000 investment in The Lion Fund at inception would have grown to $3,284,500 by 2007, assuming a 20% annual return, compared to $1,066,800 invested in an S & P 500 index fund over the same period.
Since August 2005, Biglari has made five material concentrated control investments outside of Steak n Shake that have required Securities and Exchange Commission disclosure. These investments include:
| | | |
| --- | --- | --- |
| Investment | Return | Holding Period |
| Western Sizzlin Corporation | 101% | 3 1/2 years |
| Friendly Ice Cream Corporation | 77% | 1 year |
| Fremont Michigan InsuraCorp | 77% | 2 years |
| Penn Millers Corporation | 39% | 6 months |
| Cracker Barrel Old Country Store | 44% | 18 months |
From the time period of August 2005, when Biglari first invested in Western Sizzlin, to December 20, 2012, the S&P 500 increased from 1,244 to 1,443 or 16.0%. During this same time period, Biglari's concentrated investments have significantly outperformed the index. These returns have compounded with Friendly Ice Cream gains funding the initial investment in Steak n Shake and the gains from investments in Fremont and Penn Millers funding the company's investment in Cracker Barrel. This strong performance, leveraged with $132.4 million in bank debt, is responsible for the 90% annual growth in net cash/securities over the past three years.
2) Financial information is not easily understood and masks the true financial performance of the company. Future acquisitions will only make this issue more confusing.
Biglari Holdings' financial statements represent a combination of the company's Steak n Shake and Western Sizzlin restaurant operations as well as Biglari Capital's investment operations. The consolidation results in a number of interesting reporting issues that obscure the company's true financial position and operating results.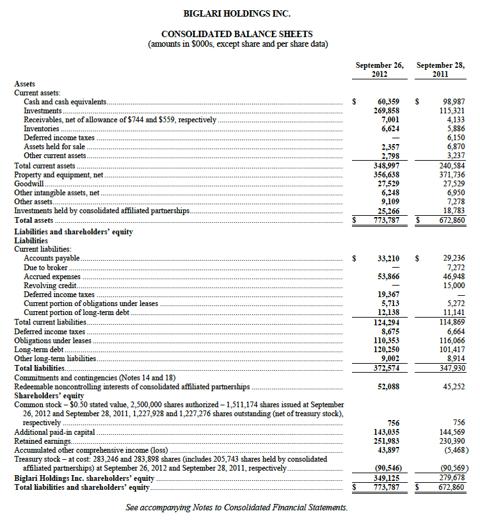 Investments - As of September 26, 2012, the company reported total Investments and Marketable Securities of only $269.9 million. The company's current investment in The Lion Fund totaling $48.3 million does not appear in the asset section of the balance sheet since The Lion Fund is 100% owned by Biglari Holdings. The $35.7 million original cost of the investment is included in Treasury Stock and is a reduction to net worth despite the shares being legally outstanding.
As of September 26, 2012, The Lion Fund held a total of 205,743 shares of Biglari Holdings, Inc. common stock (including the company's prorata ownership of 98,430 shares) at a total cost of $69.1 million. This total amount is included in Treasury Stock.
Investments held by consolidated affiliated partnerships - The company reported investments held by consolidated affiliated partnerships of $25.3 million as of September 26, 2012. This category represents the limited partner's portion of The Lion Fund assets invested in cash and equity securities other than Biglari Holdings, Inc. ($12.1 million- cash, $13.2 million equities). These funds are separate and distinct from Biglari Holding's operation and are not available to the company.
Redeemable noncontrolling interests of consolidated affiliated partnerships - This liability represents the limited partner's ownership interest in The Lion Fund. The offset to this amount is a combination of Investments held by consolidated affiliated partnerships and limited partner's interest in the Biglari Holding stock reflected in Treasury Stock.
Long Term Debt and Revolving Credit - On September 25, 2012, Steak n Shake, as the borrower entered into a new credit agreement providing for a $130 million term loan facility and a $50 million revolving credit facility secured by substantially all the assets of Steak n Shake. The refinance allowed the company to reduce its interest rate from 5.3% to 3.7% (the dividend yield on Cracker Barrel is 3.10%).
The debt is not guaranteed by the parent company, Biglari Holdings, Inc. In essence, the company's debt is held at the operating company and the bulk of the consolidated company's cash ($25.9 million) and Investments/Marketable Securities ($248.5 million) are held at the holding company level. This arrangement provides the company with maximum protection and flexibility in the event of a downturn in financial results at the operating company level.
Accumulated other comprehensive income (loss) - Represents the gain in value in the company's Marketable Securities net of taxes (accounted for under Deferred income taxes).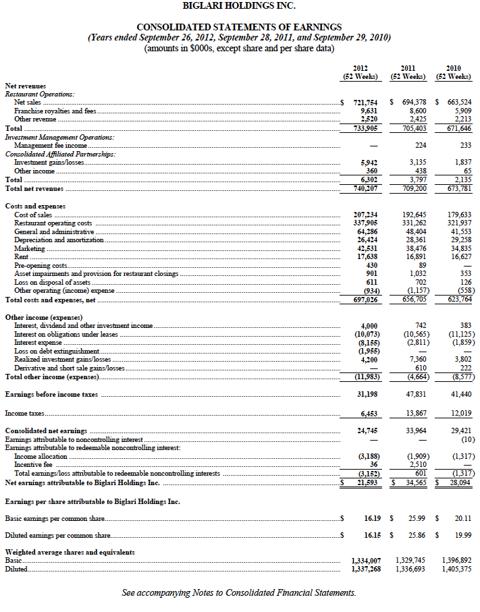 Net earnings attributable to Biglari Holdings Inc. - The company reported a drop in net income in fiscal year 2012 of $12.9 million, or 37%, to $21.6 million. Perhaps the biggest distortion in the company's financial statements relate to Biglari's incentive compensation plan, which is calculated based upon the growth in the company's book value. A key component of this growth is the increase in investments and marketable securities unrelated to the operating business. Based upon the strong performance of the portfolio, Biglari earned a $10 million incentive compensation payment in 2012. This figure is accrued through the income statement as an expense but the increase in securities only reflects as an increase to Accumulated other comprehensive income (loss) in the equity section of the balance sheet and does not flow through the income statement. This serves to significantly understate the true operating earnings of the company.
Consolidated Affiliated Partnerships: Investment gains/losses - The company reports 100% of The Lion Fund's investment gains in this category then allocates the portion attributable to Limited Partners interests under the category Earnings attributable to redeemable noncontrolling interest: Income allocation.
Realized investment gains/losses - This category represents realized investment gains and losses 100% owned by Biglari Holdings, Inc. Analysis of the company's financial performance should always be prior to any investment gains or losses.
Incentive fee - The Lion Fund has an incentive fee arrangement to earn 25% of any return in excess of 5% on funds not related to the company or Sardar Biglari. This fee is calculated and paid at the end of each calendar year end. While there was a minimal fee paid out in fiscal year end 2012, it will be meaningful in 2013 based upon 2012 performance.
Weighted average shares and equivalents - Basic shares outstanding total 1,334,007 which include all common shares of Biglari Holdings held by unrelated limited partners of the consolidated affiliated partnerships. Total outstanding shares as of December 2, 2012, of 1,433,671 include the shares owned by Biglari Holdings, Inc.
3) Investors initially thought Biglari was the second coming of Warren Buffett. The compensation plan, company name change and initial proposal to issue Class A and B voting shares has resulted in a "Biglari Penalty" priced into the stock versus a "Buffett Premium."
The compensation plan, while very lucrative for Biglari, may not be as outlandish as his critics contend. In an excerpt from his book, Buffett, The Making of an American Capitalist, Roger Lowenstein detailed the compensation arrangement Warren Buffett had with his early investors in the Buffett Partnership.
In the summer of 1957, Warren Buffett got a call from Edwin Davis, a prominent Omaha urologist. They had never met, but one of Davis's patients, a New York investment adviser named Arthur Wiesenberger, had known Buffett in New York. Wiesenberger had heard that Buffett was trying to raise money and had suggested that Davis call him. This was an important moment for Buffett. Dr. Davis could give him capital and, more importantly, cachet. If he could sign up the Davises, he would not be investing merely for his parents and his Aunt Alice; he would have his foot in the door as an investment professional. Buffett made his pitch and then he offered the terms. The Davises, as limited partners would get all of the profits that Buffett could earn up to 4 percent. They would share any remaining profits over and above 4 percent- 75 percent to the Davises and 25 percent to Buffett. If the results were mediocre or worse, Buffett would get no salary. Deficiencies were carried forward; thus if the partnership earned zero in one year, it would have to make 8 percent in the next before Buffett could draw a share. Buffett's other partnerships were structured similarly, though the precise formulas varied. After 1962, when the partnership merged, all investors got the first 6 percent of the profits and shared any remaining profits with Buffett on a 75-25 basis.
The compensation plan, much like current hedge fund arrangements, allowed Buffett to build a meaningful ownership interest in the partnership based upon his outstanding investment performance. Buffett was then able to famously reduce his salary to $100,000 per year at Berkshire Hathaway, since he stood to gain from the stock appreciation as opposed to salary compensation.
Biglari's incentive plan also allows him to benefit significantly in the initial years allowing him to increase his ownership interest in the company based upon the profitability of the operating businesses. Net income from restaurant operations resulted in incentive payments of $2.9 million and $3.0 million in 2011 and 2012, respectively. Assuming a ten percent increase in restaurant earnings and 2012 adjusted book value of $419.3 million, 2013's incentive compensation from restaurant earnings would drop to $2.8 million and continue to trend down as book value continues to grow.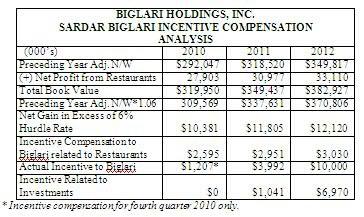 Growth in book value is the best measure of the success of any company since it roughly tracks the growth in intrinsic value. Biglari's incentive compensation plan accomplishes the Board's goal to allow him to build a meaningful ownership stake in the company as well as providing the right benchmark to evaluate his performance. Over time, the growth in book value will act as an anchor and serve to reduce payouts unless Biglari is successful in developing new avenues of growth.
The key feature of the incentive plan is the $10 million maximum payout in any given year. Any change in this provision should be reviewed closely.
4) Sardar Biglari has pursued a highly concentrated investment strategy which will result in higher volatility in reported earnings.
Biglari Holdings owns $360.3 million in Cracker Barrel Old Country Store, Inc. and every dollar change in the stock price will result in a $4.5 million change in Biglari's book value. The typical investor takes comfort in a diversified portfolio that provides consistent earnings while Biglari's strategy will result in significantly greater volatility. At the same time, Biglari benefits from his dual perspective as the operating manager of a public company as well as the manager of an investment fund. As a result, he is able to concentrate his capital in a few positions because he is taking an approach to investing through the lens of a businessperson, not a portfolio manager. Investors should view his control investments as the acquisition of a material percentage of an operating business and related adjusted free cash flows (look through earnings) as opposed to simply an investment in marketable securities.
5) Acquisition Risk
The company does not fit neatly into any one particular industry segment. The conglomerate structure is difficult to follow and the company gets minimal coverage by Wall Street. Today the primary source of operating revenues comes from restaurants and investment management, tomorrow, a material acquisition could significantly change that balance. Acquisitions are risky and investors are concerned Biglari will miss on one at some point.
Final Analysis
Steve Jobs once toasted the crazy ones. The misfits. The rebels. The troublemakers. The round pegs in the square holes. He understood that people who are crazy enough to think they can change the world are the ones who do. Much like Warren Buffett forty years ago, Sardar Biglari is marching to a different beat, out of step with the rest of the investment world. He doesn't much care about conventional wisdom and he is not afraid to challenge the status quo. He is a proven value investor with an impressive record of performance over the last sixteen years.
While his critics may claim he is arrogant, egotistical and self absorbed, it is clear Sardar Biglari loves business and is passionate about succeeding. He is wrapped up in the company and plans to stay for a long time. Love him or hate, you can't ignore him or his results. The investment community would be wise not to ignore him as well.
Disclosure: I am long BH. I wrote this article myself, and it expresses my own opinions. I am not receiving compensation for it. I have no business relationship with any company whose stock is mentioned in this article.
Additional disclosure: The information contained in this presentation is provided for informational purposes only. No representation or warranty (expressed or implied) is made or can be given with respect to the accuracy or completeness of the information. Nothing contained herein shall be relied upon as a promise or representation whether as to past or future performance.