Despite the bleak expectations for the US retail sector in 2009 overall, firms that position themselves well will be able to succeed. An example of such a firm appears to be the department store retailer Kohl's Corporation (NYSE: KSS).
MSSI statistics from this month show that average monthly spending among Geezeo users has indeed been affected by these adverse conditions, decreasing by over 13% from November '08 through February. Including so far this March, however, spending is only down by 3.70% and actually up by 14.51% since January '08.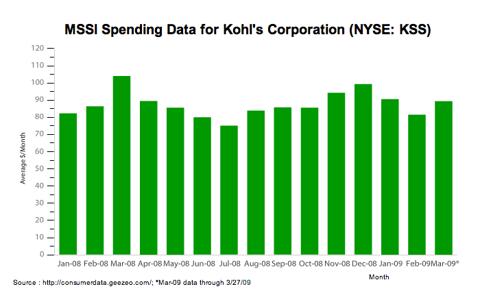 A recent report, "Exclusive brands, cost cuts to help Kohl's: JP Morgan", discusses that the firm's management has tried to limit expenses, while still sticking to the long-term growth of the company.
Retail firms like Kohl's need to keep tight oversight on their costs and still keep their prices low to satisfy customers. Kohl's has taken this notion to heart and made deals that keep their products current. So far this March, it appears that customers are still shopping less frequently at the retailer's locations compared with the same time last year, but these figures are definitely turning around.
This month, Geezeo users that shop at Kohl's are averaging a total of $89.34 spent, which is the fourth highest monthly total in the last twelve with another weekend still to pass. Kohl's may be on to something here.
This data was compiled by the Geezeo Main Street Spending Index (MSSI)).