Every month in Valuentum's Dividend Growth Newsletter, we identify firms that may need to cut dividend payments in the future. While timing is difficult since companies can do a number of things to prop up dividends until cash flow situation becomes dire, as we've seen at firms like SuperValu (NYSE:SVU) and Roundy's (NYSE:RNDY). Our forward-looking Valuentum Dividend Cushion has caught several dividend cuts over the past year, including J.C. Penney (NYSE:JCP), CenturyLink , and Exelon (NYSE:EXC). We're not sure RR Donnelley's (NASDAQ:RRD) dividend will be the next to go, but prospects certainly look negative.
In the firm's most recent quarter, RR Donnelley exceeded consensus estimates on both the top and bottom lines, though the company had to take a $1 billion impairment charge. The company even generated positive free cash flow of $486 million, and it anticipates free cash flow will remain between $400 million to $500 million in 2013. Revenue declined 2.1% year-over-year during the fourth quarter, which was better than the 5.2% decline we saw in the third quarter. The firm's core US print business remains in secular decline, but the company is experiencing decent growth in Asia, Latin America, and its logistics business. For the fourth quarter, non-GAAP gross margins even rose 20 basis points year-over-year to 21.9%, while SG&A only increased 10 basis points year-over-year to 10.9%. Still, the print business is in a secular decline, and the firm is suffering from competitive price erosion.
Ultimately, the company's secular decline is a less of a worry to investor, in our view, than the highly leveraged balance sheet. Companies can often overcome secular problems when cash balances are high and leverage is low, but the opposite is true for RR Donnelley. The firm had $3.4 billion of long-term debt and $1.15 billion in pension obligations at year end, and the company has had to issue relatively high yield debt with longer duration to tender debt that is coming due in the next five years. According to its February 28th press release, the company will issue $450 million of its 7.875% Notes due 2021, saying:
"The offering is expected to close on March 14, 2013.
RR Donnelley intends to use the net proceeds from the offering, along with borrowings under its revolving credit facility, (1) to fund tender offers for up to $500 million aggregate principal amount of its debt securities, including up to $300 million of its 6.125% Notes due January 15, 2017, up to $150 million of its 8.600% Notes due August 15, 2016 and up to $50 million of its 7.25% Notes due May 15, 2018 and (2) to pay premiums in connection with those tender offers."
Fortunately for the company, the current interest rate environment has an insatiable appetite for yield, so the company (likely) won't have a hard time raising debt, even though the firm doesn't have investment grade ratings from any of the credit rating agencies. S&P has a credit rating of BB with a negative outlook, and Fitch went as far as to withdraw its rating after moving it down to BBB- with a negative outlook.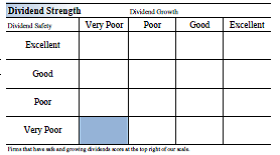 The company's yield of 9.5% may look tempting, but the firm's dividend scores -0.9 on the Valuentum Dividend Cushion, so its dividend isn't safe. Naturally, since the dividend isn't safe, we also don't like its growth prospects. We are not saying RR Donnelley is going out of business, but we do not like the odds that its high yield continues, so we're staying away from shares in the portfolio of our Dividend Growth Newsletter.
Disclosure: I have no positions in any stocks mentioned, and no plans to initiate any positions within the next 72 hours. I wrote this article myself, and it expresses my own opinions. I am not receiving compensation for it (other than from Seeking Alpha). I have no business relationship with any company whose stock is mentioned in this article.