I have grown increasingly bearish on the US stock market in recent months, despite the Dow Jones Industrials (NYSEARCA:DIA) achieving new highs and the Standard & Poor's 500 (NYSEARCA:SPY) coming within 2% of doing so. As an investor and advisor who subscribes to a tactical approach, this simply means that I reduce exposure to the equity asset class in lieu of another that presents what I view to be better risk/reward characteristics, but I still maintain what I define as my core exposure to equities. Core exposure is different for every investor. Core exposure for a trader can mean no exposure at all, whereas core exposure for a long-term investor can be 20, 30 or 50% of a portfolio, depending on tax implications, investment strategy and the composition of portfolio holdings. Regardless, the objective is always the same during periods of market decline-to maintain exposure to individual companies and sectors that outperform the broad market on a relative or absolute basis.
Some investors may choose to take a more active approach than simply reducing equity exposure in advance of what they expect to be either a correction or bear market decline. An aggressive trader might decide to short individual stocks and purchase put options. A less aggressive trader might choose to pair trade two individual stocks by combining a long position that is exhibiting relative strength in comparison to the broad market with a short position in the same sector that is exhibiting relative weakness. As for long-term investors, the growth in exchange-traded funds (ETFs) has provided a voluminous number of tools to hedge long exposure. There is an extensive menu of inverse funds now available on practically every index and sector imaginable that will allow an investor to capitalize on a decline in asset values. One shortcoming with this approach, however, is that shorting broad indices or sectors often involves betting against those constituents that are outperforming along with the ones that are underperforming. For this reason, I find the Ranger Equity Bear ETF (NYSEARCA:HDGE) to be an effective hedge to my core equity exposure at this particular time.
HDGE is an actively managed exchange-traded fund that shorts individual stocks without the use of leverage or derivatives. The portfolio is completely transparent. The fund is sub-advised by Ranger Alternative Management, L.P. What I find attractive about the management team is that they employ both fundamental and technical analysis in the process of deciding which individual equities to short. John Del Vecchio, a CFA and forensic accountant, identifies individual companies with deteriorating fundamentals. He is identifying what to short. Brad Lamensdorf uses technical analysis, specifically the point and figure methodology, to identify entry points on individual short positions and determine the short exposure levels to maintain based on market risk measurements. He is identifying when and to what degree to short. I have been a disciple of the point and figure method of technical analysis for 20 years, and I believe it is an effective risk management tool for managing portfolios.
The Ranger Equity Bear ETF has declined in value roughly 17% since mid-November, during which time the S&P 500 gained 15%. This period of relative and absolute underperformance can be explained by the fact that the leadership during this surge in stocks has come from the lower quality names - names that you would expect the management team to short. What I find interesting is that the share price bottomed on February 12 at $16.83, despite the fact that the S&P 500 rose 2.7% and the Russell 2000 (NYSEARCA:IWM) rose 4.0% from February 12 through Friday's close on March 15. The shares of HDGE closed at $17.41 on Friday, as shown in the chart below, which is an increase of approximately 3.4% during the same time frame. The winds of change are clearly blowing.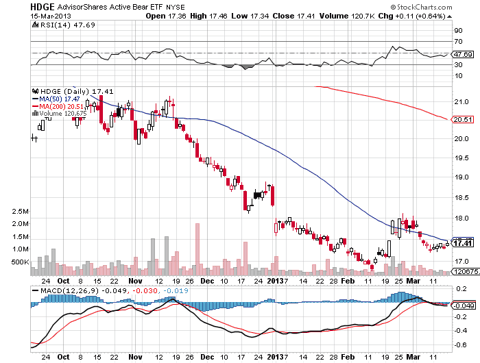 This could be an indication that a correction in the broad market is about to ensue, as those companies with the weakest fundamental and technical attributes have started to underperform over the past month, as indicated by the appreciation in the shares of this ETF.
While I think pairing core equity exposure with the Ranger Equity Bear ETF is a sensible tactical strategy at this time, this fund is not a sensible long-term investment. The net expense ratio, which stands at 3.3%, includes a management fee of 1.5% and a short interest expense of 1.37%, plus additional fees. This is an expensive exchange-traded fund. Yet these costs are reasonable over shorter time frames in exchange for the management's expertise and the reduction of individual equity and sector risk through exposure to a diversified portfolio of short positions.
Disclosure: I have no positions in any stocks mentioned, but may initiate a long position in HDGE over the next 72 hours. I wrote this article myself, and it expresses my own opinions. I am not receiving compensation for it (other than from Seeking Alpha). I have no business relationship with any company whose stock is mentioned in this article.
Additional disclosure: Lawrence Fuller is the Managing Director of Fuller Asset Management, a Registered Investment Adviser. This post is for informational purposes only. There are risks involved with investing including loss of principal. Clients of Fuller Asset Management may hold positions in the securities mentioned in this article. Lawrence Fuller makes no explicit or implicit guarantee with respect to performance or the outcome of any investment or projections made by him or Fuller Asset Management. There is no guarantee that the goals of the strategies discussed by will be met. Information or opinions expressed may change without notice, and should not be considered recommendations to buy or sell any particular security.