Share price of Union Pacific Corp (NYSE:UNP) has steadily returned 25.2% over the past 12 months. At $140.21, the stock is trading near its 52-week high of $141.78 achieved just recently and offers a 2.0% dividend yield. Despite the solid run-up, I believe there remains a notable price upside for the stock based on the following four reasons:
1. From a relative valuation standpoint, Union Pacific shares are priced cheaply based on the company's solid financial performance relative to that of the peers (see chart below). Consensus estimates predict the company's revenue, EBITDA, and EPS to grow at 2-year CAGRs of 6.2%, 9.5%, and 13.6%, respectively. The figures slightly outperform the averages of 5.4%, 9.3%, and 12.2%, respectively, for a group consisting of Union Pacific's primary railroad peers in both the US and Canada. Similarly, Union Pacific's long-term EPS growth is forecasted to be 13.7%, fairly comparable to the group average at 13.9%. On the profit side, the company continues to demonstrate a superior performance as its various profitability margins and capital return metrics are markedly above par. Union Pacific carries a relatively lower level of debt as reflected by its below-average leverage ratios. In terms of liquidity, the firm has a higher free cash flow margin. Due to the strong profitability and the low leverage, Union Pacific was able to maintain a healthy interest coverage ratio. Both the firm's current and quick ratios are slightly above par, reflecting a healthy balance sheet condition.

Click to enlarge
To summarize, Union Pacific's above-average financial performance in almost every aspects should reasonably bolster a stock valuation that commands a solid premium over the peer-average level. Nevertheless, the stock's current price multiples at 7.9x forward EBITDA (next 12 months) and 14.9x forward EPS (next 12 months) together represent an average discount of 16% to the same peer-average multiples. After accounting for the long-term EPS growth estimate, Union's PEG ratio of 1.09x remains 10% below the peer-average PEG at 1.21x, suggesting market has likely not given enough credits for the company's strong profitability and liquidity position and thus the stock is undervalued on a relative basis (see chart above).
2. Union Pacific's forward P/E multiple is currently trading almost in line with the same multiple of S&P 500 Index, which stands at 14.6x at the moment (see chart below).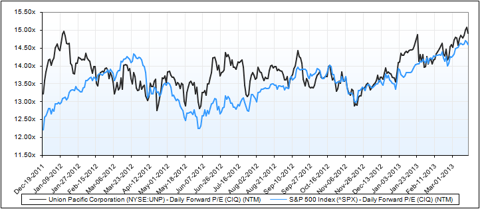 Click to enlarge
I believe this presents a good entry opportunity as Union shares should reasonably trade at a modest premium over the market level provided that 1) Since 2012, the stock traded above the market level most of the time and the market premium averaged at 3% in the period; 2) Union Pacific's long-term earnings growth rate at 13.7% is considerably above the average estimate of 8.2% for the S&P 500 companies; 3) the company has been able to achieve an industry-leading profitability and free cash flow performance and continuously improve those metrics over the past three years (see charts below); 4) the stock also offers a 2.0% dividend yield which is fairly close to the 2.2% average level for the S&P 500 Index and the company has been buying back shares aggressively.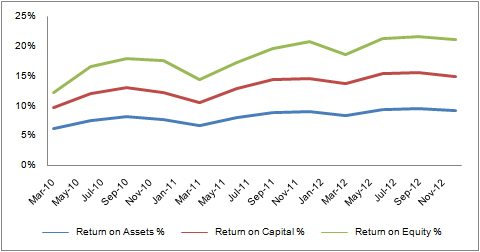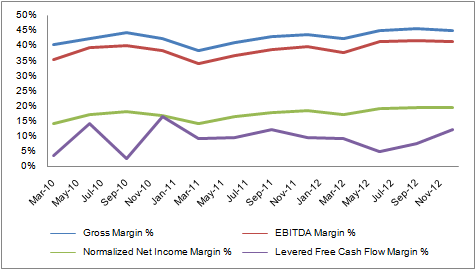 3. The stock's dividend experienced a strong growth in the past few years. Since 2010, management has raised the dividend per share four times by 15%, 25%, 26%, and 15%, consecutively. In the same period, Union's annual dividend payment only represented less than a half of the annual free cash flow generated, suggesting that there is likely an ample capacity to sustain the current pace of the dividend growth at least in the near future (see chart below). Further, the management is also committed to share buybacks, which provides an additional support to the share price.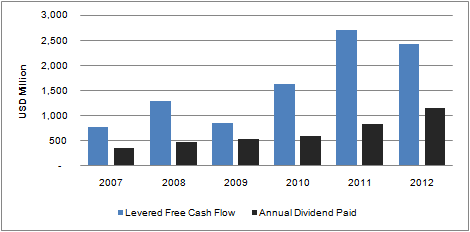 4. Sell-side remains very bullish on the stock. Of the total 28 stock ratings compiled by Thomson One, there are 9 strong buys and 11 buys. In a research note released in February, Keith Schoonmaker at Morningstar commented on the company's growth prospects, which I tend to agree on (sourced from Thomson One, Equity Research):
"Union Pacific is a massive railroad, and it's getting bigger and even more profitable. UP boasts the largest top line of any public railroad and its operating ratio improvement trajectory yields a bottom line to match. UP's 2011 $19.6 billion of revenue (we project a top line of more than $21 billion in 2012) was heaviest in coal, intermodal, and agriculture. Compared with other U.S. rails, UP tilts slightly less toward coal (22% of sales), even though its Powder River Basin coal is a giant $4 billion franchise. UP historically has been less exposed to intermodal shipping than is its similar-size Western peer, BNSF, but intermodal still constitutes 20% of UP's top line. We expect record margins in coming years, as well as additional share buybacks. Also, UP's doubling dividends per share from the start of 2010 to the end of 2011 has made shares attractive to yield-seeking investors."
Bottom line, in the light of Union's healthy financials and growth potential, investors should consider buying the shares while the valuation remains compelling.
All charts are created by the author and all financial data used in the article and the charts is sourced from S&P Capital IQ unless otherwise specified.
Disclosure: I am long UNP. I wrote this article myself, and it expresses my own opinions. I am not receiving compensation for it (other than from Seeking Alpha). I have no business relationship with any company whose stock is mentioned in this article.