Last year I owned stock in a very exciting company called Affymax (NASDAQ:AFFY), who supplied OMONTYS, the only once-monthly erythropoiesis-stimulating agent (ESA) for anemia. This drug became available to the adult dialysis patient population with chronic kidney disease (CKD) in the U.S.
Truth be told, it was a wild ride but a highly profitable one. This stock moved from $4, then up to $16, then down to $10, then up and down almost weekly. One day it plunged again and I made a determination that the hedge fund games in this stock were too much and suggested to my friends that were invested here to sell the next surge. I followed suit, only to regret that the stock continued to become one of the best performers of the year accelerating to over $27. Oh well, these things do happen when you trade biotech stocks.
Well, this year the stock appeared back on my radar and the company hasn't been so lucky. The fade from $27 ensued to $16 then eventually gapped down to $2.34. As you may have already seen, the company made a very swift announcement on Saturday, February 23, 2013:
Affymax and Takeda Announce a Nationwide Voluntary Recall of All Lots of OMONTYS® (peginesatide) Injection

PALO ALTO, Calif. & OSAKA, Japan--(BUSINESS WIRE)-- Affymax, Inc. and Takeda Pharmaceutical Company Limited (Takeda) today have decided to voluntarily recall all lots of OMONTYS® (peginesatide) Injection to the user level as a result of new postmarketing reports regarding serious hypersensitivity reactions, including anaphylaxis, which can be life-threatening or fatal. The companies have been working actively with the U.S. Food and Drug Administration (FDA) which has indicated its agreement with this decision. The companies have also issued a letter to health care professionals indicating that no new or existing patients should receive OMONTYS.

To date, fatal reactions have been reported in approximately 0.02% of patients following the first dose of intravenous administration. The reported serious hypersensitivity reactions have occurred within 30 minutes after such administration of OMONTYS. There have been no reports of such reactions following subsequent dosing, or in patients who have completed their dialysis session. Since launch, more than 25,000 patients have received OMONTYS in the postmarketing setting. The rate of overall hypersensitivity reactions reported is approximately 0.2% with approximately a third of these being serious in nature including anaphylaxis requiring prompt medical intervention and in some cases hospitalization. The companies are actively investigating these cases.
OK, yes this happens, but a total recall seems somewhat quite sudden and drastic, if you don't mind me saying, based on some allergic reactions and not having all of the facts in as to the "why?" Furthermore, in questioning what was going on here, I called the company and was instructed to go back and review the conference call notes by the CEO on February 23, 2013. I did so responsibly. It said that the company would work closely with Takeda (who on January 3, 2013 announced a J-Code and subsequent Jan 7th announcement of a supply agreement) and the FDA to find a solution and get some resolution to attempt to get the drug back on the market. Yes, the drug that was written up by the NEJM on January 23, 2013.
This Is a List Of Some Of The Top Institutional Holders in AFFY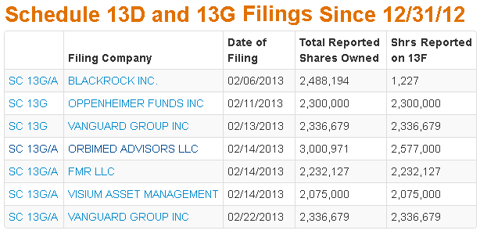 Click to enlarge
Legal Aspects:
Sure, every law firm in the country has piled on this company due to the steep drop in share price, but what's important here is for the company to stay focused. The goal now is getting its wonder drug back on the market and forget about the noise from the lawyers. In a CSI type analysis, the company should immediately determine what it did differently from the rigorous trials that it passed with the FDA March 27, 2012.
What Happened After The Launch vs. The trials?
What variables changed following the phase trials?
The manufacturing process?
Contaminated lots?
The administration of the drug?
Single dose vs multi-dose?
A lack of prior drug allergy screening?
What Is Going On Here?
It seems too suspicious to me like the crash in Questcor (QCOR) that I reported on here as well as the swift drop in Vivus (NASDAQ:VVUS) that I reported on here. Management is "capitulating" and imploding the current stockholders wealth, which is not what they are hired to do. Call me crazy, but this company appears to be under control of their partner Takeda to "do what they say to stay in the game" so to speak. What about the accolades made with the recent management changes and comments on February 1 from John Orwin, chief executive officer of Affymax saying;"We have made remarkable strides with OMONTYS in the past year, securing approval of this once-monthly erythropoiesis-stimulating agent and supporting its successful launch."?
First, an immediate recall of the drug, then a layoff of 75% of the workforce of the very people who built the company? Scroll down to the warning that was written here. Have you seen the Current Issues on Venofer used for the treatment of chronic kidney disease (CKD)? It says....IMPORTANT SAFETY INFORMATION: Serious hypersensitivity reactions, including anaphylactic-type reactions, some of which have been life-threatening and fatal, have been reported in patients receiving Venofer® (iron sucrose injection, USP). How is this any different with OMONTYS' produced by Affymax?
OMONTYS has an approximately 0.02% reported allergic reaction. The few deaths reported prior to February were deemed to be cardiovascular in nature. Yes, but were they from the drug or natural causes or a procedurate adminstration not approved by the FDA? This has not been clarified. It seems like after all the research, money spent and lives that could be saved, that all is not completely lost yet. The company, its partner and the FDA will have to determine if the benefits of OMONTYS (or the newly repurposed after the scandal drug with a new name) will outweigh the risks here? Time will tell.
The Last Word:
Please trade at your own risk, but I suspect we will get another Dead Cat Bounce (DCB) like we just saw on February 14, from $11 to $16, then again on March 7, from $2.31 to $4.10. Sure the drug is off the market today on a "scare" but so was Tylenol many years ago and what happened there? It returned stronger than ever.
Maybe there is something left here like what happened to Knight Capital Group (KCG) last year? Yeah, that company threatened BK but eventually entered into an agreement for a strategic business combination with another firm for $3.75 per share. Is that what's going on here? Pressure to drive down the shares for a buyout or deal of some sort? Also, do you remember Arena Pharmaceuticals (NASDAQ:ARNA) at $1.20 after two CRL's and rampant rumors that their drug Lorcaserin (rebranded as Belviq after approval) would never get approved? Yes, well it was approved in due time and the stock rallied hard. Again, only time will tell when you speculate on trading volatile biotech stocks like Affymax.
Disclosure: I am long AFFY. I wrote this article myself, and it expresses my own opinions. I am not receiving compensation for it (other than from Seeking Alpha). I have no business relationship with any company whose stock is mentioned in this article.
Additional disclosure: Note: This is a spec trade and those who enter any trades here (stocks or options) need to be for warned on the extreme high risk and volatility that will occur in the next few days/weeks.