When it comes to technology stocks, I have found that perception trumps fundamentals at each and every turn. The truth is that most people buying and selling technology stocks do not understand - nor do they particularly care - about the actual technology that the company sells or its future potential until there are obvious signs that the company is gaining momentum. In particular, chip/components suppliers are very explicitly driven by their design win, and as such trying to hop on board a particular stock when there are clues that the design wins could heat up and build mass hype for the underlying company can be a very profitable venture.
A company that I would like to highlight is Broadcom (BRCM). The company derives most of its revenue base from mobile & wireless chips, in particular Wi-Fi/NFC/Bluetooth/GPS connectivity chips. The firm's primary competitive advantage is that its expertise lies primarily in the harmonious integration of multiple components onto a single solution. This affords the firm significant pricing leverage when trying to win designs for its products, especially for cost- and margin-conscious products, in particular smartphones and tablets.
Broadcom Will Take A Larger Share Of The Smartphone BOM
I believe that Broadcom's competitive advantage here is quite unique and positions it to grow its revenues here mostly in-line with smartphone/tablet growth. However, Broadcom has been pushing feverishly to become a major player in the cellular connectivity market that is currently dominated by Qualcomm (NASDAQ:QCOM). While the connectivity combo chips typically sell for single-digit dollar values, cellular baseband and, more prominently, integrated baseband + application processor, sell for significantly more at ~$10-$30 depending on the level of integration, performance, and feature set.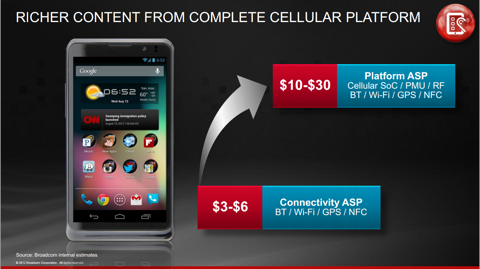 Broadcom ships 3G cellular solutions today, with 4G LTE solutions sampling now and on-track for volume production in early 2014. The company has seen nice growth with its 3G offerings, which have allowed the company to become the fourth largest supplier of baseband chips behind MediaTek, Intel (NASDAQ:INTC), and Qualcomm . I believe that as the 4G LTE solution passes carrier qualification and starts to ramp in volume, it should prove to be an interesting alternative to Qualcomm's products in this space (currently Qualcomm is the dominant supplier here by a mile), which will drive revenues in 2014, but should garner hype and praise well before then.
More importantly, as the company becomes an established player in baseband, it will be able to start selling, as per the slide above, the complete cellular package. Broadcom's primary competitive advantage of high degrees of integration is actually quite relevant, so I would not be surprised to see Broadcom gain market share rather quickly as it will be able to offer phone vendors - especially in the rapidly growing $100 - $300 unsubsidized segment - a complete solution at an attractive cost.
Broadcom Could Potentially Win (More) Apple
Apple (NASDAQ:AAPL) bears continually bring up the rapid margin deterioration across the smartphone/tablet spaces as the barrier to entry continues to get lower and the competition gets fiercer. This dynamic likely keeps Apple on the lookout for cheaper alternatives to what it currently uses. Broadcom's management has specifically pointed out that its LTE baseband will be cheaper than its competitors', so Broadcom could take a serious stab at securing this socket (although I would not bet on it).
What I do expect, however, is that the next generation iPhone will pack NFC capability, one that is currently ubiquitous in the high end Android/Windows Phone arena but is conspicuously absent in the latest iPhone. I expect that Broadcom wins the NFC socket in the next generation iPhone, which should drive some incremental revenues and, more importantly, sentiment. I wouldn't be surprised if Apple went with a Broadcom combo Wi-Fi + NFC + GPS chip as well, to save on costs.
Conclusion
Broadcom has a lot of upside drivers ahead of it in the smartphone space, principally the introduction of its LTE chips, coupled with a potential iPhone 6 NFC socket win. The sentiment surrounding the name is good, and I believe that the growth story is still quite intact.
Disclosure: I am long BRCM, INTC. I wrote this article myself, and it expresses my own opinions. I am not receiving compensation for it (other than from Seeking Alpha). I have no business relationship with any company whose stock is mentioned in this article.