Thus far, Michael Dell and Silver Lake's attempted LBO of DELL Inc. (NASDAQ:DELL) has progressed exactly as my first and second piece detailed. Widespread negligence by the financial press distorted opinions and stirred fears among investors towards a deal that was never that terribly complicated or unpredictable to begin with. With each major wave of news there was a set dynamic risk profile that could be assessed and compensated for on a contingency basis.
Two major headlines have surfaced that were not included in my last DELL piece:
March 13: CNBC's David Faber announced that DELL's special committee would justify its decision to go private by showing that DELL's business is "in a free fall."

March 18: Blackstone (NYSE:BX) Private Equity is reported to be considering a bid for DELL.
The first story, despite providing no material change to DELL as a company or to the current state of the deal, triggered a material drop in share price from $14.30. The chart below provides some context: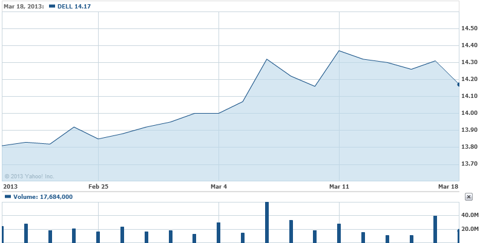 Many who agreed with Jim Chanos' fundamental short rallied behind Faber's segment, citing analysis of DELL's rapidly declining PC business. To Faber and many others in the financial press, the special committee statements were an affirmation of the dire state of DELL's business.
Propaganda-esque stories quickly followed, all detailing the supposed difficulty undergone in proposing the existing $13.65. Silver Lake supposedly started its bid at $11.22, and KKR (NYSE:KKR) apparently looked at acquiring the company before ditching the idea.
Unfortunately, none of that matters. As I argued in my first article on this deal, no one is buying DELL for the company it is today. Originally there was an intent to turn the company around as a solutions provider for small to medium enterprises, whose businesses are not adequately serviced by larger firms like Cisco (NASDAQ:CSCO) or IBM (NYSE:IBM). How much the company is worth based on a DCF valuation of its PC business is absurdly irrelevant, and it's concerning that the media and even respected investors like Jim Chanos miss that simple fact.
DELL Is A Break-up Target:
Even so, there is now a third valuation that may be more relevant than either the value of DELL as is or as a turnaround: break-up value. If there's one man who understands the potential return of breaking up a firm and selling the pieces, it's Carl Icahn. If you don't remember, do a quick Google search for "Carl Icahn" and "TWA."
That brings me to the second major story: Blackstone's interest. Blackstone Private Equity is regarded as one of the top PE shops in the world, but Blackstone has an ace up its sleeve in this deal that no one is talking about. Given that the three major players in this buyout -Michael Dell/Silver Lake, Carl Icahn, and Blackstone - have access to the same internal books, who could possibly have an edge? Arguably Michael Dell knows his company best, but he's seeking to change it radically. Surely he can't know with tremendous precision what will happen in the wake of his anticipated changes to the firm. Conversely, Carl Icahn is the Wizard of Oz when it comes to break up value. He's got an excellent general idea when it comes to break up value, but obviously this is a specific instance, and he can't be too sure. So who would have an edge over both of these groups? David Johnson.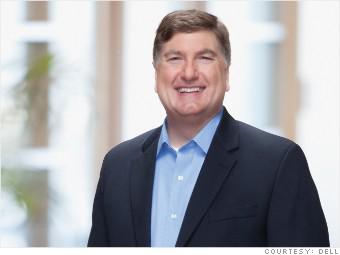 David Johnson was the Senior Vice President of strategy at DELL (meaning he was in charge of DELL's M&A work, among other things) before stepping down back in January to go to, you guessed it, Blackstone. Johnson not only knows where the bodies are buried at DELL; he also only recently stopped evaluating Dell's specific strategic options as a job. His presence, combined with Blackstone's expertise, gives them an edge that will be tough to combat.
That Blackstone has reappeared in the media is a major signal that it will bid. With Johnson in Blackstone's stable, the firm would have no reason to waste its time fooling around with DELL unless Blackstone was entirely sure that it was going to make a bid.
Considering bids are only accepted until the 22nd, now is the time buy. Projecting exactly how this deal plays out is impossible without a crystal ball, but I'm willing to bet it ends with DELL shares significantly above where they are now.
Disclosure: I am long DELL. I wrote this article myself, and it expresses my own opinions. I am not receiving compensation for it (other than from Seeking Alpha). I have no business relationship with any company whose stock is mentioned in this article.