Gold is still hanging in above the $1600/ounce level while oil has remained strong and natural gas as well. The news out of Cyprus which crushed Asian markets yesterday was a bit neutralized by the time our markets in North America opened due to an announcement from the Parliament in Cyprus that they were going to negotiate this further. It now appears that lower classes will be spared but this indicates that the rich shall pay a higher proportion of the cost. And this could upset Russia, which is said to have a lot of money deposited within the island's banking system.
Commodity prices this morning are as follows:
Gold: $1602.10/ounce, down by $2.50/ounce
Silver: $28.83/ounce, down by $0.044/ounce
Oil: $93.65/barrel, down by $0.09/barrel
RBOB Gas: $3.0987/gallon, down by $0.0302/gallon
Natural Gas: $3.883/MMbtu, up by $0.001/MMbtu
Chart of the Day:
Silver has been stuck in a range since the start of the year, which is essentially a $4/ounce range with $30/ounce being the median. Most of the time has been spent around the boundaries though, so one has to wonder where we go from here with silver being both a precious metal and an industrial metal. Our guess is higher, but that is simply because we are bullish the economy.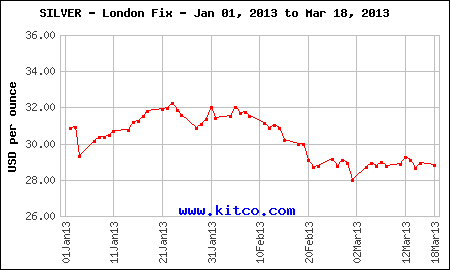 Chart courtesy of Kitco.com
Oil & Natural Gas
Wow! That is about the only thing one can say when looking at the Rex Energy (NASDAQ:REXX) results in an unbiased manner (see release here). They drilled three wells which we view to be super impressive for a number of reasons and did this without the best land or the optimal well techniques which we have seen work so well elsewhere in the Utica. The company reported the results for the Guernsey 2H (24 hr IP Rate of 3,111 Boe/d with 39% NGLs, 43% Gas, 18% Condensate), Guernsey 1H (24 hr IP Rate of 2,968 Boe/d with 39% NGLs, 43% Gas, 18% Condensate) and the Noble 1H (24 hr IP Rate of 2,938 Boe/d with 41% NGLs, 45% Gas, 14% Condensate). The rates are impressive along with the production breakdown but we also find the fact that their laterals ranged from 3,378-3,640 ft to be interesting with the longer laterals having 23 stages and the shortest 21 - which it must also be noted is the range of production from least to most. This looks to be another prime area and we could see the company looking to team up with others in the area to combine their land packages in order to optimize the results and allow everyone to benefit from some economies of scale.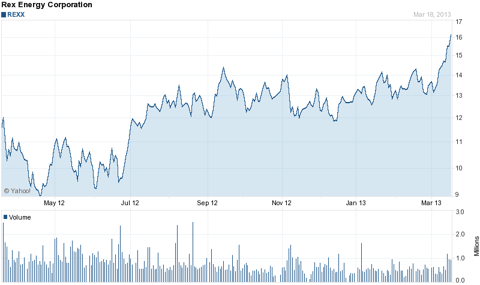 Chart courtesy of Yahoo Finance.
This must have been the news that was pushing the stock higher last week and investors approved of it again this week once it was released as shares rose $0.65 (4.18%) to close at $16.19/share.
When it comes to the Utica we cannot be more bullish of a name than Gulfport Energy (NASDAQ:GPOR). It has been one of our biggest winners this year and last and this year that has been accomplished without the added leverage of options as they have been priced too richly for some time now. Until we see someone with a land package to rival them paired with drilling results on par or better, it is hard to see another name becoming our go-to investment in the play. We found a good summary of all of the conference call transcripts of the big names in the Utica for readers, which we thought, would be of value (see here).
We also want to point out two names out west, which have been performing quite well as of late. The first is Anadarko Petroleum (NYSE:APC), which is an old favorite of ours that has experienced somewhat of a renaissance after earlier stumbles. The company is doing some exciting things with their shale plays and has amassed some land packages, which we find very appealing. We have talked about those names, which could become consolidators in the industry over the next few years, and this is certainly one of them. They have the management team, balance sheet, market cap, expertise and most important they possess investor confidence. We could see this buying even some of our favorites with properties located in proximity to theirs.
The other name is one we have had on our watch list and researched earlier this year before we gave up on it due to its unwillingness to present us with an entry point. Since then it has become a perpetual visitor to the 52-week high list and left us simply shaking our head. The name is Bonanza Creek Energy (NYSE:BCEI) and they have some interesting plays out west. The one we follow closely is the Wattenberg. Valuations in the play are all becoming rich, but this is one name we are looking at still and might make a small long-term bet on in the coming months.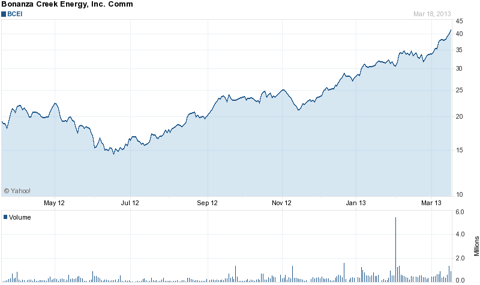 Chart courtesy of Yahoo Finance.
Rare Earths
As readers know we are bearish of Molycorp (MCP) but with the recent events and what appears to have been the kitchen sink being thrown at investors since the beginning of the year we are pondering whether these levels are attractive enough for a trade. If one believes that the economy is going to improve and demand for goods shall increase, then all boats shall rise with the rising tide...including Molycorp's. We are still looking over it all to see whether we can find any particular items which could be of consequence to the stock in the coming weeks/months and only then will we make a decision. The trade would be just that, a trade, and most certainly not an investment (long-term).
Disclosure: I am long GPOR. I wrote this article myself, and it expresses my own opinions. I am not receiving compensation for it (other than from Seeking Alpha). I have no business relationship with any company whose stock is mentioned in this article.