With many investors still sitting on the sidelines recovering from the housing collapse a few years ago, I would urge them to evaluate the homebuilder industry for potential investment opportunities. With the Dow Jones Industrial Average recently reaching untouched levels and many of the top homebuilders such as Toll Brothers (NYSE:TOL), Standard Pacific (SPF), Hovnanian (NYSE:HOV), Pulte Homes (NYSE:PHM), and Lennar (NYSE:LEN) significantly below their high point, it is understandable why investors would avoid this industry. However, history has told us that the best time to invest in stocks is when no one wants to own them. Additionally many economic indicators are beginning to point towards a housing recovery in our country.
Homebuilders in this country are experiencing a tremendous rebound and savvy investors who want to invest during the early innings of a housing recovery have the potential to earn outsized returns. One of my favorite homebuilders is Toll Brothers. In my previous article on this company, I gave a detailed analysis of why new home sales have bottomed and appear to be moving upward. If you haven't had a chance to read that article I suggest you take a few minutes before proceeding in order to understand the basics behind my thoughts regarding a housing recovery and why Toll Brothers makes sense for most investors' portfolios.
Basic Argument
Toll Brothers was not immune to the financial crisis and their over-expansion helped lead to the oversupply of homes available in the marketplace. You can see from the chart below that new home sales peaked in late 2005 at just under 1.4 million before beginning a rapid descent. Beginning in early 2012 we began to see this metric move up and to the right for the first time in years. It appears that we have bottomed and six years of pent up demand may be suggesting a sustainable trend upward. Toll Brothers CEO Douglas Yearley Jr. described his company's environment in the following manner, "…it appears that momentum is building."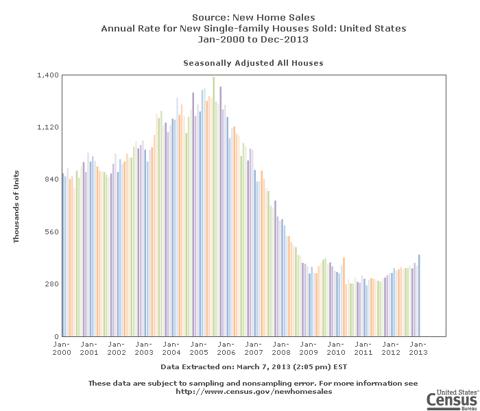 Further support to this argument can be found through a number of sources. The US Census Bureau said new housing starts in 2012 were 367,000, this falls well short of the long-term average of 710,000 (note this average and all averages mentioned in this paragraph go back to 1980). New home inventory stood at 4.9 months last year compared to the historic average of 6.2 months. The Census Bureau also said that total housing starts in 2012 were 780,000, about half of the 1,400,000 long-term average. Couple this data with the fact that 30-year fixed mortgage rates are roughly 4% and you have the potential for home ownership to boom during the next decade.
Even looking at labor statistics paint a similar story. In the most recent non-farm payrolls report from February, employment in the construction sector increased by 48,000. Since September 2012, employment in this industry has risen by 151,000. The chart below shows seasonally adjusted data for construction jobs in the US economy. You can see a similar trend to that of new housing starts above.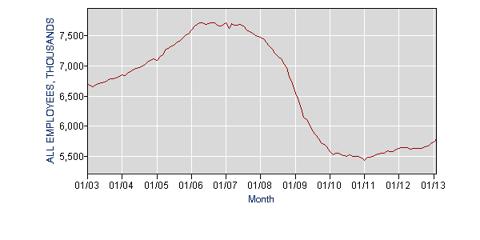 Source: Bureau of Labor Statistics
Toll Brothers executive chairman Robert Toll solidified the points above with the following statement during the company's prepared remarks:
"After seven years of trepidation, buyers are reentering the housing market and household formations are increasing. With low inventories of houses for sale and a limited supply of approved lots, home prices are rising. Buyers who need to sell one home to move to the next one are more willing and able to make the move. These factors plus record-low interest rates are boosting the housing market's recovery. As housing continues to recover and home prices rise, personal and bank balance sheets get stronger, which should spur additional economic activity and more housing demand."
Why Toll Brothers?
As investors we like to buy assets cheaply today with the expectation that they will rise in the future. The concept is fairly simple and easily understood. Toll Brothers is currently investing in the future with anticipation of a rather robust housing recovery. During the first fiscal quarter, which ended 1/31/13, the company invested over $330 million in land deals. The chart below shows Inventory (blue line left hand scale) and cash and marketable securities (red line right hand scale). You can see inventory bottoming out in late 2009 as the company finally began to stop writing down values (note: prior inventory write downs have been a good thing for new investors as they have created very large deferred tax assets). Since that time Toll Brothers has been in a buying mode, acquiring cheap assets to develop and sell in the future.

Source: Toll Brother SEC Filings
It is worth noting that the company is still not generating sustainable cash flow from operations, the majority of the cash has come from the debt market. As of the recent quarter end Toll Brothers had just under $2.1 billion in debt outstanding. While some may shy away from companies who have to grow through borrowing, I would argue my original point regarding future demand for new homes. With access to inexpensive debt given the extremely low interest rate environment, I would prefer companies borrow today and invest for the future. As an additional point of comfort, management has done a commendable job spacing out debt maturities, this risk of a ballooning debt repayment does not appear to be worrisome. Toll Brothers also has access to an $885 million revolving credit facility through October 2014.
All this inventory is not just sitting dormant, many sites are expected to begin development in the next couple of years. The company has an incredible backlog (see table below) with the number of housing units growing 57% and total contract value jumping 66% from the same quarter last year. CEO Douglas Yearly Jr. provided some promising statements about developing these sites on the recent earnings announcement:
"We are continuing to gain market share and see little competition from local private builders. As the spring selling season kicks off, we are also enjoying increasing pricing power due to the release of pent-up demand colliding with limited supply in the affluent markets where we operate."
| | | |
| --- | --- | --- |
| | Three Months Ended 1/31/13 | Three Months Ended 1/31/12 |
| Backlog Units | 2,796 | 1,784 |
| Backlog Value | $1,859,700,000 | $1,117,500,000 |
Source: Toll Brother FY13 Q1 Earnings Release
A Closer Look at Inventory
One argument I hear regarding Toll Brothers' inventory position is that the balance sheet displays inflated property values, which are not reflective of the current market environment. Intuitively this sounds like a rational point, but unfortunately the comment is inaccurate. During 2008 and 2009 the company had massive inventory impairment charges and continues to impair inventory today ($709,000 of inventory was written down in the prior quarter). Under US GAAP inventory impairments are not permitted to be written upward, even if they recover in value. A contrarian viewpoint may suggest inventory levels could be undervalued (we will save that argument for another article).
Given the massive inventory position, which makes up 68% of total assets, Toll Brothers gives very good detail of this, which is broken down in the footnotes of their SEC filings:
Operating communities include communities offering homes for sale, communities that have sold all available home sites but have not completed delivery of the homes, communities that were previously offering homes for sale but are temporarily closed due to business conditions or non-availability of improved home sites and that are expected to reopen within twelve months of the end of the fiscal period being reported on, and communities preparing to open for sale. The carrying value attributable to operating communities includes the cost of homes under construction, land and land development costs, the carrying cost of home sites in current and future phases of these communities and the carrying cost of model homes.
Communities that were previously offering homes for sale but are temporarily closed due to business conditions that do not have any remaining backlog and are not expected to reopen within twelve months of the end of the fiscal period being reported on have been classified as land owned for future communities.
In the table below you can see a breakdown of the three components of inventory:
| | | |
| --- | --- | --- |
| Inventory as of 1/31/13 | $ | % of Total |
| Land controlled for future communities | $54,521,000 | 1.31% |
| Land owned for future communities | $1,253,102,000 | 44.01% |
| Operating communities | $2,847,424,000 | 68.53% |
| Total | $4,155,047,000 | |
| Capitalized interest | $340,904,000 | |
| Adjusted Inventory | $3,814,143,000 | |
Source: Toll Brothers SEC Filings
Toll Brothers capitalizes interest expenses as a component of inventory. While this is permissible under accounting rules, it is a cost, which will be expensed (amortized) in the future, and does not reflect the value of tangible inventory. I choose to subtract this value from total inventory to arrive at an adjusted inventory level.
In reading the footnotes above you see that both operating communities and future communities include "temporarily closed communities." How long will these parcels be closed for? That is a question, which is unfortunately subject to management's discretion, and throws up a potential red flag. However further investigation reveals that these are relatively small components of overall inventory, making up just 6.45% of the current balance and 7.03% of the adjusted inventory balance. Overall the inventory reflected on the balance sheet appears to be credibly accounted for.
| | | | |
| --- | --- | --- | --- |
| Temporarily Closed Communities as of 1/31/13 | $ | % of Total Inventory | % of Total Inventory adjusted for interest capitalization |
| Land owned for future communities | $159,931,000 | 3.85% | 4.19% |
| Operating communities | $108,143,000 | 2.60% | 2.84% |
| Total | $268,074,000 | 6.45% | 7.03% |
Source: Toll Brothers SEC Filings
Conclusion
Toll Brothers has been in business since 1967 and is run by an outstanding management team. With numerous awards for building construction and service, a business model catering towards wealthier individuals, and a diversified portfolio of properties, the company is best of breed in the homebuilder space. Insider and director ownership was 11.7% at the end of fiscal year 2012, another sign of confidence in the future of this company.
If you are a believer in the economic data regarding a housing rebound, a believer in Toll Brothers management team, and feel that borrowing in today's environment can potentially lead to much higher future returns, then I would urge you to perform further research on Toll Brothers. Consider your investment goals and objectives before initiating a position in Toll Brothers and remember that the value of investments in equity securities, like TOL, will fluctuate in response to general economic conditions and to changes in the prospects of particular companies and/or sectors in the economy. If you see a fit in your portfolio, I think being a long-term shareholder has the potential to provide attractive returns. The last chart I will leave you with compares Toll Brothers stock price to New US Single Family Homes Sold. Dating back to 1990 you can see a strong correlation between these two metrics.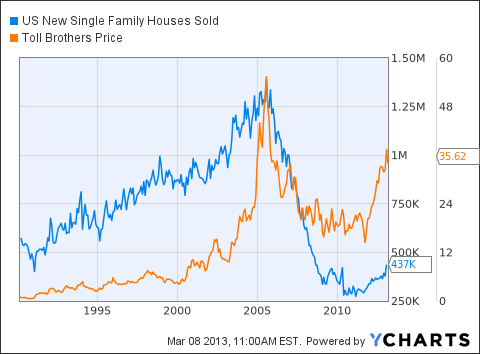 US New Single Family Houses Sold data by YCharts
Note: All data reported and graphed is pulled directly from Toll Brothers SEC Filings, Investor Presentations, and Press Releases.
Disclosure: I have no positions in any stocks mentioned, and no plans to initiate any positions within the next 72 hours. I wrote this article myself, and it expresses my own opinions. I am not receiving compensation for it (other than from Seeking Alpha). I have no business relationship with any company whose stock is mentioned in this article.