Recent news within Monster Beverage (NASDAQ:MNST) has pointed to large sales of company stock in March. Most of the time, the investment community assumes that this is bad news for any company that has management selling shares. There is a fundamental problem with this logic though as it would appear that MNST's executives were merely locking in a profit and that they recently received stock compensation. Many investors know not to put all of your eggs in one basket. Why does this not apply to a CEO or CFO of a company? There are four reasons why investors should ignore the insider selling: increasing per capita consumption, declining input costs, strong SymphonyIRI numbers, and that insiders still own a higher than average amount of shares. These reasons are on top of the five reasons I already outlined here (with the sixth being the declining input costs).
Increasing Per Capita Consumption
Increasing per capita consumption is a bullish sign for MNST. In the Sports & Energy Drinks sub-segment, per capita consumption has increased in all but two markets since 2008 (Japan and Ireland being the two). MNST generates a majority of its sales (~80%) from the US. Per capita consumption has increased from 19.6 to 23, or a 3.25% 5 Year CAGR (Source: Bloomberg Terminal):
Declining Input Costs:
There are two raw material costs to focus on for MNST: PET (packaging) and Sugar costs. As noted in my last article, declining costs will potentially improve gross profit margins for MNST. With PET and Sugar costs well below the 2011 peaks and down from the end of 2012, MNST could experience higher gross profit margins. Higher gross profits could lead to higher cash flows for the company. Given the declining costs and higher potential profitability, management wouldn't sell for this reason (Source: Bloomberg Terminal):
SymphonyIRI Points to Positive Year
MNST is thought to be the number two energy drink in North America. However, it surpassed Red Bull (the perceived number one) a few years ago. Red Bull still maintains the global market share, but MNST is launching into new areas. This may hurt profit margins a bit due to sourcing, distribution, and supply chain issues but is a necessary objective in order to continuously grow. The litigation against MNST was shown to have an impact on sales specifically to MNST in Q3 and Q4. With recent studies showing that MNST beverages are safer in caffeine levels than a cup of coffee (160 mg. vs. 330 mg. of caffeine in coffee), sales may have started to rebound. MNST finished 2012 with a unit market share of 21.7% globally, which has since grown to 22.1% as of February. Once again, MNST is a value brand compared to the premium priced Red Bull. MNST's average unit price is up $0.02 since the end of 2012 but down since last year at this time. The unit and dollar market share are still up! In other words, the pricing decline is being offset by stronger volume growth. MNST's dollar share is up to 20.3% compared to just 19.8% just two months ago. Red Bull's actually declined 80 bps since the start of the year. Over the last 52 weeks, MNST's share through February is only 19.6% but that incorporates the end of 2012 which had some bad quarters due to perceived threats. This is the main risk to MNST, namely that negative perception will continue to hurt sales. Given these numbers provided by SymphonyIRI via Bloomberg, it appears the negative perception is declining as sales are up for MNST specifically: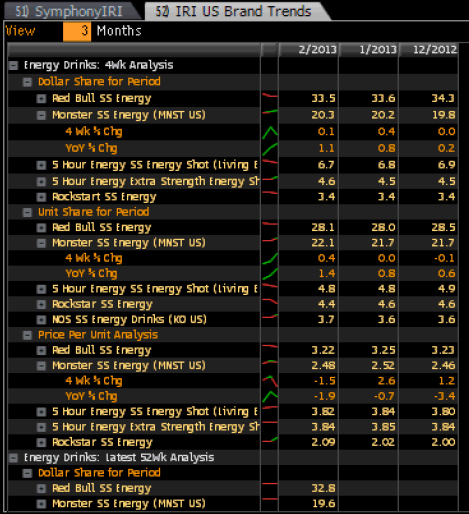 Insiders Still Own an Above Average of Shares
Basic financial principles tell an investor and employee to not have all of their eggs in one basket. The evidence lies solely in the financial crisis in 2008, as many employees' had bonuses tied up in stock options and stocks that became worthless. At the end of each fiscal year, management is also awarded stock compensation in order to "keep them motivated" and "in the game". The recent insider selling is not related to poor results of the company but just to insiders taking a profit on their holdings. Insiders actually have a terrible history of timing of buys and sells within the company (Source: Bloomberg Terminal):
One should notice the poor timing in most of the cases (red means sell, green meant insiders bought). Many of the insider sells were on the beginning of the upswing over the last few years. A good majority of insider buying occurred right before a major downswing, such as at the beginning of 2012 and the months that followed. This may just be bad luck but it is an eerie coincidence. On top of this, insiders actually directly owned the most as a percentage of shares entering 2013. The direct percentage owned before the insider sells occurred this month was double the average since March 2010 (Source: Bloomberg Terminal):
Readers should take notice that I keep saying "directly" when referencing insider holdings. CEO Rodney Sacks and CFO Hilton Schlosberg have holding companies that make the two of them combined own about 1/3 of the company. For example, one of the private companies that own a vast majority of shares of MNST is "Hilrod Holdings LP" (aka "Hil-ton" and "Rod-ney"). The table below shows the option schedule for the executive team (Source: MNST 10-K 2012):
Many of the options outstanding are in the money (~79%). Of these exercisable options, 71.5% have a weighted average remaining life of less than 3 years. Much of CEO compensation is in the form of stock in the company. With strong financial prowess, it is no wonder that MNST's two top executives are selling shares here.
Conclusion
The insider selling news is overdone for MNST. Management has shown in the past not to really care about the timing of sells given the poor timing of their buys and sells. On top of this, market share is rebounding and all-else equal, gross profit margin would improve with declining costs. Given that sales must not be declining for the industry with the per capita consumption improving in most nations across the globe, MNST still appears undervalued here despite management selling shares.
Disclosure: I am long MNST. I wrote this article myself, and it expresses my own opinions. I am not receiving compensation for it (other than from Seeking Alpha). I have no business relationship with any company whose stock is mentioned in this article.