The Malku Khota deposit in Bolivia is known as one of the largest undeveloped silver resources. In August 2012 the Bolivian government issued a decree revoking the mining concessions held for this deposit by South American Silver Corp (SOHAF.PK). The ensuing dispute is still ongoing. In an exemplary manner this case confirmed the findings of a recent article that investigated the country risks of precious metal mining jurisdictions ranking Bolivia as one of the riskiest jurisdictions in which to operate. The story illustrates quite drastically how promising projects can be terminated and turned into an investor's nightmare by the whims of governments. We strongly believe that country risk is an important factor when considering an investment in mining companies.
In a recent article we took a hard look at selected gold mining companies and quantified their exposure to country risk. In the present article we would like to repeat this exercise for silver mining companies. We used eight different providers of country risk measures and averaged the individual scores for various mining jurisdictions into one compounded score for each country. Details and results of this study can be found in this article.
For the present article we considered the following silver producers: Pan American Silver (NASDAQ:PAAS), Coeur D'Alene Mines Corporation (NYSE:CDE), Silver Standard Resources (NASDAQ:SSRI), Fortuna Silver Mines (NYSE:FSM), Hochschild Mining (OTCPK:HCHDF), Hecla Mining (NYSE:HL), First Majestic Silver (NYSE:AG), Endeavour Silver (NYSE:EXK) and Great Panther Silver (NYSEMKT:GPL). The former five companies operate in multiple countries, while the latter four companies each operate in one country only.
Production, reserve and resource reports were analyzed and the percentages of assets of the considered companies in each country they are active in were determined. Since 2012 annual reports are currently not available for all considered companies we decided to use last year's numbers instead. The table below shows the geographic distribution of production, reserves and resources for the considered companies. Values are listed in percentages of total production for each company.

We then determined three country risk scores for each company computing a risk rating for production, reserve and resource respectively. Relative exposure to individual countries and each country's compounded country risk score were taken into account. The computed scores range from 0 to 100 with low values indicating low risk and higher values indicating increasing risk.
The country risk score using production numbers can be interpreted as a snapshot of present exposure. The reserve score can be interpreted as looking into the nearer-term future since reserves have been shown to be mineable material and are oftentimes already part of a mine plan. The resource score can be interpreted as a measure of longer-term exposure since resources typically represent mineralization that might be mined further down the road.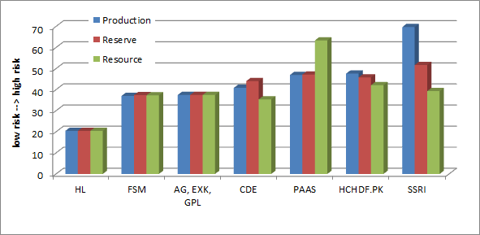 The diagram above illustrates the resulting country risk scores for each company in the three different categories. And the listing below gives the ranking of the companies for each category.
Hecla Mining operate only in the USA and consequently showed the lowest risk score in all three categories.
Fortuna Silver Mines with mines in Peru and Mexico and the three companies which operate solely in Mexico (First Majestic Silver, Endeavour Silver and Great Panther Silver) all had very similar risk ratings.
Coeur D'Alene Mines received a higher risk rating than the previously mentioned companies owing to its producing and development assets in Bolivia and Argentina. The risk rating improved substantially when resources were considered due to their properties in the USA.
Pan American Silver showed the greatest increase of country risk going into the future due to operations and projects in Argentina and Bolivia, which are both considered high-country-risk locations. In fact, the country risk associated with the Navidad project in Argentina is already playing out with investments into this asset currently suspended due to recent substantial changes in local taxation rules.
Hochschild Mining has a high risk rating due to its operation in Argentina. The same can be said about Silver Standard Resources whose only operating mine is also situated in Argentina. However, Silver Standard Resources has large reserves and resources in less risky jurisdictions indicating the possibility for a much reduced risk profile going into the future.

Disclosure: I am long AG, EXK, HL. I wrote this article myself, and it expresses my own opinions. I am not receiving compensation for it (other than from Seeking Alpha). I have no business relationship with any company whose stock is mentioned in this article.