Goldman Sachs lowered its forecast for iron ore prices for 2013 from $144 to $139 in light of decreasing demand from China. Bloomberg also reported today that:
"Prices dropped 7.1 percent this year as China's industrial output had the weakest start to a year since 2009 and amid concern curbs on construction in China will reduce demand for the commodity used to make steel. Morgan Stanley said March 7 that iron ore had peaked and will decline over the rest of the year, joining analysts from Deutsche Bank AG to Credit Suisse Group AG in forecasting lower prices."
Rio Tinto (NYSE:RIO) was down about 3.5% at 3162p on the London exchange Tuesday morning at 8:00 am, U.S. Eastern Time.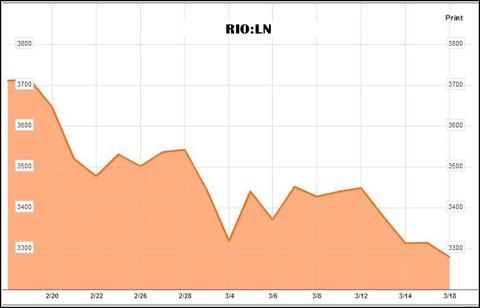 Click to enlarge
(Click to enlarge)
In a separate release covered by Reuters, it is reported that Goldman has cut its recommendation on RIO. Published on Tuesday, 19 Mar 2013 at 4:01 AM ET,
Rio Tinto Pl

c:

Goldman Sachs cuts to sell from neutral; adds to conviction sell list
Rio Tinto Pl

c:

Goldman Sachs cuts target price to 2800p from 3750p
The year 2012 was the first year Rio Tinto ever had an annual loss. It dismissed the former CEO, Tom Albanese, and replaced him with veteran iron miner, Sam Walsh. In its mid-February press release, he said, "We are optimizing our future capital allocation by prioritizing and investing in only the highest returning projects. Our major capital projects in copper and iron ore continue in line with expectations and are poised to deliver additional volumes this year."
There has been some criticism of Rio Tinto, which continued to invest in expanding its operations in the Pilbara and its huge Australian iron ore resource despite the weakness in the iron ore price in the second half of 2012. Annual production is scheduled to reach a rate of 290 million tons of iron ore in August. Current plans call for a continuing expansion, enabling production of 360 million tons of iron ore a year by the first half of 2015.
The big copper project it is involved in is at Oyu Tolgoi in Mongolia. It is uncertain what further delays may slow down this project.
"Shareholders in Mongolia's $6.6 billion Oyu Tolgoi copper and gold mine will reconvene on March 20 to try and resolve disputes that are holding up construction funding," Mongolia's Minister for Economic Development Nyamjav Batbayar said. These disputes include cost overrun estimates at the Phase I project, nearing completion. According to the Bloomberg news report of March 14, "Mongolia says it will only approve the 2013 budget when it sees a finalized feasibility study for phase two of the project."
My last article on Oyu Tolgoi was published March 11, 2013. In a March 14, 2013 article, his most recent on Oyu Tolgoi, Emmet Kodesh wrote about Mongolia's demands
What do these issues concerning iron prices and expensive projects mean for the shareholder of RIO? Goldman has added RIO to its "conviction sell list." Rio Tinto opened at $47.68 this morning on the NYSE, down 3.22% from yesterday's close.
Perhaps it is time to sell.
Disclosure: I have no positions in any stocks mentioned, and no plans to initiate any positions within the next 72 hours. I wrote this article myself, and it expresses my own opinions. I am not receiving compensation for it (other than from Seeking Alpha). I have no business relationship with any company whose stock is mentioned in this article.