American Capital Agency Corp. (NASDAQ:AGNC) is a mortgage REIT that invests in agency securities. Its objective is to preserve net asset value while generating attractive risk-adjusted returns for distribution to its stockholders through regular quarterly dividends. It is externally managed by American Capital Management LLC, a wholly owned subsidiary of American Capital (NASDAQ:ACAS).
With the narrowing of net interest spreads on agency RMBS in the fall of 2012, many think that AGNC's external manager will lower its dividend again after the Q1 2013 result is reported. The actual evidence indicates the chances of that are very small. In fact, the data indicate that AGNC may raise its dividend after the Q1 results. The reasons why are many.
One of the components in figuring the net interest rate spread is the CPR (constant prepayment rate). This has been consistently steady and good for AGNC for quite some time (see chart below).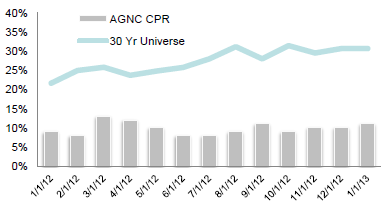 There is no reason to believe AGNC's CPRs won't continue to be consistently good. First, AGNC keeps a high percentage of its agency portfolio in HARP and lower loan balance loans that are only very infrequently prepaid. Second, prepayments occur more often when the mortgage rates fall during a quarter. In other words, people prepay in order to get a lower interest rate via a refinancing. There is a certain amount of lag between a new mortgage rate low and increased refinancing. However, such a lag has had plenty of time to adjust itself before the start of Q1 2013. Plus, the mortgage rates have been rising since mid-fall 2012.
Rising mortgage rates should discourage people from refinancing, although there could be a small rush to grab low rates. The low 30-year fixed mortgage rate of mid-fall was about 3.30%. The current 30-year fixed mortgage rate is 3.62% today, March 19, 2013, on Yahoo Finance. The chart below of the 30-year U.S. Treasury Bond Yield on which many mortgage rates are based confirms the mortgage rate uptrend.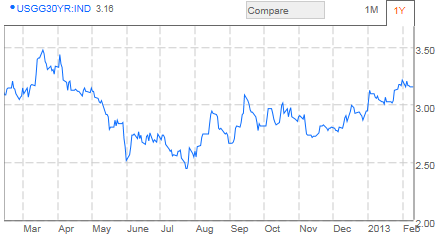 This means that AGNC CPRs are more likely to be lower soon than higher. It, along with the mortgage rate rise, means that the interest rate spread should be wider in Q1 than in Q4. The recent U.S. core and headline PPI and CPI numbers also tend to indicate inflation (+0.2% core and +0.7% headline for February 2013) is present. Inflation would tend to make mortgage interest rates rise rather than fall. Furthermore, that data made many wonder if the Fed would have to terminate its QE programs sooner than people had been expecting. A termination of any of the Fed programs would tend to make mortgage rates rise. This would lead to expanded net interest rate spreads.
The difference between the Q4 2012 net spread income per common share of $0.89 and the $1.25 dividend declared per common share is probably the main reason many are expecting a dividend cut. However, there are a few factors they are likely not considering. The net spread income per common share was $1.18 per common share if you included AGNC's dollar roll activity. This figure is much closer to the $1.25 per share dividend figure. Essentially, AGNC is purchasing Agency MBS on a forward settlement basis through the TBA dollar roll market, which has become much more active (able to be profited from) since the Fed last fall resumed buying MBS. There is no reason to believe this market will not continue to be profitable for the near future (as long as the Fed MBS buying persists). With the likely increased net interest spread income in Q1 2013 due to higher mortgage rates, the small gap between $1.18 and $1.25 should be more than closed.
On top of this AGNC actually had $1.93 estimated income per common share in Q4 2012. This number is far higher than the $1.25 per common share dividend. In fact AGNC's estimated undistributed taxable income per common share increased $0.66 per common share in Q4 2012. The total estimated undistributed taxable income is $2.18 per common share as of Dec. 31, 2013. This give AGNC plenty of leeway to continue the dividend at current levels or higher.
The bad news is the book value per common share decreased from $32.49 as of Sept. 30, 2012, to $31.64 as of Dec. 31, 2012. This happens because the premium paid for agency RMBS shrinks as mortgage rates rise. AGNC has hedges that minimize this shrinkage, but it still occurs. It may occur in Q1 2013; it also may not. Many are hoping that Q1 2013 will be a good value generating quarter. We will see.
The main conclusion is that AGNC's dividend rate should not be immediately in danger. In fact, it could go up. It may be that AGNC will not want to accrue too much estimated undistributed taxable income per share. It could pay more of this out to shareholders. All told AGNC is a buy.
The two-year chart of AGNC (below) provides some technical direction for this trade.
Click to enlarge image.
Click to enlarge
The slow stochastic sub chart shows that AGNC is near overbought levels. The main chart shows that it has generally in a consolidation phase. If there is a good to great result in Q1 2013, that could provide the momentum to break out of that consolidation phase. AGNC's P/E of 7.67 makes it a relative bargain. Its current price of $31.98 is reasonable for this top performer's book value of $31.64 at the end of Q4 2012. A 15% dividend is great. The average analyst gives AGNC a recommendation of 2.2 (a buy). CAPS gives it four stars (a buy).
For those not familiar with the dollar roll trade AGNC is making, AGNC provided the following table illustration.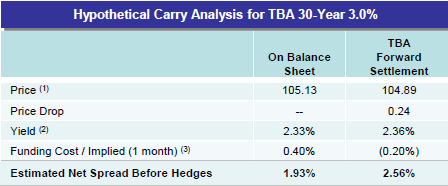 The example in the table speaks for itself. The results are a great gift to AGNC's results from the Fed. AGNC is a buy, but investors should keep in mind the overall market, which is over due for a pullback and the likely worsening U.S. economy. For this reason, averaging in over 2013 is an appropriate strategy.
Note: Some of the fundamental financial data above is from Yahoo Finance.
Disclosure: I have no positions in any stocks mentioned, but may initiate a long position in AGNC over the next 72 hours. I wrote this article myself, and it expresses my own opinions. I am not receiving compensation for it (other than from Seeking Alpha). I have no business relationship with any company whose stock is mentioned in this article.