While longer term supply and demand dynamics are important in the price movements of natural gas, in the short term weather is often the most important variable in determining price. Last winter the period between December and February was the fourth warmest on record. Then March became the warmest March on record in the lower 48 Contiguous United States (CONUS). To illustrate just how warm March of 2012 was we will take a look at the temperatures in Chicago. According to AccuWeather.com, the temperatures in Chicago for March 2012 were well above normal. Average daily temperatures are calculated by taking the daily high temperature and the daily low temperature and then adding them together and dividing by 2. Twenty of the twenty two days in Chicago between March 6 and March 28 of 2012 averaged 10 degrees or more above normal. Between March 13 and March 22, all 10 days averaged more than 20 degrees above normal, including 5 days in a row more than 30 degrees above normal for both the daily high and the daily low. These abnormally high temperature anomalies caused natural gas storage to reach an end of season low on March 9 of 2,369 Bcf. By March 30 of 2012, natural gas in storage had already grown to 2,472 Bcf. This year is the polar opposite (no pun intended) and the colder than normal weather has caught many natural gas traders flat footed.
As recently as mid-February many traders did not expect natural gas end of season storage numbers to get under 2,000 Bcf. The cold weather has already pushed storage down to 1,938 Bcf as of March 8, according to the EIA Weekly Natural Gas Storage Report. That same report shows the traditional end-of-March end of season storage for the 5 year average to be 1,724 Bcf for the week ending March 29, 2013. The 5 year average for the next three reports is a draw of 26 Bcf for the week ending March 15, an injection of 6 Bcf for the week ending March 22, and an injection of 4 Bcf for the week ending March 29. The price of front month natural gas futures contracts is still under $4 per mcf just in case the weather warms up and storage ends above 1,850 Bcf. This possibly would require some coal to gas switching, which would take prices into the mid-$3 range for Appalachian coal. Without the need for coal to gas switching, there is no support for natural gas prices under $4 per mcf and prices could break the $4 barrier and head higher. Based on the current estimates for a draw of natural gas in the mid-60 Bcf range for the week ending March 15, and the weather forecast for the next 10 days, it is very possible the natural gas storage inventory will be below the 5 year average of 1,724 Bcf for the week ending March 29, 2013. Here is a look at the latest 6-10 day temperature forecast from the National Oceanic and Atmospheric Administration: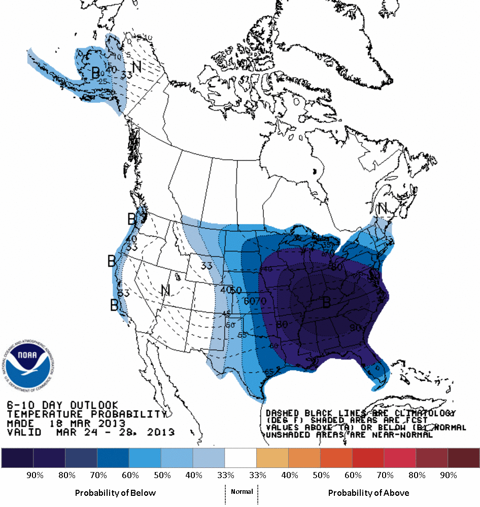 Click to enlarge
(Click to enlarge)
Based on current weather and the forecast above it is very possible the next three EIA Weekly Storage Reports will show draws much greater than the 5 year average. With storage already down to 1,938 Bcf, the next three weeks would need to combine for a greater draw than 214 Bcf to get under the five year average by March 29. If the market was anticipating this outcome, prices would already be above $4 per mcf, because storage that low would all but eliminate the need for coal to gas switching to cut storage levels heading into next winter. Lastly, according to the most recent runs of the Global Forecasting System, the week ending April 5 could also show a draw and not an injection. According to the EIA Weekly Natural Gas Report, 7 out of the last 19 Aprils have seen the end of season storage low occur after the first or second week of April.
The recent rally in natural gas prices is because the market was not prepared for the cold weather we have already experienced at the end of February through the middle of March. It appears the market may still not be ready for the well below normal cold forecasted for the end of March. Traders looking to take advantage of a possible further rally in natural gas prices should consider the United States Natural Gas ETF (NYSEARCA:UNG). Another way to play a rally is to buy shares in natural gas exploration and production companies that remain largely unhedged for natural gas prices such as Chesapeake (NYSE:CHK), Comstock Resources (NYSE:CRK), Devon Energy (NYSE:DVN), EOG Resources (NYSE:EOG), Crimson Exploration (NASDAQ:CXPO), and Ultra Petroleum (UPL).
Disclosure: I have no positions in any stocks mentioned, and no plans to initiate any positions within the next 72 hours. I wrote this article myself, and it expresses my own opinions. I am not receiving compensation for it (other than from Seeking Alpha). I have no business relationship with any company whose stock is mentioned in this article.