Over the past 18 months, when shares of Albany Molecular (NASDAQ:AMRI) were at $2.50, I wrote two articles articulating that the company was priced for liquidation, when in reality, there was significant value remaining in the company.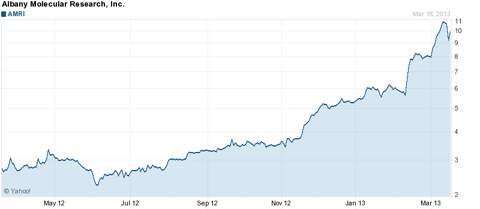 For those investors not familiar with the story, Albany Molecular is a contract manufacturer for the pharmaceutical and biotechnology industries. Heading into the recession, the company was growing consistently, however, when the credit bubble burst in 2008, a lot of companies pulled back funding for their early stage projects, which left Albany Molecular with less revenue and excess capacity.
Contract Revenue (In $ Millions)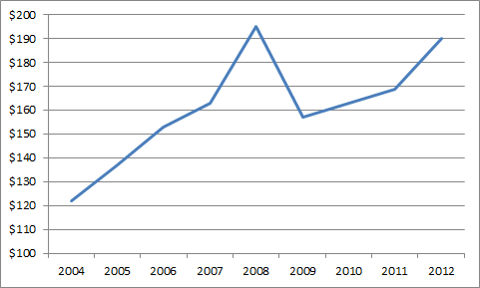 In addition to a difficult end market, the company invested its cash on hand in a couple of acquisitions that did not work out. While the acquisitions were supposed to be accretive to the company, one of the acquired companies lost a major customer which became a drag on profitability and the other acquired company had to shut down most of its capacity to address FDA concerns. However, after a challenging string of quarters, the company was able to log a profitable year in 2012. Additionally, the company's net cash balance has grown from a low of under $4 million in the first quarter of 2012 to over $17 million at the end of the year (will likely be $27 million once receivables from a large Q4 order are received).
As you can see in the chart below, the company's contract gross margin bottomed out in 2011 and has since rebounded significantly, nearly to the levels they were at before the company's results began declining in 2008.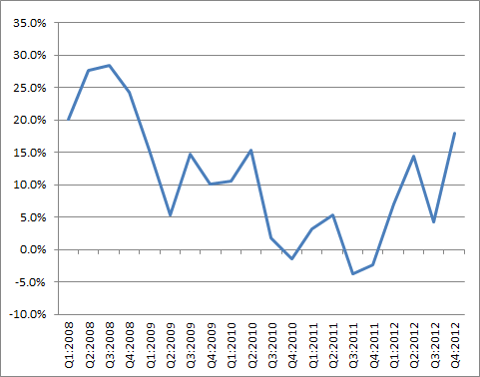 Now that the company's business is back on track, we turn our attention to valuation. It's impossible to parse out, but Aceto's EV/Sales is significantly lower than its peers because in addition to coordinating contract manufacturing services, it participates in another business with much lower gross margins. It's apparent below that the trend has been AMRI's friend. Not only has the stock roared back, but its valuation has propelled above its peers on an EV/FCF basis. From an objective perspective, I would say that the risk/reward profile for all three of these companies is similar. All three companies are benefiting from a renewed interest in developing new drugs. Additionally, while conditions in the industry were difficult over the past few years, excess capacity has slowly been removed, leaving more room for these companies to have at least some pricing leverage.
Industry Comparison Based on Internally Generated 2013 Estimates
| | | |
| --- | --- | --- |
| | Enterprise Value/Sales | Enterprise Value/Free Cash Flow |
| Aceto Corp (NASDAQ:ACET) | 0.65x | 11.7x |
| Albany Molecular | 1.35x | 15.0x |
| Cambrex Corporation (NYSE:CBM) | 1.35x | 13.4x |
One of the reasons we were interested in Albany Molecular under $5 is because there was a significant amount of insider buying... approximately 320,000 shares, or 1% of the company float. Since the stock hit $8, however, there has been a modest amount of insider selling, approximately 10,000 shares. Another reason we were compelled to purchase shares when they fell was because our sum of the parts analysis lead us to believe shares were worth at least $7 a share, and while shares were trading at $2.50, that looked like a terrific return on investment to us. We thought the company would make a good strategic fit for a larger contract manufacturer that could cut out a lot of overhead costs, however, we think the company would have to prove itself more before seeing interest significantly above where shares are today.
Significant positive developments that could lift shares higher than they are today include a recovery in one of the company's prior challenged acquisitions and a positive development from the company's portfolio of proprietary compounds. Alternatively, if the economy took another hit, we would expect the company's business to suffer as it has in the past. Also, if the FDA were to issue the company any additional warnings on any of its factories, it would likely disrupt its business.
In conclusion, while AMRI's business has rebounded and the company is back on track, we think investors are giving the company full credit for this recovery. We would look to initiate a position again if shares pulled back or if there were any significant positive developments in the company's business.
Disclosure: I have no positions in any stocks mentioned, and no plans to initiate any positions within the next 72 hours. I wrote this article myself, and it expresses my own opinions. I am not receiving compensation for it (other than from Seeking Alpha). I have no business relationship with any company whose stock is mentioned in this article.