Powershares DB Crude Double Short ETN (NYSEARCA:DTO)
Bullish momentum in crude oil petered out last week. Both NYMEX crude and DTO finished last week more or less where they began. DTO did however retreat below the $140 support level in the first four days of last week, but ended the week almost $9 above that support level on Friday's profit taking in WTI crude. Last Wednesday's DOE report indicated that US crude inventories continued to grow for the week ended March 20th. If crude was this bearish fundamentally, we should see a retreat below $50 and a lift in DTO back to the $200 range, but that has yet to happen.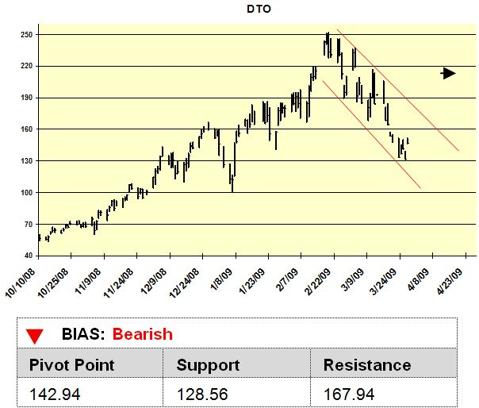 Powershares DB Crude Double Long ETN (DXO)
DXO and WTI are defying gravity with the current bearish fundamental backdrop. While the performance of both funds last week was lackluster, their ability to hover at the yearly highs is telling. The oil speculator might be back. The current administration's viewpoints on energy give them every reason to come out front and center. Lower oil prices are counterproductive for new energy development. So too is Obama's proposed excise tax of big oil and gas. All the clean energy plan is accomplishing is the funding of science experiments and new jobs. The race is on between the speculators and clean energy. DXO is a bet on the former.