For more than three years, Lululemon Athletica's (NASDAQ:LULU) stock has been on the mend, reaching the one high after another. Following a disappointing guidance from the company last September, momentum has been shifting. Lululemon's stock is trading below its 100-day and 200-day moving averages. And there are good fundamental reasons supporting this shift: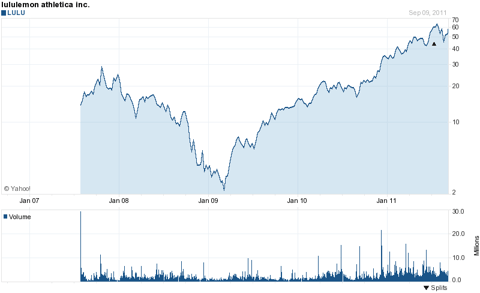 Click to enlarge
(Click to enlarge)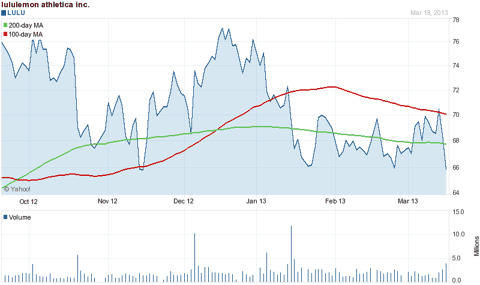 Click to enlarge
(Click to enlarge)
1. Quality issues
This morning the company admitted that it is pulling its hot selling black yoga pants off the shelves, due to material defects-a move that is expected to affect the company's top and bottom lines in the short-term.
2. Imitation
As is the case with other momentum stocks like OpenTable (NASDAQ:OPEN) and Netflix (NASDAQ:NFLX), Lululemon doesn't have a sustainable competitive advantage, as it has no barriers to entry to keep the competition out. Already Gap (NYSE:GPS), Nike (NYSE:NKE) and Nordstrom (NYSE:JWN) have developed their own yoga athletic gear, and compete head to head with Lululemon. Nordstrom, for instance, is selling similar gear 30 percent below that of Lululemon, while "Nike and Gap also are following Lululemon's practice of tapping into yoga's spiritual ethos, an effort that makes customers feel that they're part of the community."
3. The cooling off effect. Lululemon's sales can, in part, be attributed to a craze that eventually fades away, as people get tired of it, or as another craze catches up with them. That's at least the experience from previous crazes such as LA Gear shoes and Barbie dolls. This mornings announcement may precipitate the cooling effect.
| | | | |
| --- | --- | --- | --- |
| Company | Lululemon | Under Armour (NYSE:UA) | Limited (LTD) |
| Forward PE | 27.78 | 27.10 | 12.45 |
| Operating Margin | 27.06% | 10.26% | 16.19% |
| Quarterly Earnings Growth | 47.70% | 54.00% | 14.60% |
| Quarterly Revenue Growth | 37.5% | 25.50% | 9.70% |
Source: Yahoo.finance.com
4. Saturation. Not every lady on earth is going to fall for the yoga craze and shop for new gear every other week. This means that, even in the absence of any competition, sales will taper-off as the market approaches saturation.
5. A weak economy. Money consumers spend on yoga or any other leisure activity is discretionary. This means that a weaker economy will make a dent in yoga gear sales, especially for the high-end of the market where Lululemon caters. Ulta Salon Cosmetics (NASDAQ:ULTA) reported disappointed sales recently.
The bottom line: Economic fundamentals are catching up with Lululemon's stock, which make it ripe for a correction. Conservative investors should avoid it. Aggressive investors may want to build short positions, as I did, but they have to keep an eye on a number developments that may help the company's momentum resume. First, an improvement in the U.S. and the world economy. Second, the introduction of new products. Third, a reversal in insider transactions, which have been on the sell side.
Disclosure: I am short LULU, NFLX. I wrote this article myself, and it expresses my own opinions. I am not receiving compensation for it (other than from Seeking Alpha). I have no business relationship with any company whose stock is mentioned in this article.