Cisco Systems (NASDAQ:CSCO) has gone from long time market laggard to a leader in the market during the rally since the post-election sell-off. CSCO has added some 25% since its post-election low outperforming the overall market during that time. However, the shares are still cheap and the stock is picking up some positive catalysts as well.
Recent positives for Cisco:
Synergy Research just published a report showing Cisco gained market share in the six main network enterprise segments in 2012 despite tough competition.
All the talk about what Apple (NASDAQ:AAPL) should do with all its cash is helpful on the margin for Cisco. It has the fifth largest cash hoard of any U.S. company at over $46B and it is getting close to the time of the year the company has raised its dividend in the past. Its payout ratio is less than 30% of this fiscal year's expected earnings.
Consensus earnings estimates for FY2013 have gone up over the last month.
Finally, the stock recently broke through a long term resistance level (See Chart).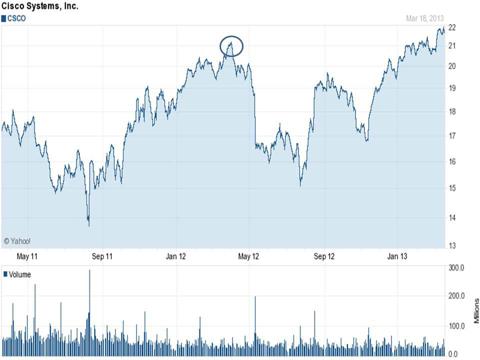 4 more reasons CSCO still offers value at under $22 a share:
Stripping out net cash on the books, the stock is selling for less than 8x forward earnings.
CSCO yields 2.6% and I would look for the company to announce another dividend increase by the end of the second quarter that will take its yield to around 3% at current levels.
Despite its size and the challenging networking environment, it continues to grow revenues. The company should post slightly better sales gains than 5% and the stock sports a very reasonable five year projected PEG (1.30) for a solid yielder. Also contrast Cisco with another tech giant, IBM; which is projected to average 2% sales growth over the next two fiscal years and has averaged just over 1% revenue growth on average over the last five years. Despite this and a lower dividend yield, IBM is selling at over 11.5x forward earnings and does not have a cash hoard on its balance sheet like Cisco (it actually has over $20B of net debt).
Even after the stock's recent rise, CSCO is still selling near the bottom of its five year valuation range based on P/CF, P/B, P/S and P/E.
Disclosure: I am long AAPL, CSCO. I wrote this article myself, and it expresses my own opinions. I am not receiving compensation for it (other than from Seeking Alpha). I have no business relationship with any company whose stock is mentioned in this article.