Ultra-deepwater specialist Pacific Drilling (NYSE:PACD) continued on its growth trajectory in the fourth quarter of 2012. The company showed strong net income and contract revenue growth compared to the previous quarter. Pacific Drilling also benefited from strong operational performance from its fleet which achieved a revenue efficiency of 94.6%. This is also a significant improvement over the previous quarter. I will analyze the company's results shortly but first, here are the highlights from the company's first quarter:
The company had total revenue of $191.9 million in the fourth quarter. This compares to total revenue of $172.0 million in the previous quarter. It also represents an increase from the prior year quarter in which the company had total revenue of $48.4 million.
Pacific Drilling had fourth quarter net income of $16.5 million or $0.08 per share. In the previous quarter, the company had a net loss of $2.0 million or $0.01 per diluted share. Therefore, the fourth quarter represents substantial improvement over the previous quarter. The fourth quarter also represents an improvement over the prior year quarter. Pacific Drilling had a net income of $11.6 million or $0.05 per diluted share in the fourth quarter of 2011.
Pacific Drilling achieved a revenue efficiency of 94.6% in the fourth quarter.
The company's EBITDA in the fourth quarter was $92.7 million. This also represents growth over the previous quarter's EBITDA of $65.3 million.
As you can see, Pacific Drilling has seen significant growth on both a quarter over quarter and year over year basis. Fortunately, the company looks set to continue this growth streak going forward. We can see this quite clearly if we look at the causes of this growth. The biggest reason for the year over year growth is that Pacific Drilling saw two rigs, Pacific Mistral and Pacific Santa Ana, begin work on their first assignments. These rigs doubled the number of operating rigs that Pacific Drilling had at the end of this year versus the end of 2011. The increasing rig count naturally increased the number of rigs that Pacific Drilling has earning dayrate and so this significantly pushed up revenues. The company has another new rig that will come online and begin its assignment in the fourth quarter of this year and this will have a similar effect on revenues. However, this new rig, the Pacific Khamsin, carries a significantly higher dayrate than either of the two rigs that started up this year. Therefore, it will have a larger individual impact than either of these rigs (but not as large an impact as both rigs combined). The company's future growth will not stop there. Pacific Drilling has another new rig, the Pacific Sharav, which will begin its assignment in the second quarter of 2014. That year may see even further growth as a seventh rig, the Pacific Meltem, will be completed in the second quarter of 2014. Pacific Meltem has not yet secured a contract. However, there is a good chance that the company can secure a contract and possibly even get the rig into operation by the fourth quarter of 2014. Pacific Drilling also has an eighth rig under construction and this rig should be completed in the first quarter of 2015. The company should be able to get this rig under contract and into operation by the middle of 2015, thus stimulating further growth.

Click to enlarge
Source: Pacific Drilling
Pacific Drilling also has the potential to stimulate growth by increasing its revenue efficiency. As previously mentioned, Pacific Drilling's fleet achieved a fourth quarter revenue efficiency of 94.6%. This gives the company's fleet one of the highest efficiencies of any ultra-deepwater driller. However, the company notes in its report that the average revenue efficiency of its rigs exceeds 95% following the first six months of operation. Thus, the company should be able to push this number up slightly going forward as its existing rigs complete their shakedown periods. However, it is worth noting that all of Pacific Drilling's rigs have been in operation for at least since months as of the start of the fourth quarter but the Pacific Santa Ana and Pacific Mistral were only barely so and so could still be affected by the usual equipment issues that occur within the shakedown period. As Pacific Drilling increases the revenue efficiency of its existing fleet, it will capture more of its total possible contractual revenues and thus increase both revenues and profits.
Pacific Drilling's growth potential has not gone unnoticed by analysts. According to Thomson Reuters, Pacific Drilling is expected to grow its EBITDA at a compound annual growth rate of 44% between 2012 and 2015.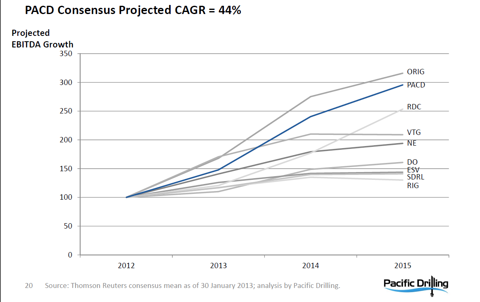 Click to enlarge
Source: Pacific Drilling
According to these analysts, Pacific Drilling will grow its EBITDA at a faster rate than any major ultra-deepwater driller except for Ocean Rig (NASDAQ:ORIG). In fact, this analysis may underestimate the company's growth potential. Pacific Drilling stated in a presentation given on February 4, 2013 that it is targeting a total rig fleet of twelve rigs. This is a 50% increase over the eight rig fleet that the company will have once all of its newbuilds are complete. Naturally, these extra four rigs will produce growth in excess of the growth that will be driven by the newbuild rigs currently under construction. These four additional rigs will most likely impact the company's growth prospects in the post-2015 period. This is partly due to the construction time of one of these rigs: nearly two years. Therefore, even if Pacific Drilling began construction on its ninth through twelfth rigs immediately, the rigs would not be available until 2015 at the earliest. Additionally, it is unlikely that Pacific Drilling will be that aggressive at building rigs due to the company's history of financial conservatism. Pacific Drilling has total long- and short-term debt of $2.25 billion compared to total equity of $2.32 billion. This gives the company a debt to equity ratio of 0.97. This is a fairly conservative ratio that compares favorably to other rapidly growing peers such as Seadrill (NYSE:SDRL) and Vantage Drilling (NYSEMKT:VTG). I rather doubt that Pacific Drilling will lever itself up considerably in order to quickly build an additional four rigs; more likely, the company will take it slow and steady. This would provide a margin of safety for shareholders as the company's approach should prevent debt problems.
Despite the very good earnings report, overall market rally, and strong growth prospects, Pacific Drilling's stock price has shown weakness over the past month.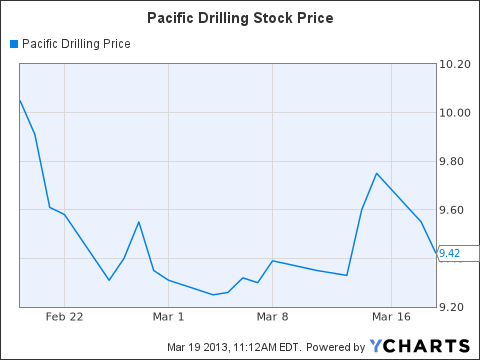 This could present a tempting entry point for both long- and short-term investors into this $2.04 billion market cap up-and-coming ultra-deepwater driller. The stock has fallen considerably over the past month and so certainly has the potential to return to its previous price of over $10 per share at some point in the near future, possibly following a good first quarter 2013 earnings report. Over a longer-term horizon, the prospects for growth are quite solid here and a rising stock price should follow.
Disclosure: I am long PACD, SDRL. I wrote this article myself, and it expresses my own opinions. I am not receiving compensation for it (other than from Seeking Alpha). I have no business relationship with any company whose stock is mentioned in this article.