By Matthew Bradbard
30 days ago RBOB prices at the wholesale level peaked, putting in a high in May futures of approximately $3.30/gallon. Since then prices are off nearly 7% and as of this post prices are penetrating a trend line that has held since mid-December. We are also witnessing a trade under the 50 day MA, identified by the green line in the chart below and if prices close below that pivot point it would be the first settlement under that level in 2013.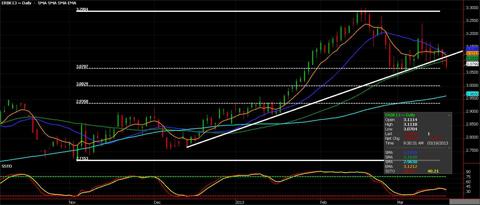 Click to enlarge
As you can see, prices are approaching the 38.2% Fibonacci retracement. This level served as support two weeks ago when prices dropped nearly 6% in nine trading days. The bounce was weak, with prices putting in a lower high. I am expecting RBOB will penetrate the 38.2% Fibonacci level this time and trade under $3.00 in the coming weeks. The 100-day MA (light blue line) falls squarely between the 50% and 61.8% Fibonacci levels. This makes $2.9650 a reasonable target, in my opinion.
Rather than an outright trade on RBOB futures, I favor plays on the spread between RBOB and heating oil. Look to sell one (1) RBOB contract while simultaneously buying one (1) heating oil contract. Both contracts leverage 42,000 gallons, so make sure to trade these 1:1. The current RBOB: Heating Oil spread in May is showing a 7-cent premium on RBOB. I expect this spread to narrow, at a minimum. I actually see the spread inverting in the weeks ahead, with heating oil trading at a premium to RBOB (as opposed to a discount, which it is currently). A 1-cent move on the spread represents a loss/gain of $420 (per spread) ... trade accordingly, based on your account size.
Even if not looking for a trade idea maybe the lower trade in RBOB will help our wallets as consumers. If we see prices trade under $3/gallon at the wholesale level we should start to see some relief at the pump. It may not seem like a huge difference but a 30-40 cent drop per gallon likely equates to $25-40 per consumer/per month. What would you do with this new found disposable income?
Risk Disclaimer: The opinions contained herein are for general information only and not tailored to any specific investor's needs or investment goals. Any opinions expressed in this article are as of the date indicated. Trading futures, options, and Forex involves substantial risk of loss and is not suitable for all investors. Past performance is not necessarily indicative of future results.
Disclosure: I have no positions in any stocks mentioned, and no plans to initiate any positions within the next 72 hours. I wrote this article myself, and it expresses my own opinions. I am not receiving compensation for it. I have no business relationship with any company whose stock is mentioned in this article.