There are several good reasons to sell stock of "The General," aka General Mills (NYSE:GIS). It's had a great near-term run, looks a bit overvalued, and the stodgy Consumer Staples sector isn't where the likely neighborhood for action is in a rebounding economy. Nevertheless, while I don't plan to purchase more GIS at current price levels, it will remain a stalwart component of my portfolio.
In this article, we will confirm the stock fundamentals, review the valuation, then offer a go-forward ownership thesis. Finally, I'll suggest a simple options strategy to juice returns while holding the shares or waiting for a better entry point. Please note the company reports Q3 FY 2013 earnings this Wednesday before the market opens.
General Mills -- Three-Month Price and Volume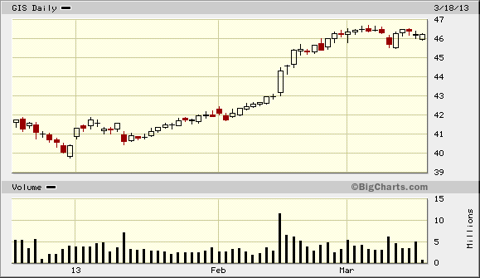 Courtesy of bigcharts.com
Background
Nearly everyone recognizes the famous "Cheerios" breakfast cereal box. First marketed in 1941 as "Cheerioats," it remains the company's flagship brand. General Mills, Inc. (General Mills) is a manufacturer and marketer of branded consumer foods sold through retail stores. The Company is also a supplier of branded and unbranded food products to the food service and commercial baking industries. The Company manufactures its products in 15 countries and markets them in more than 100 countries.
Fundamentals
Balance Sheet: The balance sheet is marked by a few asterisks, but it's "generally" sound. No pun intended.
The ttm Debt-to-Equity ratio is high at 119%, but this is well within the sideboards for the Food Industry. Senior leadership has consciously managed long-term debt. During 2012, LT debt rose to over $6 billion in conjunction with several significant acquisitions. It has since drifted down to about $5.6 billion as of the most recent quarter.
Goodwill is a concern. About 37 percent of GIS's assets are classified as such. If the percentage is over 20 percent I believe it's prudent to look deeper: Goodwill cannot be amortized. The high Goodwill is linked to aggressive M&A activity. On page 38 of the most recent 10-K report, management commented:
We performed our fiscal 2012 assessment as of November 28, 2011, and determined there was no impairment of goodwill for any of our reporting units as their related fair values were substantially in excess of their carrying values.
Return-on-Equity and Return-on-Assets are excellent. The ttm returns are 26 percent and 8 percent, respectively. These figures place General Mills at the top quartile within their industry.
Revenues and Margins: Revenue and margin figures afford an investor a good reason to be bullish on General Mills. The trend has been strong and up. Senior leadership has emphasized the path forward entails them continuing the trend. Here's a brief summary:

Furthermore, the margins are highly competitive versus industry peers. Please see below.

Courtesy of fidelity.com
Consolidated revenues have compounded at six percent over the past five years. The underlying growth story is concentrated in General Mills' overseas markets: international sales have grown 15 percent a year for the past five years, and China revenues have sustained a 19 percent per annum upward slope.
Going forward, China sales are expected to continue to grow at least 20 percent a year. GIS management points out that the breakfast cereal household penetration rate is low amongst developing nations, thereby providing an excellent platform for continued growth in what is generally considered a low-growth business. Here's a slide from the 2013 Consumer Analyst Group Conference of New York: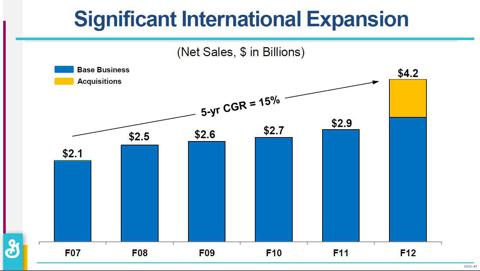 General Mills expects to book approximately $5 billion in international sales for FY 2013. This represents about a quarter of the company's total revenues. That's enough heft to move the needle.
The sales increase has been boosted via significant acquisition activity coupled with strong levels of media investment. Growth from acquisitions have added more than $2 billion in sales between 2011 and today. The four-year advertising CGR has been 7 percent. (Note: GIS fiscal year ends May 31.)
Earnings: Earnings have been on a solid upward trajectory. The five-year EPS growth rate clocks in at 8.1 percent versus the Food Products industry growth rate of 4.6 percent.
Past performance has been consistent with General Mills management forward expectations. Senior staff plans the business to return high-single digit earnings growth with similar growing cash dividends for an overall double digit investor return.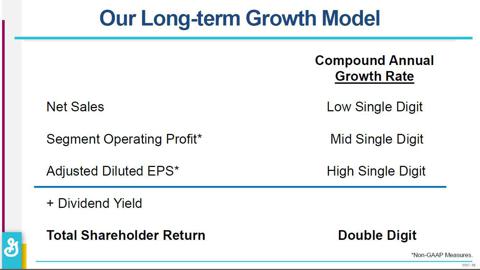 Source: 2013 CAGNY Presentation
Corporate Financial Metrics: GIS management focuses upon Free Cash Flow (operating cash less capital expenditures) and ROIC (Return on Invested Capital) to measure business performance. These broad metrics encompass how well the company has been able to generate excess cash for investors, and the level of success by which the company has produced adequate returns on its capital. Broadly, invested capital is defined as total assets less current liabilities, cash and goodwill.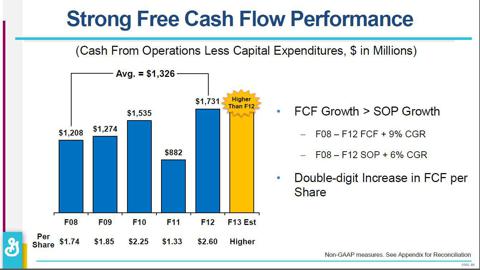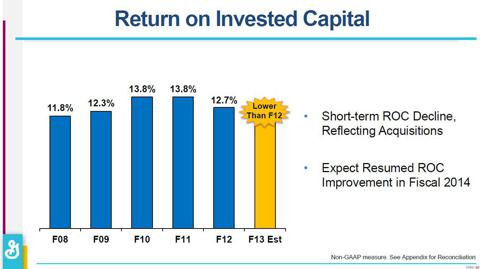 Source: 2013 CAGNY Presentation
Investor Thesis
I believe owning a stock goes beyond determining a set of sound fundamentals. An investor should have a thesis for holding a stock.
Here are my reasons for continuing to hold General Mills shares:
Company Management Is Shareholder Friendly
Corporate leadership lays out consistent metrics and strategies to build shareholder value. Presentations highlight what investors should expect from General Mills, not just what the operating company will do.
GIS has a history of providing best-of-breed overall shareholder returns. The following slide from the February investor conference tells the story: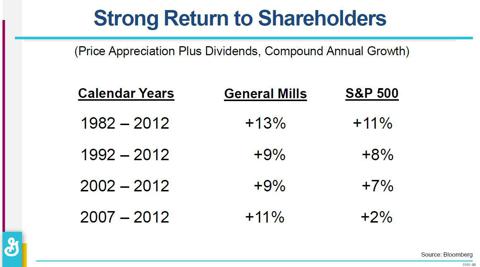 Source: CAGNY Presentation
In addition, the company has a long-term history of providing investors with strong cash dividends and dividend growth. Over the past five years, dividends have grown at an 11 percent compounded. For the upcoming fiscal year, another 15 percent dividend boost has been announced. GIS has issued over a hundred consecutive years of cash dividends to its investors. The current yield is over 3.5 percent.
Company management also returns capital to shareholders via stock buybacks. While I don't usually get too excited about stock repurchase plans, General Mills' management has actually reduced diluted shares outstanding via buyback activity.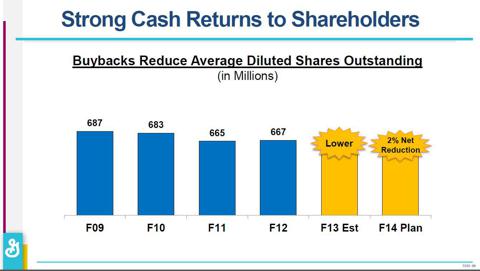 Source: CAGNY Presentation
Management Is Investing for Growth
The Consumer Staples sector is noted for being a mature, slow-growth business. This is true for GIS within the United States. However, the company has demonstrated a penchant for growing itself in overseas markets via mergers, acquisitions and aggressive media advertising. I like General Mills due to management outlining and executing its plans for significant growth in sales, earnings and cash via international markets.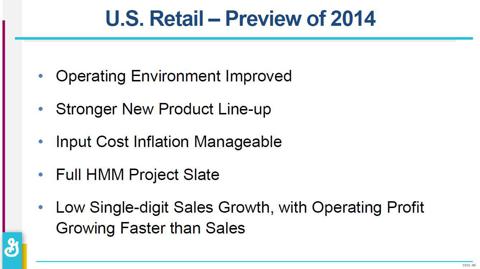 Source: CAGNY Presentation
Low Commodity Inflation
The feedstock for much of what General Mills produces are various grains. The inflation projection for such commodities are expected to be subdued in the medium-term.
Low Stock Beta
A diversified portfolio should not only contain stocks in various sectors, but stocks with various volatility levels. General Mills is a stalwart stock. The beta is 0.2, meaning that GIS tends to be much less volatile than its underlying S&P 500 benchmark. When the market experiences big up days, the stock may not move as much. On the other hand, when the market is down, General Mills shares tend to fall far less than the overall market. Therefore, this stock adds a level of "ballast" to my equity investment portfolio.
But What About Valuation?
All these brings us to the question of valuation. Even if a company has sound fundamentals, and one has a set of good reasons to own the shares, that is not enough to go out and buy it. I seek shares that are undervalued vs. historical norms and metrics.
At its current price, I believe General Mills stock is somewhat above fair value. Since the end of December 2012, the stock has run from under $40 to over $46 a share. That's a pretty stout move for a company that makes cereal. Three simple measures of valuation for profitable stocks are Price / Cash Flow, Price / Earnings, and the PEG ratio.
Price-to-Cash Flow
The ttm P/CF ratio is 12.6x. While this is below GIS industry peers' average, the raw figure is above 10x, or my general benchmark for undervalued equities. The stock is neutral to over undervalued.
Price-to-Earnings
General Mills sports a P/E multiple of 17x. This is higher than its five-year average P/E of 15.5x. Furthermore, I rarely view companies with a multiple over 15x to be undervalued unless they have a high forward EPS growth rate. The stock is neutral to overvalued.
P/E to Earnings Growth Ratio
General Mills has a forward EPS growth rate of approximately 8 percent. The current P/E multiple is 17x. Therefore, the PEG ratio is about 2.1. A PEG above 2.0 is generally considered pricey. The stock is overvalued on this metric.
An excellent way to pull together many of these figures pictorially is via F.A.S.T. Graphs. Please find below two such charts for General Mills. The first reflects a fifteen-year historical chart highlighting diluted earnings per share, and the second one exhibits the stock price versus funds from operations (a close cousin to operating cash flow):
General Mills Diluted Earnings Valuation (15 years)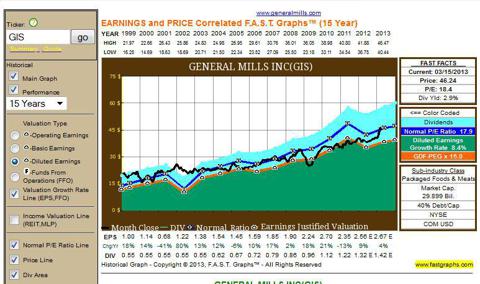 General Mills Funds From Operations Valuation (15 years)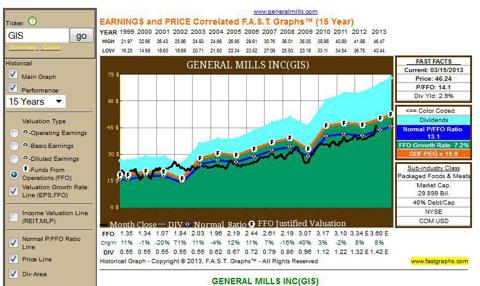 Courtesy of fastgraphs.com
Please note that in each case, the black lines (price) are at or above the blue line (historic P/E or P/FFO). General Mills stock price rarely stretches much above these norms.
Summary and Investment Strategy
General Mills is a best-of-breed international food products company. The stock fundamentals are sound. Corporate management has a plan, is executing the plan, and is decidedly shareholder-friendly. Recent investment emphasizing international growth affords investors a value proposition entailing both increasing dividends and underlying share price appreciation.
However, the stock is currently at or above fair value. Therefore, I will not add to my position. If the stock price "comes in" below $40 a share, I'd consider purchasing more. In the meantime, I have employed an option strategy that may permit me an opportunity for additional income until the valuation falls more in-line or the stock price retreats to a better accumulation point.
Bear Call Vertical Spread Options
As I believe that GIS shares are fully-valued, a simple options strategy that will permit me to profit from the shares being neutral to lower is a Bear Call spread strategy. To complete this trade, I sell out-of-the-money call options near to the current stock price and protect it by buying the same number of call options one strike price higher. The result is a net credit.
I always utilize this trade on a short-term basis, no more than 40 days out. I also hedge about a third of my long position with it. The beauty of this option strategy is that if the stock price stays the same or eases, I keep the net credit and add some income. If the stock price rises, I may lose money on the spread (typically up to three times the amount of the credit), but since I already own the shares, the long position increases. The uplift in the long shares eclipses the credit spread on the option trade, thereby permitting me to continue to enjoy stock appreciation.
Currently I have a Bear Call credit spread at strikes of 47 / 48. I opened the position when the share price was about $46. The share price is $46.25 as of the date of my writing this article. The net credit on my calls are $0.25. Both the spread and the strikes are tight.
Disclosure: I am long GIS. I wrote this article myself, and it expresses my own opinions. I am not receiving compensation for it (other than from Seeking Alpha). I have no business relationship with any company whose stock is mentioned in this article.
Disclaimer: Please do your own due diligence before buying any stock or entering an option trade.