I wanted to quickly update my followers and Audiocodes' Seeking Alpha followers (453 and counting) on the very live news that recently hit the tape, "AT&T Phones a Friend in Microsoft to Target Businesses."
In an effort to attract more business customers, AT&T (NYSE:T) is adding Microsoft (NASDAQ:MSFT) Lync. By adding Lync, business customers of AT&T will now have access to a complete Unified Communications (UC) solution. As Chris Hill, Senior V.P. of Advanced Solutions, AT&T Business Solutions commented on the deal, "Our customers expect to connect their employees with one another regardless of location or device, by expanding our relationship with Microsoft, we now offer more choices for how customers can use our collaboration solutions to transform their organization."
This article is very exciting to me in respect to Audiocodes (NASDAQ:AUDC) in that we now have AT&T's enterprise going after Lync voice sales. Audiocodes with its Lync One Voice suite of products, is the only company that can offer Lync customers a complete end to end product solution, and I believe it will benefit greatly from this new relationship between AT&T and Microsoft in Q3 and beyond. This is the news that Audiocodes longs have been waiting for, but unfortunately it was not Audiocodes' news to release. I would buy more Audiocodes here on the weakness.
Chart: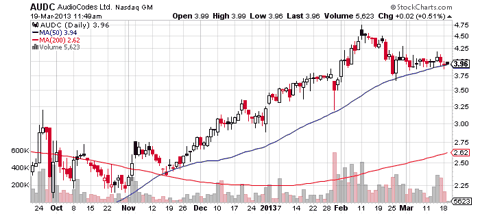 Audiocodes recently made a 52-week high at $4.75 and after a nice pull-back on light volume has found support on its 50-day moving average line. Today's news is without question extremely positive and could be the catalyst to break it out to new highs. The 50-day moving average is the place to buy Audiocodes. Remember, stocks that make 52-week highs continue to make 52-week highs. I'm looking for a short-term move back to $4.75 then a further move to $5.50 - $6.00.
Mobility:
I believe Audiocodes, which spends approximately $8-$10 million per quarter on R&D is embarking on a solid mobility play with its VMAS solution that could make the shares worth a multiple of today's $4 price tag. If my work proves correct, I think we can look at Audiocodes as the core problem solver of today's telcos and Cable service providers Over The Top (OTT) issues. The company has been way too quiet about mobile especially after attending Mobile World Congress in late February without any updates or new products. The company is too deep in IP in the VoIP area to not be working on ground breaking answers to OTT. If I'm right, I believe, shares will explode as the only answer will be who's going to buy them first - AT&T, Verizon (NYSE:VZ), Liberty Media (NASDAQ:LMCA) , Comcast (NASDAQ:CMCSA), Microsoft, Google (NASDAQ:GOOG), Dell (NASDAQ:DELL) or Hewlett-Packard (NYSE:HPQ)? I'll hopefully be done with my research in the weeks to come.
The Audiocodes story keeps getting in alignment, which means the 2nd half of 2013 should bring $10-$15 per share once the Fidelities of the world catch on.
Disclosure: I am long AUDC. I wrote this article myself, and it expresses my own opinions. I am not receiving compensation for it. I have no business relationship with any company whose stock is mentioned in this article.