Investors are often confused about the differences between growth stocks and value stocks. The main way in which they differ is not in how they are bought and sold, nor is it how much ownership they represent in a company. Rather, the difference lies mainly in the way in which they are perceived by the market and, ultimately, the investor. Growth stocks are associated with high-quality, successful companies whose earnings are expected to continue growing at an above-average rate relative to the market. In this article I describe a very interesting growth company and analyze its recent and historical earnings, sales, margins and valuation trends.
One of the most interesting growth stocks to analyze is Air Methods (NASDAQ:AIRM). The company is expanding into new markets, executing cost optimization measures and its management is optimistic on future growth.
I like Air Methods because the company has a stable and consistent business providing emergency air transport services for individuals requiring intensive medical care in the U.S. Market. It is essential to consider AIRM's future growth and how optimistic its management is considering the company´s prospects. Air Methods shows a strong combination of profitability and growth.
EPS and Revenue Analysis
The first step when analyzing Air Methods is evaluating its recent earnings per share performance. Certainly, how a company has performed in the past is helpful information because it gives you strong clues about how it will handle the future. Barring some unforeseen circumstance, most companies move in a predictable manner.
The first question to ask is how well the stock is growing when compared to the same quarter last year. Air Methods grew quarterly earnings at 72% compared to the same quarter in the previous year.
I like the fact that AIRM generated more than 15% quarterly EPS growth. This shows that the business is growing organically and the company´s products generate solid demand. In fact, management sounded optimistic in the last earnings call.
It is interesting to see that consensus analysts recently upgraded their estimates for the current year, increasing their EPS projections by 10%. This shows that sell-side analysts are confident in the company.
In addition, Air Methods generated three-year average annual EPS growth of 51%.
The company generated strong growth in the past three years, in fact higher than my 15% threshold growth level I use for these kind of companies. Let´s analyze Air Methods' revenue growth. It is important that both EPS and sales grow at similar levels.
Air Methods' revenues grew 12% last quarter year over year.
AIRM generated not so outstanding sales growth levels. I require more than 15% quarterly revenue growth for these kind of companies.
In addition, the company shows a three-year annual sales growth rate of 20%.
Air Methods generated good levels of annual sales growth in the past years. This is the result of a continued expansion into emerging economies and success in product innovation.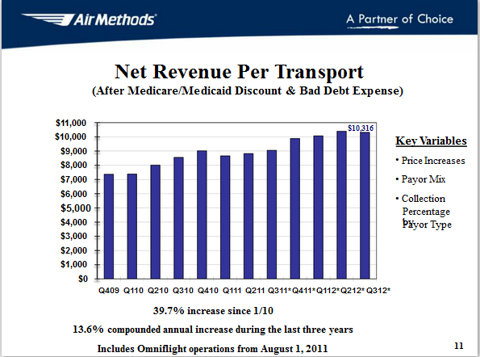 Profitability Analysis
I think it is essential to analyze the company's ROE, which is a measure of profitability that calculates how many dollars of profit a company generates with each dollar of shareholders' equity. This simple ratio indicates to me how well a company's management is deploying the shareholders' capital.
AIRM Return on Equity is 31%. The company has a strong ROE. I like companies that have ROEs above 17% because it reveals me how much profit a company earned in comparison to the total amount of shareholder equity found on the balance sheet.
I like that Air Methods has a very low debt-equity ratio of 2. Debt-free companies are financially much healthier when interest rates are high. As their cash outflow in the form of interest payment is limited, these firms are able to keep their costs to a minimum and have little exposure to interest rate risk as they are insulated from any rise in borrowing costs.
Also, Air Methods has a ROA (return on assets) of 11%. This ratio tells how many dollars of earnings it derives from each dollar of assets they control.
Institutional Investors
It is important to check which hedge funds bought the stock in the last quarter and at what price they did so. I assume that if a prominent institutional investor put money into Air Methods, the stock will pass strict fundamental standards.
I feel encouraged that Steve Cohen and Jim Simmons bought the stock in the past months at an average price of $37. This shows that hedge funds have confidence in the stock.
Competitors
In this step I analyze Air Methods' competitors. I track their most important multiples in order to easily understand how the market prices each company in comparison to AIRM. Let´s review each company:
ERA Group (NYSE:ERA) competes in several segments. It trades at 10x earnings and 1.6x sales (market cap of $400 billion). In the last analyst day, ERA Group management expressed that it will keep expanding into emerging economies and that could be a potential threat to AIRM. ERA Group has a lower P/E than Air Methods and this could be evidence that the stock is discounting a brighter future for Air Methods. Do you agree with this assumption ?
Atlas Air Worldwide (NASDAQ:AAWW): this $1.18 billion company trades at a P/E of 9x and a P/S of 1.47x. Atlas Air Worldwide trades at a lower P/S than Air Methods, which could reflect lower sales expectations.
PHI Inc (NASDAQ:PHII) is a AIRM's competitor in several areas. This stock trades at a P/E of 28x and a P/S of 0.94x.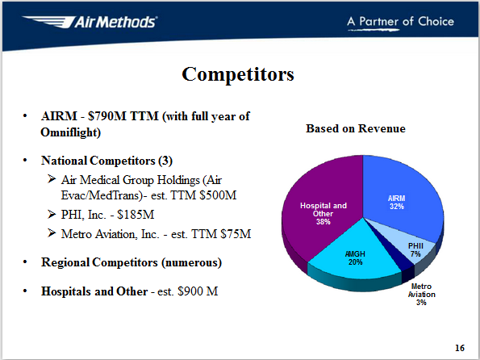 Valuation
The final step is evaluating how cheap or expensive Air Methods' stock is in relation to its industry and the market. I like to use simple multiples as the current and forward P/E and P/B and P/S to analyze whether AIRM is cheap or expensive.
Air Methods is trading at 20x trailing P/E in comparison to its industry average P/E of 21x and SP&500 P/E of 15x.
It is important to evaluate why Air Methods trades at a premium P/E to the general market. I think that management sounded optimistic in the last earnings call and investors are pricing a reasonable level of growth for the next two years.
AIRM trades at a much lower P/E than the rest of its industry. This could be the reason of something structural or a short-term reason. It is essential to evaluate if the market pessimism is overstated.
It is essential to evaluate AIRM five- year average P/E ratio in order to get a complete perspective. The company has a five-year avg. P/E of 20x.
It is also important to check the Price/Book Value multiple (P/BV) and the Price/Sales, which are other very important multiples to analyze. Air Methods trades at 6x book and 2.2x sales. As I did with the P/E, an investor must compare this other multiple against the company's historical averages.
Sources: Morningstar, Air Methods IR Website, Yahoo Finance and Google Finance
Disclosure: I have no positions in any stocks mentioned, but may initiate a long position in AIRM over the next 72 hours. I wrote this article myself, and it expresses my own opinions. I am not receiving compensation for it (other than from Seeking Alpha). I have no business relationship with any company whose stock is mentioned in this article.