Just when you think the U.S. government is beginning to make sense by withdrawing troops from Iraq, they make the terrible decision to shuttle 21,000 more troops into the Afghan calamity. At a cost of $3.2 billion per month, we will throw another $38 billion down a rat hole in a country that has no vital strategic importance to the United States.
Barack Obama is doing this to prove that he is a true statesman. The Soviet Union killed over 1 million Afghans, while driving another 5 million out of the country and left bankrupted and defeated after ten years. Young Americans will continue to die for who? for what? Our foreign policy during the last eight years can be summed up in one military term, SNAFU – Situation Normal All Fouled Up. These foreign interventions are a smoke screen for what is really going on in this country. When a government has unsolvable domestic problems, they try to distract the public by creating foreign conflicts. General Douglas MacArthur understood the danger.
I am concerned for the security of our great Nation; not so much because of any threat from without, but because of the insidious forces working from within.
Economic Opportunity Cost
You can't say civilization don't advance... in every war they kill you in a new way.
Any doubt that the Military Industrial Complex is as strong as ever should be removed after examining Obama's 2010 budget just put forth. It calls for 26% more in spending on Defense than President Bush spent in 2006. The Soviet Union collapsed in 1989, leaving the United States as the only remaining superpower on earth. Since 1990, the United States has depleted the U.S. Treasury of $7 trillion for spending on Defense. With no military on earth capable of challenging us why would there be a need to spend this much on the military?
Over this same time frame the U.S. spent $360 billion on science, space & technology and $52 billion on energy, a mere 6% of the spending on killing machines. Military expenditures benefit humanity in no way. If these trillions had been invested by the private sector or devoted to energy and scientific research, our economy might not be a hollowed out shell dependent on China and oil exporting countries. Nationalists argue that the Defense industry employs millions and benefits the country. These companies employ brilliant engineers and scientists who spend their days developing things that kill people more efficiently. If they had been employed developing electric cars, solar power, wind power, nuclear power, an efficient electric grid, infrastructure upgrades, or finding a cure for Alzheimer's, would the United States be better off today?
The National Debt in 1990 was $3.2 trillion. Today, it is $11 trillion. This is a 343% increase in nineteen years. What benefit has $7 trillion of spending on Defense produced for the United States or the world? In 2001, spending on Defense was 17% of total governmental spending. In 2008, Defense, Homeland Security, and war spending accounted for 26% of government spending. In the meantime, major cities have had blackouts due to an overloaded electrical grid, our 156,000 structurally deficient bridges crumble, one hundred year old water pipes burst under our streets every day, and we send $500 billion per year to foreign countries for oil. The 19 terrorist hijackers who implanted their plan with knives spent less than $500,000 to pull off their 9/11 acts of terror. The United States has spent over $1 trillion in response, without capturing the mastermind of the attacks.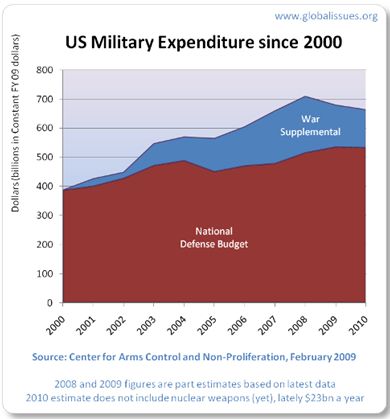 You would think we must be trying to keep up with our enemies by spending $765 billion per year on the Military. But one look at the following chart reveals that the United States is spending as much as the rest of the world combined. The two countries considered potential rivals, Russia and China, spent $192 billion combined in 2008. This is 27% of U.S. spending. From a foreign perspective, one must wonder why the U.S. is spending such vast quantities on our military. They can only conclude that it is for offensive intentions rather than defensive. The United States soil has not been attacked by a foreign power since December 7, 1941. Prior to that surprise attack, a foreign power hadn't attacked the U.S. since the War of 1812. With this level of spending, our leaders feel compelled to interfere in the business of sovereign nations.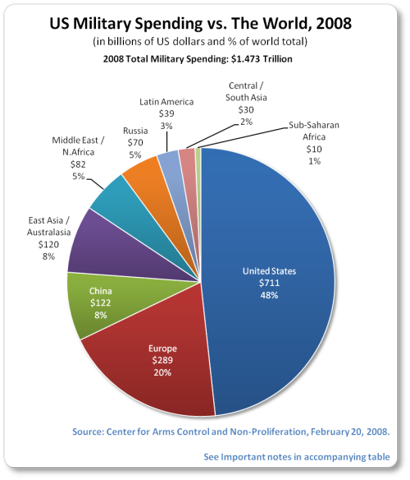 Other countries, such as China and Russia, feel they have no choice but to increase their expenditures on the military. On a percentage basis, they have more than doubled their expenditures in the last ten years, and still are a drop in the ocean compared to the American Empire spending. The fact is that the U.S., China and Russia all have enough nuclear weapons to obliterate the world – mutually assured destruction. The United States could realistically protect itself with the 18 ballistic missile nuclear submarines that we have in commission.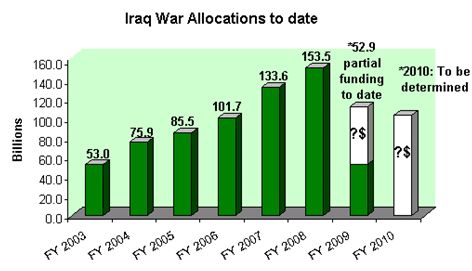 The U.S. has borrowed $609 billion from China, Japan and oil exporting countries to wage a war in Iraq that was based on false pretenses. None of the terrorist hijackers on 9/11 were Iraqis, they had no links to Al Qaeda, and they had no weapons of mass destruction. Historian Barbara Tuchman described "war as the unfolding of miscalculations." In 2002, Secretary of Defense Rumsfeld estimated the costs of the war in the range of $50 to $60 billion, a portion of which he believed would be financed by other countries. The United States invaded Iraq to secure the 115 billion barrels of oil reserves, pure and simple. We've traded the blood of young Americans for oil because we chose to not develop a cohesive logical energy policy in the last 30 years. Americans not in the military have sacrificed nothing in the last 7 years of war. We bought SUVs, McMansions, flat screen HDTVs, Blackberrys, iPods, and Rolexes while Americans died and the cost is passed to future generations.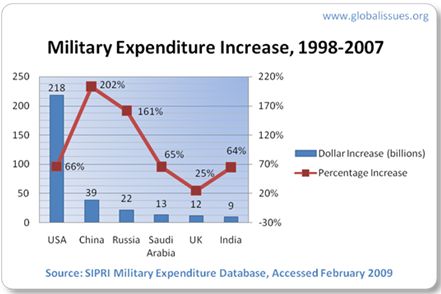 Every gun that is made, every warship launched, every rocket fired, signifies in the final sense a theft from those who hunger and are not fed, those who are cold and are not clothed.
--Dwight D. Eisenhower
As we spend $765 billion per year on weapons, 37 million Americans live in poverty, with 46 million uninsured. There are 3 to 4 million people homeless in any given year. Military Veterans, who make up 13% of the population, account for 23% of the homeless. This is another example of government using Americans and then tossing them away like a piece of garbage. Now, with the recession deepening, tent cities of homeless are popping up across the nation. We pour billions into killing technology while American families are forced to live on the streets.
As the world spends $1.5 trillion per year on new methods of killing, millions die the old fashioned way.
13 million people per year die from starvation in the world.

The FAO says that 854 million people worldwide are undernourished

.

The World Bank has estimated that there were an estimated 982 million poor people in developing countries who live on $1 a day or less.

For the price of one missile, a school full of hungry children could eat lunch every day for 5 years.

Poor nutrition plays a role in at least half of the 10.9 million child deaths each year--six million deaths.

1 child dies every 5 seconds as a result of hunger - 700 every hour - 16 000 each day - 6 million each year - 60% of all child deaths (2002-2008 estimates).
What kind of a civilized society allocates 44% of the taxes taken from its people to war? Only 2.5% of your taxes go to science, energy, and environment. Only 2.2% of your taxes go to education and jobs. With a population of 304 million, the U.S. spends $59 billion ($194 per person) annually on education. Saudi Arabia, with a population of 28 million, spends $33 billion ($1,179 per person) on education. You produce the results that you would expect from your investments. A full 15% of our population doesn't have a high school diploma (20% of African Americans and 43% of Latinos) and only 27% have a college degree. How do we expect to lead the world in technology and research with these figures?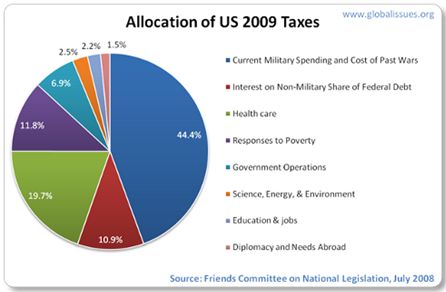 For all the glory and accolades of dying for Dick Cheney, enlisted soldiers make between $15,000 and $30,000 per year. The military evidently does not prepare them well for the outside world as their unemployment rate is 11.2% versus the national rate of 8.1%. A country can be measured by how well it treats its veterans. Our leaders talk a good game, but their actions prove they don't care about the human costs of war. They are busy planning their next move in their game of Risk.
Omar Bradley, the last five star General in the U.S. military, was known as the "soldier's general" during World War II. He was portrayed by Karl Malden in the movie Patton as a thoughtful man who cared about his troops. He was one of the key architects of the Normandy invasion and led the 12th Army Group consisting of 900,000 men until the end of the war. After the war, Bradley headed the Veterans Administration for two years. He is credited with doing much to improve its health care system and with helping veterans receive their educational benefits under the G.I. Bill of Rights. He ultimately rose to Chairman of the Joint Chiefs.
The world has achieved brilliance without wisdom, power without conscience. Ours is a world of nuclear giants and ethical infants. We know more about war than we know about peace, more about killing than we know about living.
We need men like Omar Bradley and Dwight D. Eisenhower in control of our country today. These men knew the horrors of war and didn't act like it was a game of chess. There are brilliant men in power today. There are no wise men with a conscience in power today. Only those without a conscience are able to gain power in today's world. General Bradley understood that morality was ultimately more important than power and strength in the progress of a country. His words are those of someone who knew we had failed in our moral duty:
We have grasped the mystery of the atom and rejected the Sermon on the Mount.
The overwhelming cost of maintaining a global empire eventually bankrupted Rome and Great Britain. Treasures were wasted, young men were needlessly sacrificed in the name of the flag, and the morality of leaders sank to unprecedented levels. The U.S. has advanced financially and technologically, but continues to decline morally. How far will we decline before the American people revolt?
I'm reminded of the movie Planet of the Apes. The apes are divided into a strict class system: the gorillas as police, military, and hunters; the orangutans as administrators, politicians and lawyers; and the chimpanzees as intellectuals and scientists. Humans, who cannot talk, are considered feral vermin and are hunted and used for scientific experimentation. The United States is now in the control of gorillas and orangutans. If we continue down the current path of financial and moral decay, allowing the Military Industrial Complex and corrupt leaders to push us into further world conflicts we will experience the shock and horror that George Taylor, played by Charlton Heston, displayed in the final scene of Planet of the Apes.
George Taylor: Oh my God. I'm back. I'm home. All the time, it was... We finally really did it.
[screaming]
You Maniacs! You blew it up! Ah, damn you! God damn you all to hell!