3D Systems' (NYSE:DDD) stock price has suffered greatly in the last two months. The stock has been hit several times with bad news that drove the stock price down. There has also been a strong surge in the short interest in the latest reporting period, suggesting increased bets on the further fall of the stock price.
I wrote about 3D Systems two weeks ago, and cautioned about the short-term dangers the stock was facing, and at the same time, making a bullish long-term case. In that article, I wrote that: "Further price consolidation is needed after volatile movements these stocks experienced. The 200-day moving average might serve as a strong support level if the price decreases further." Indeed, the price has dropped to the 200-day moving average line, and went through it (albeit briefly) recently. Further digestion of the recent decline is still needed in order to have a more dependable and sustained uptrend in the future. The worst might be over for 3D Systems, but caution is still advised.
Prices tend to bottom when things look the worst
And things have been bad for 3D Systems recently. The debacle of the earnings release, when investors were confused with split adjusted guidance, and a revenue miss, prior bubble call from Citron, Seeking Alpha articles questioning the accounting methods... There was no shortage of bad news. The most recent event causing the stock to drop was the co-founder/CTO Charles Hull selling 500K shares on March 13, leaving him with only 461.5K shares. This might sound like insiders bailing out, but given Mr. Hull's age of 73, a pending retirement is more likely the cause. Although it all looks very bad for 3D Systems now, with all the bad news and a steep price drop, it is often the case that the price bottoms when the news and sentiment are the most negative for a stock. That might be the case with 3D Systems now.
On a more positive note, Gabelli & Co.'s Hendi Susanto reiterated a hold rating, while citing that a recent visit to the company's headquarters left him "incrementally more positive" on the stock. Among other things the analyst noted:
1. Printers will be the largest revenue growth driver, especially professional printers.
2. Management foresees consumer printer pricing will evolve toward lower price points of $1,000 and eventually $500, while focusing on maintaining gross margins. 3D Systems CFO Damon Gregoire sees no meaningful direct competition among 3D printing leaders as each offers a unique set of competitive differentiations.
3. 3D Systems still expressed interests in acquisitions.
4. Management sets a long-term goal of 75-80% recurring revenue stream profile from materials and services.
Valuation
Valuation looks much better now. Trailing P/E is still high at 62.79, but the forward P/E is 23.02, with a reasonable PEG ratio of 1.12. Having in mind these valuation levels and future growth expectations, the bubble theory is out of the way at these price levels.
Short interest
The latest reporting period presents the largest short interest increase in the last year. Short interest went from 15 million shares to 24 million shares, a 60% increase in two weeks. That represents 28.5% of free float. This proves that the sentiment on 3D Systems is very negative.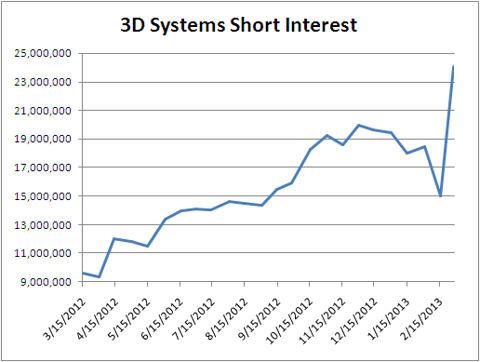 Source for data: Nasdaq.com
Price action
3D Systems is still in a clear downtrend. The chart shows ample distribution, and no accumulation for now. The 200-day moving average line is the only thing in the way of a further decline in price. For now, there is no technical evidence of a bottom forming.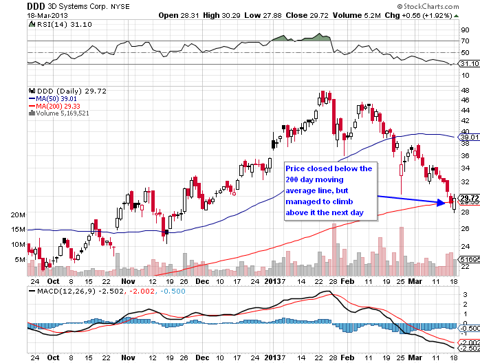 Source: Stockcharts
However, the price moves of the competition might be indicative to 3D Systems. A stock is often tied to the movement of its competitors. Stratasys (NASDAQ:SSYS) has a better technical picture. It too had sliced the 200-day moving average line, spent a few days below it, and then went sharply higher after the earnings report. If it makes a higher high, the current move would be a confirmed higher low, and hence might prove as evidence that a bottom is in place for Stratasys.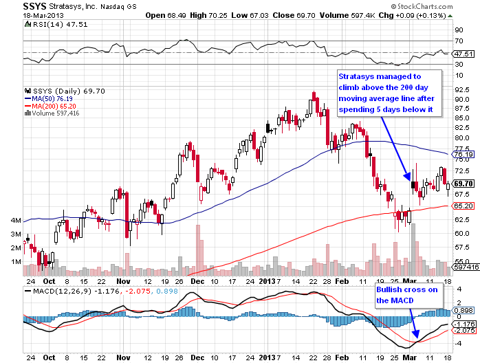 Source: Stockcharts
The ExOne Company (NASDAQ:XONE) is moving higher in its consolidation after the three-day surge following the IPO in early February. The company is yet to turn a profit, and is currently trading at very high valuation levels, with a forward P/E of 222.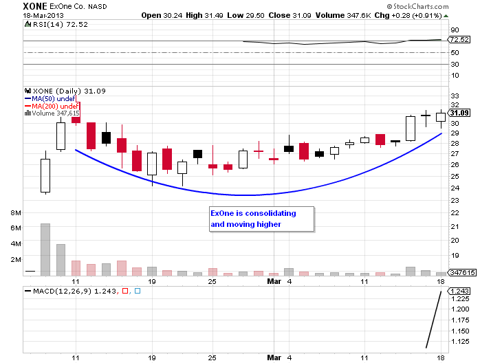 Source: Stockcharts
Proto Labs Inc. (NYSE:PRLB) is trading above its 50-day moving average line. The stock has corrected after the gap-up after reporting earnings in mid-February.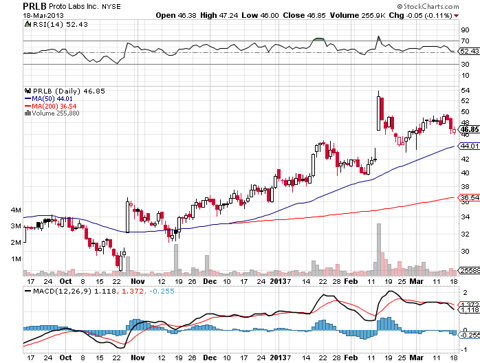 Source: Stockcharts
All of the competitors have better looking chart patterns at the moment, and they might have a positive effect on 3D Systems' chart pattern.
Conclusion
Further evidence of 3D Systems' price bottoming is still needed. All the bad news seems to be priced in, although more negative surprises still might appear. Valuation is out of the bubble territory. Chart patterns of the competition look better, and might help 3D Systems to find a bottom. The extreme negative sentiment, as highly increased short interest shows, might be indicative of a positive change coming soon. The long-term perspective of the company still looks very good, as it was presented in previous articles.
Disclosure: I have no positions in any stocks mentioned, and no plans to initiate any positions within the next 72 hours. I wrote this article myself, and it expresses my own opinions. I am not receiving compensation for it (other than from Seeking Alpha). I have no business relationship with any company whose stock is mentioned in this article.