By David Urani
February housing starts set the tone for the market on Tuesday, registering an increase of approximately 1% month to month. That's not much of a gain, but it does represent a reversal after declining in January and worrying investors. Looking ahead there was an even better upturn in permits, which bucked their own decline from January and also represented the highest level since June 2008.
So with the January numbers previously having put a touch of doubt in people's minds that the housing recovery may be stalling, this latest February reading has the market feeling good again. And the factor that continues to be the biggest reason to be bullish about home construction is in the supply numbers. Both new- and existing-home supplies (particularly existing, which is more than 10 times the size of new) are right at their lowest levels to date, with existing having hit a new low in January.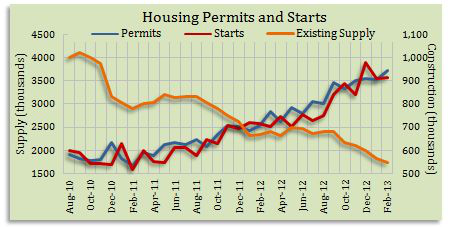 So despite an increasing amount of new construction, the supply of homes continues to dwindle as home purchases increase. Interestingly, Monday's NAHB homebuilder confidence index (which surprisingly fell to 44 from 47) had cited an inability to secure lots and credit to build with as main factors for their reduced outlooks. Basically, the trend continues to be that builders are having a hard time just keeping up, and with supply continuing to head south, the fundamentals remain bullish for construction.