Gold is about to take out $1,600...We may never see that $1,600 level ever again. - Jim Sinclair on King World News (KWN Interview)
Ahead of tomorrow's FOMC policy announcement, I am calling for a big move higher in gold this week and over the next several months. Given the situation going on with the banking system in Cyprus, I do not think there's any risk whatsoever that the Fed will try to "jawbone" an even somewhat "hawkish" policy announcement, as it would risk losing its only indicator of credibility right now, which is the stock market.
Having said that, I wanted to update all the indicators that are signaling, at least to me, why gold is getting ready to head a lot higher from here.
First, to update the massive Comex gold futures hedge fund short position, as of last Friday's COT report, the "managed money" category - aka the hedge funds - increased their gross position in gold futures by another 1,460 contracts to 68,642. This is an all-time record short position for the hedge funds and it is a staggering 15.4% of the total open interest in gold futures. As I explained here, hedge funds typically do not take delivery of long positions and neither do they deliver gold into short positions. Based on this, we can safely assume that at critical technical levels the hedge funds will be aggressively covering their short position at least as aggressively as they built it up in order to avoid risking delivery exposure. $1600 is one of those critical technical levels. Historically, the hedge funds who trade gold futures have always been on the wrong side of big moves either way in gold.
Second, the price of gold has substantially "dislocated" from its long-term correlation with the direction of the Fed's Monetary Base. This chart below shows the correlation between the Fed's non- seasonally adjusted monetary base and the price of gold going back to the beginning of 2008: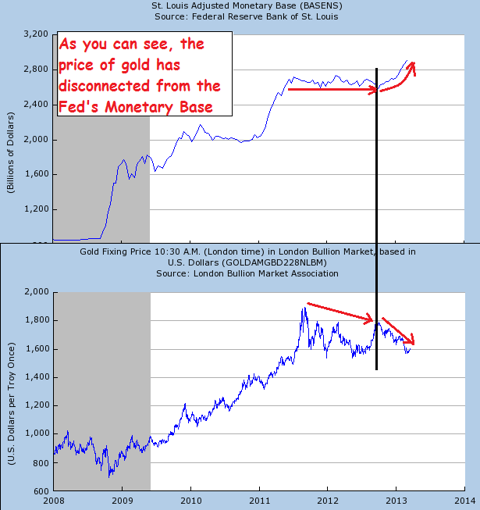 Click to enlarge
(Click to enlarge)
As you can see, since gold's last peak in 2011, the price of gold and the direction in the growth of the Fed's monetary base have gone in opposite directions. This trend has accelerated since the end of 2012 and the advent of the latest round of Fed QE ($85 billion per month).
Based on the current QE program, the Fed's monetary base projects out to be at $4 trillion by 2014 - a 31% increase from where it is today. If we assume that gold does a "mean reversion" in its correlation with the Fed's monetary base - a high probability assumption given the high correlation observed since 2008 - a 31% increase in the price of gold as of today - $1610 - would imply that gold has a high probability of going to $2100 by the end of 2013. In fact, I will make that my price prediction for gold for 2013.
Finally, I have been saying for quite some time that eventually the smartest of the big institutions are going to start moving aggressively into the precious metals and mining stock sector. Surprisingly, given the fundamental condition of the global financial system, this has taken longer than I expected.
However, we know that GLD is the largest position in John Paulson's hedge funds. Today it was revealed in an SEC 13F filing that Vinik Asset Management established a huge position in GLD and in some mining stocks during the fourth quarter of 2012: Vinik 13F. For those of you who don't know the name, Jeffrey Vinik is known for being one of the most successful managers of the famed Fidelity Magellan fund. He is known for taking big positions and riding them until they pay off.
As you can see from the link I provided, Vinik not only took a huge position in GLD during Q4, he made it by far his fund's largest holding by market cap. That makes two very well respected and successful hedge fund managers running large funds who have made gold their fund's largest market bet. As many of you know, the NY hedge fund community is very imitative (monkey-see, monkey-do). I expect that over the next several quarters we'll several more high profile hedge funds take on large positions in gold, silver and mining stocks, which will put substantial upward price pressure on the price of gold.
So, what's the best way to take advantage of this? I've been putting on aggressive positions in GLD in the fund I manage this week. One strategy I like is to short near-money puts, as this enables me to take a position in the underlying but get paid a premium vs. the instrinsic value of the put option, allowing me some "room" to be wrong on my view. If I'm wrong on the price-entry, I take delivery of the underlying at option expiration only I've established a cost-basis in the stock that is below the price of the underlying when I entered the put position. For instance, today I shorted GLD 156 strike puts which expire Friday for 91 cents when GLD was at $156. If I get delivered, my basis in GLD is $155.09 (strike price less the premium I took in). I have also gotten long GLD at a lower level (last week) and I'm shorting some longer-to-expiration out-of-the-money puts on GLD to collect the premium and possibly take delivery. With the latter, I expect that I will only be keeping the premium, as I anticipate that the price of gold/GLD will be much higher when these short-put positions expire.
Disclosure: I have no positions in any stocks mentioned, and no plans to initiate any positions within the next 72 hours. I wrote this article myself, and it expresses my own opinions. I am not receiving compensation for it (other than from Seeking Alpha). I have no business relationship with any company whose stock is mentioned in this article. The fund I manage is long GLD and physical gold