On Sunday night, stocks (NYSEARCA:SPY) fell about 1% on news that a one-time tax would be levied on Cypriot bank deposits. By market close on Monday, U.S. stocks recovered a significant portion of their losses after spending some of the day in the green.
This is indicative of a major shift in market sentiment, and is confirmation that while the bull market remains strongly intact, we are clearly in a later stage of this bull cycle.
Around this time last year (and in 2011), news like this would have likely catalyzed a significant correction, especially after a double-digit run like the one we've enjoyed since last November. This time around, investors seem to be analyzing the news through more calm, rational lenses. While bulls aren't running the show, they're clearly more resilient now.
There are essentially two main ways that market participants are looking at the EU decision:
The fact that the EU was willing to levy taxes on bank accounts reflects a critical shift in the way that bureaucrats are going to deal with the debt crisis. It is now plausible that French, Spanish, and Italian accounts could at some point face similar consequences. Bank runs are now a total possibility.
30% of deposits in Cyprus are from Russian financial institutions and corporations who use the island nation as a tax-haven. This isn't nearly as "unfair" or crazy as people think it is. Furthermore, these circumstances are more than likely isolated to just Cyprus. It's highly unlikely that the EU would force similar circumstances on a major economy, should France/Spain/Italy etc. need a bailout. Lastly, the idea that this will lead to mass bank runs is a complete overreaction.
Based on today's action, the winner seems to be the latter viewpoint. While investors are discounting renewed EU risk (as they seem to do every spring), it's far more controlled. That said, this is the first time we've seen the market take a pause in several weeks, and with several indicators showing overbought conditions, the stage looks set for a modest correction back to the 1,450/1,475 region on the S&P. This would be healthy for stocks and take a lot of focus off of the "impossible rally" and put it back on the fundamentals.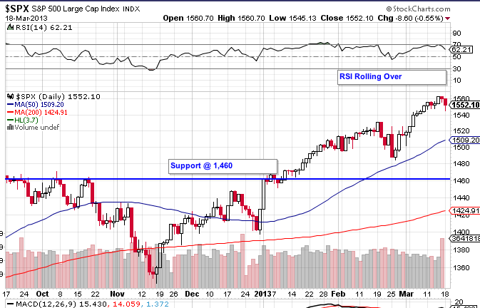 How To Play It
Josh Brown, AKA The Reformed Broker has a great piece over at his site regarding this news. Josh is particularly excited to see who the next "whipping boy" will be in response to negative EU news flow. Last year it was Morgan Stanley (NYSE:MS) and the major money center banks. Ford (NYSE:F) and General Motors (NYSE:GM) were also hit particularly hard, as were the obvious suspects like Banco Santander (NYSE:SAN). These moves all ended up being major buying opportunities, at least as swing trades; this year will prove to be a repeat, though I don't think we'll see discounts as compelling as the ones we got in 2012.
Buy The Financials (NYSEARCA:XLF) On Weakness
Once again, MS was down as much as 4% on Monday, while Wells Fargo (NYSE:WFC), Citigroup (NYSE:C), and Goldman (NYSE:GS) were also very weak.
The investment thesis for the major banks is as strong as ever. I recently wrote an article laying out why I think JP Morgan (NYSE:JPM) and Wells Fargo have the best long-term return profiles and the highest margin of safety. At 10X pre-tax net income, these two giants are 60-70% undervalued. I recommend investors essentially ignore book value; what matters is what these banks can earn. Simple as that. If they can produce returns on equity above 10%, they should trade above book; if they can't, then they're worth less than book.
Morgan Stanley is an interesting turnaround story, and the next EU-driven pullback will provide investors with a discounted entry point following its near doubling since last year. BofA (NYSE:BAC) has enormous earnings power, but it's a longer-term play given remaining litigation stemming from Countrywide.
The financials will be hit relatively hard in response to derivative, EU bond exposure worries and the like. I think this remains arguably the most undervalued sector and will be adding to holdings as we pull back.
Buy Heavily EU-Exposed Cyclicals And EU Financials
Ford got smacked around last summer, falling to $8.82. Ford will lose about $2 billion in the EU this year, but should be breakeven by at least 2016 as it scales back operations. The stock was down more than 4% for much of Monday as investors sold anything with major EU exposure.
Meanwhile, EU restructuring and improvement in its North American and Asian operations should enable Ford to earn as much as $2.50 per share by 2016. Short-sightedness allows value investors to make some serious returns given enough time.
Additionally:
Goodyear (NYSE:GT) - Trades at 5 times forward earnings due to hugely underfunded pension and weak EU forecasts. It is currently issuing relatively low-cost debt to pay off pension obligations and is producing huge amounts of free cash flow.
Banco Santander - Simply by being a Spanish bank, any news out of the EU tends to send the stock tumbling. In reality, SAN derives less than a third of its revenues from Spain, has written off a significant portion of its mortgage portfolio, and has strong businesses outside of Spain. The stock pays an 8.30% dividend.
Sell Gold (NYSEARCA:GLD) And Silver (NYSEARCA:SLV)
Gold futures had a nice 1% day in response to renewed EU concerns, but it's going to prove to be a mere countertrend rally.
After trading in a $50 range between $1,695 and $1,645 for several weeks, gold broke sharply under support and tested longer-term support of $1,560. This has been a tremendously rapid sell-off, so it makes sense for gold to rally a little bit on this.
We seem to be entering a new $50 range between $1,565 and $1,615: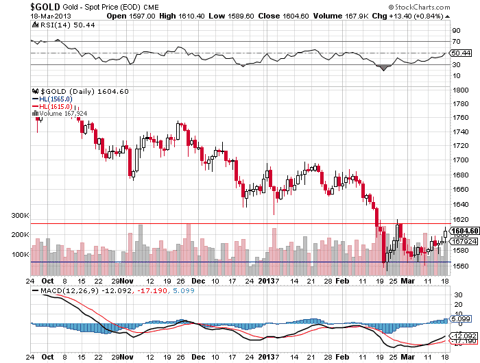 I've been extremely bearish on gold since $1,710. Gold's sell-off is part of a larger unwinding of the fear trade, driven by reduced tail-risk thanks to write offs and the shift of toxic assets to the public sector. Most importantly, market participants seem to be reconsidering overblown inflation worries.
Continued negative EU news flow may promote strong precious metal prices, but I'll be shorting gold unless it breaks above $1,640.
Disclosure: I am long WFC, F, GT, SAN. I wrote this article myself, and it expresses my own opinions. I am not receiving compensation for it (other than from Seeking Alpha). I have no business relationship with any company whose stock is mentioned in this article.
Additional disclosure: Long SAN via calls, short gold futures