Business Overview:
Incorporated in 1968, Nike's (NYSE:NKE) principal business activity consists of the design, development, and worldwide marketing of footwear, apparel, equipment and accessory products. Today it is the largest seller of athletic footwear and athletic apparel in the world, offering its products in over 170 countries around the world via retail accounts, NIKE-owned retail stores and the internet. Independent contractors manufacture virtually all of the company's products, with most of the footwear and apparel products manufactured outside the United States; the company's equipment segment is the only product line left with a small amount of production still within the United States.
(For more information regarding the business, readers are directed to the latest annual report.)
Industry Overview & Competitive Landscape:
Nike belongs to the Consumer Cyclical sector and Apparel, Footwear and Accessories industry. Apparel and Footwear industries are often segregated; however, most companies within the Apparel, Footwear, and Accessories sector tend to sell products across all three categories.
In 2012, the footwear industry's U.S. revenue reached $48bn. Overall, the industry is large, though its low growth indicates that it may have reached maturity. The competition is intense because of low barriers to market entry; however, marketing muscle and brand loyalty are critical factors to success, making it difficult for an entrepreneur to break into the industry.
Nike is the market leader with just over a 42% share. Other major players include V.F. Corporation (NYSE:VFC), Jones Apparel Group (NYSE:JNY), Polo Ralph Lauren (NYSE:RL) and Adidas (OTCQX:ADDYY).
Financial Highlights & Valuation:
Despite the recent economic downturn in the United States, Nike has managed to grow its revenue: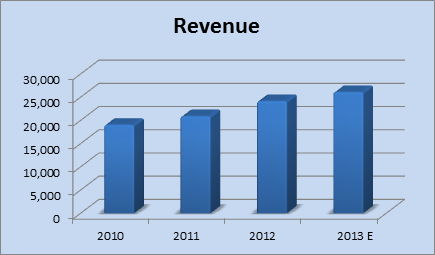 Even with the solid 3-year trend, Nike lags behind the industry with just an 8% 5-year sales growth rate versus the industry average of 15%. Assuming a continued growth rate of 8%, 2013 revenue is estimated to be around $26bn.
| | | | |
| --- | --- | --- | --- |
| | FY2010 | FY2011 | FY2012 |
| ROE | 20.67 | 21.77 | 21.98 |
| Net Margin % | 10.03 | 10.22 | 9.21 |
| EPS | 1.93 | 2.2 | 2.37 |
Source: Reuters
Nike's net margin is strong relative to historical values and the industry average, which hovers around only 7%.
The company's ROE is showing a positive trend, but lags the industry by approximately 3%, due to increased paid in capital on the balance sheet.
The EPS trend is positive, increasing y/y at an average rate of 10.8%. Based on historic growth, the EPS estimate for 2013 is $2.7-2.8 per share.
Nike's operating cash flows have also remained positive. Due to the company's maturity, management has been electing to repurchase shares instead of investing idle cash back into the business. At the end of FY2012, the company had approximately $2bn in cash.
While some sources believe that the e-commerce sales window still holds growth potential for the company, we expect the growth in the long term will not change much. Consequently, the most important aspect of Nike is its dividend payments.
| | | | |
| --- | --- | --- | --- |
| | Company | Industry | Sector |
| Dividend Yield | 1.53 | 0.79 | 0.88 |
| Dividend 5 Year Growth Rate | 14.38 | 3.76 | 2.16 |
| Payout Ratio(TTM) | 30.72 | 6.98 | 10.74 |
Nike's dividends and payout ratio have remained quite stable. We can therefore expect the dividend to grow at the historic growth rate and use it to estimate future dividends per share. Using a growth rate of 14%, the estimated dividend per share in FY2013 would be around $0.8 (any dividend payments made in the recent quarters of 2013 should be subtracted from the figure).
Due to the stability of the dividend, the value of NKE shares can be estimated using the Dividend Discount Model. Please note that the intrinsic value estimated by the model is sensitive to the inputs. Slight changes in growth rates and the investor's required rate of return will impact the estimated intrinsic value. Using the PRAT model to estimate year 1 growth, the Gordon Growth model to estimate terminal growth, and a required rate of return of 11.45%, the intrinsic value estimated by the end of FY2013 is $61.38.
Year

Value

DPS or TV

Calculation

PV at 11.44%

0

DPS01

0.67

1

DPS1

0.77

= 0.67 × (1 + 15.11%)

0.69

2

DPS2

0.88

= 0.77 × (1 + 13.86%)

0.71

3

DPS3

0.99

= 0.88 × (1 + 12.61%)

0.71

4

DPS4

1.1

= 0.99 × (1 + 11.35%)

0.71

5

DPS5

1.21

= 1.10 × (1 + 10.10%)

0.71

5

Terminal value (TV5)

99.43

= 1.21 × (1 + 10.10%) ÷ (11.44% - 10.10%)

57.85

Intrinsic value of 's common stock (per share)

$61.38

Current share price

$54.16
Source: Stock Analysis
Recommendation:
As an established leader in the Footwear and Apparel industry, Nike's maturity, stable dividend growth, and stable dividend payout ratio allow the company to easily be valued with the Dividend Discount Model. These factors indicate that Nike offers a 13% upside margin by the end of FY2013 based on its current price of $54.16.

Business relationship disclosure: Black Coral Research is a team of writers who provide unique perspective to help inspire investors. This article was written Hans Centera, one of our Senior Analysts. We did not receive compensation for this article (other than from Seeking Alpha), and we have no business relationship with any company whose stock is mentioned in this article.
Disclaimer: Black Coral Research is not a registered investment advisor or broker/dealer. Readers are advised that the material contained herein should be used solely for informational purposes. Investing involves risk, including the loss of principal. Readers are solely responsible for their own investment decisions.