President Obama signed H.R. 307, the Pandemic and All-Hazards preparedness Reauthorization Act of 2013, into law on March 13th.
Among other things, the bill authorizes billions of dollars to go towards research and development of disaster related drugs. The real question is what stocks might benefit from this influx of funding?
BARDA Receives Massive Funding
The obscure federal agency BARDA (Biomedical Advanced Research and Development Authority) will receive $2.8 billion over the course of fiscal 2014-2018 per the H.R. 307 bill. Per Title IV, SEC. 401. BIOSHIELD:
(1) AUTHORIZATION OF APPROPRIATIONS- In addition to amounts appropriated to the special reserve fund prior to the date of the enactment of this subsection, there is authorized to be appropriated, for the procurement of security countermeasures under subsection (C) and for carrying out section 319L (relating to the Biomedical Advanced Research and Development Authority), $2,800,000,000 for the period of fiscal years 2014 through 2018. Amounts appropriated pursuant to the preceding sentence are authorized to remain available until September 30, 2019.
What Stocks Might Benefit?
This is an absolute boon to companies that have received funding or had relationships with BARDA in the past such as Cleveland Biolabs (NASDAQ:CBLI), Aeolus Pharmaceuticals (OTCQB:AOLS), and Soligenix (OTCQB:SNGX).
The Biomedical Advanced Research and Development Authority (BARDA) recently invited Cleveland to present at a symposium, and in the past BARDA has funded anti-radiation drug development by Cleveland Biolabs and Aeolus Pharmaceuticals. Soligenix and Cleveland have submitted contract proposals for funding with BARDA. Also the federal government's budget problems will not affect the vast majority of BARDA.
Per Cleveland:
It is our expectation that either the award or the failure to award the BARDA contract will significantly change our financial forecast for the year.

The good news is neither the issue around the continuing resolution or the sequester is affecting us at all, because the Special Reserve Fund is a key part of PAHPA and that's where the largest or overwhelming amount of the money comes for all these kinds of developmental programs.
Cleveland Biolabs Earnings
Cleveland announced earnings and while they showed an improvement by posting net income of $3.1 million for the year the company is still in the red. It is to be expected that they will continue to operate at a loss unless they can obtain additional sources of funding. This is where BARDA is so crucial because the federal agency has a massive purse in which to dispense the much needed funding to Cleveland (if they choose to).
Entolimod (An Anti-Radiation Drug)
BARDA might be interested in funding Cleveland a second time because Cleveland is working on an anti-radiation drug Entolimod. Applications for the drug could be: disaster relief, military and medical uses.
Some argue that another nuclear power plant melting down (example: Japan 2011 or Russia in 1986) is only a matter of time. However, the bigger concern to us are terrorists or rogue nations acquiring nuclear weapons. North Korea and Iran are actively working on nuclear weapons development and are in various stages of success. Entolimod would help victims survive.
Does Entolimod Work?
In June of 2012, the company announced survival results for its randomized, blind, placebo-controlled, efficacy study of Entolimod in 179 rhesus macaques. The animals were exposed to a 70% lethal dose of total body irradiation.
The results were conclusive. The treated animals had a survival rate of nearly three times the control group after a single dose of the drug. For animals given no dose of Entolimod, the survival rate was 27.5%. Survivability improves quickly to the 70-75% range with a single dose. (See page 11 and 12.) This shows that the drug is having an effect and that it is not just random occurrence. Entolimod's research and development is moving along for both as a radiation countermeasure and for an anti-tumor drug.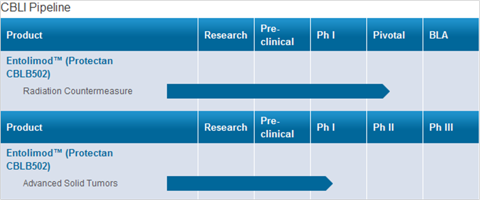 Conclusion
The influx of funding to BARDA is great news for these stocks which have a history of funding and meetings with the agency. Of course obtaining federal funding can take time. Do not expect overnight results for any of the companies trying to get a slice of that pie. It will take time for the funding gates to be opened.
Cleveland is a small speculative stock. It may not be for the risk adverse, but if you want to roll the dice on a very interesting and effective drug, Cleveland might be your ticket.
Disclosure: I am long CBLI. I wrote this article myself, and it expresses my own opinions. I am not receiving compensation for it (other than from Seeking Alpha). I have no business relationship with any company whose stock is mentioned in this article.