By Cagdas Ozcan
Colgate-Palmolive (NYSE:CL) is a global producer and marketer of toothpaste and soap and cleaning products. Colgate-Palmolive also offers pet nutrition products through subsidiary Hill's Pet Nutrition, which makes Science Diet and Prescription Diet pet foods. Many of its oral care products fall under the Colgate brand and include toothbrushes, mouthwash and dental floss. Personal and home care items include Ajax brand household cleaner, Palmolive dishwashing liquid, Softsoap shower gel, and Speed Stick deodorant. The company has operations in 70-plus countries and sells its products in more than 200 countries. Its stock is also popular among income-oriented investors as it has one of the best dividend records in the industry.
Dividend Profile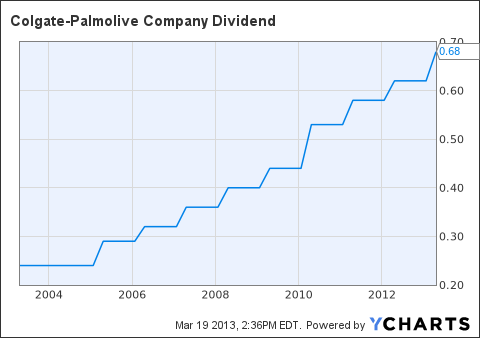 CL Dividend data by YCharts
Colgate-Palmolive has increased its dividend distributions for 49 consecutive years. At the moment, the company pays an annual dividend of $2.72 per share, yielding 2.42%. The company recently increased quarterly dividends from $0.62 per share to $0.68 per share. In order to determine the dividend stability and trend in cash flows and debt metrics over the past three years, I decided to conduct a free cash flows analysis of the company.
Free Cash flows
Free Cash Flows

2012

2011

2010

Net Income

$2,631

$2,554

$2,313

Depreciation and other noncash charges

$425

$421

$376

Funds from Operations [FFO]

$3,056

$2,975

$2,689

change in noncash current assets

$116

$28

$758

change in noncash current liabilities

$256

$51

$236

Operating Cash flows

$3,196

$2,896

$3,211

Capital Expenditures

$565

$537

$550

Free Operating Cash Flow

$2,631

$2,359

$2,661
Source: SEC Filings
Over the past three years, the company has experienced an increase in its net income. Especially in 2011 the net income has shown substantial improvement. The same pattern is evident in funds from operations of the company, and the end of 2012 FFO stood at over $3 billion. The cash flows from operations, however, declined in 2011 as compared to 2010. Colgate-Palmolive does not invest heavily in the business, and in each of the previous three years, the amount of capital expenditures has remained just over $500 million. At the end of 2010, the firm spent $550 million in capital expenditures; however, by the end of 2012 the capital expenditures for Colgate-Palmolive had gone up to $565 million.
The company generates healthy free cash flows. Although, the capital expenditures have been increasing the firm has been able to post impressive free cash flows. Free cash flows have been variable for the company over the past three years. As a result, payout ratio based on free cash flows has also been variable.
Essential Metrics
| | | | |
| --- | --- | --- | --- |
| Essential Ratios | 2012 | 2011 | 2010 |
| Funds from Operations[FFO]/Total Debt | 0.62 | 0.67 | 0.96 |
| FFO/Capital spending requirements | 5.41 | 5.54 | 4.89 |
| Free Operating Cash Flow + interest expense/ Interest expense | 33.89 | 40.98 | 41.94 |
| Debt Service coverage | 7.06 | 6.73 | 4.86 |
For my analysis, I have used four ratios. First ratio indicates that the debt of the company is adequately covered with the FFO. The ratio has shown a downward trend over the past three years, however, it still remains above 60% of the total debt. It indicates that the firm is generating enough cash flows to cover the long-term debt. The second metric indicates that capital expenditures of the company are covered easily with internally generated funds, and the company should not have any trouble meeting its capital spending requirements.
The last two metrics in the table indicate that the firm is able to meet its interest and debt payments sufficiently. Colgate-Palmolive has about $4.9 billion in long-term debt. Long-term debt of the company has increased over the past two years. The third metric shows that the interest expense coverage is very high for the company. Colgate-Palmolive has pretty low interest expense. The company has not paid more than $80 million in interest expense in any of the past three years. Furthermore, total debt service coverage ratio has also shown an upward trend over the past three years, and currently stands considerably higher than 2010. It indicates that the debt service coverage is incredibly strong for the company and it should not have any trouble meeting its debt obligations.
Summary
The analysis was conducted for the purpose of gauging the dividend stability and the ability of the company to grow dividends in the future. During the last year, the company paid $1.27 billion in cash dividends and generated $2.6 billion in free cash flows, which puts its payout ratio at 48%. Our analysis indicates that the trend in free cash flows and debt metrics is strong. In addition, a low payout ratio should allow the company to carry on with its tradition of increasing dividends on a consistent basis.
Business relationship disclosure: EfsInvestment is a team of analysts. This article was written by Cagdas Ozcan, one of our equity researchers. We did not receive compensation for this article (other than from Seeking Alpha), and we have no business relationship with any company whose stock is mentioned in this article. The author has no position in any stock mentioned in this article.