It is curious how badly a lot of government-related firms have fared despite an oil gusher of Obama spending - not sure if the stocks simply got ahead of themselves earlier in winter or what is going on, but there is a lot of weakness in so many of these names. What I wanted to see during this bounce was stocks in my long side of the portfolio jump back over key resistance areas. Those that do not must be considered candidates to cull. (or short in fact)

NCI (NASDAQ:NCIT) is one such stock. While I still like the steady Eddie thesis here, I can't be alone in my bullish intent. There was a huge drop last Tuesday which the cynic in me says someone knows something, and then the past 3 days we've traded below the 200 day moving average. Those are the type of charts I am looking to short, not be long. So I am going to remove my fundamental bias, and go with technicals since those dominate in the current era. [Feb 20, 2009: NCI Earnings Good; Backlog Excellent].
NCIT has been a minor position for a while since it has been acting "just ok", so I am going to exit the last 0.5% stake with a 7% loss... no big dollars here. At this point, on a chart like this I'd like to see it get back to at least $26.50 if not $28.00. Until then, it's more of a short-on-bounces candidate.

[Jan 14: Beginning Stake in NCI (NCIT)]

Disclosure: No position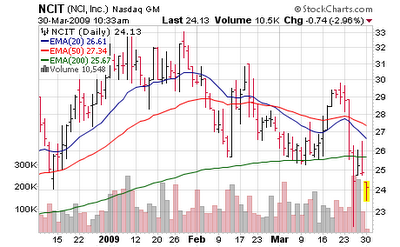 A similar peer also has taken a swan dive...