Of the seven core stocks in my growth portfolio AIG (NYSE:AIG) currently has the largest weighting. In fact, when it comes to AIG, I'm the polar opposite of the nameless character that Sam I Am pesters from one corner of the earth to the other in Green Eggs And Ham: I like AIG's prospects in the "here, there, and everywhere" below $47 a share. In this article, we'll examine the catalysts that have the potential to drive AIG higher in 2013.
SIFI Designation
As I outlined in my previous article "AIG May Be The Investment Of The Decade," AIG is all but certain to be named a non-bank systemically important financial institution, or SIFI. If SIFI sounds an awful lot like "too big to fail," that's because it is. AIG Property Casualty is the largest U.S. commercial insurer in the Northern Hemisphere, the largest U.S. based property casualty insurer in Europe, and the largest foreign property casualty insurer in China and Japan.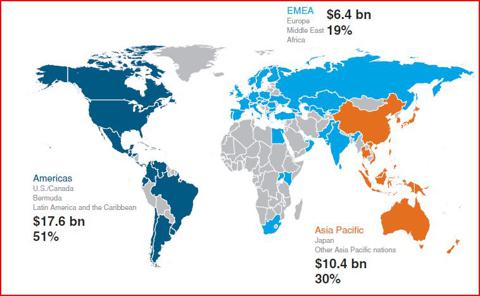 Source: AIG IR.
Mr. Market is currently ignoring the upside of SIFI status, but don't expect the brush-off to continue for much longer with financial institutions who pass the Fed's stress test hiking their dividend by 500%. Few other large-scale companies are as incentivized as SIFIs to grow their dividend.
Stress Test
AIG has been running its own stress test simulations for over a year. The company was originally expected to receive non-bank SIFI status in Q4 2012, but this was postponed. After that, no one will know the exact date, not even AIG.
Considering a) the fact that MetLife was clawing its eyes out after it failed its last stress test and b) the American Council of Life Insurers is imploring the Fed not to lump major insurers in with banks, how can I be so cavalier about the inevitable AIG stress test? Because the company's SIFI hearing was postponed, AIG gets the benefit of knowing a) where more of the landmines are, and b) time to rebalance accordingly. There's a reason why letting someone else jump in first is a consistently winning strategy when the waters are rumored to be shark infested.
Better still, after the company jettisons the small bank it owns, it will no longer be a bank holding company subject to the Comprehensive Capital Analysis and Review (CCAR). The fact that AIG has been working hand in glove with the Fed since the meltdown to design its fortress balance sheet, rather than taking MET's more defiant stance, tells me that AIG will likely pass its trial by fire.
Index Funds
The index funds that currently include AIG in their top 10 holdings are shown in the table below.
| | | | | |
| --- | --- | --- | --- | --- |
| Ticker | ETF | Category | Expense Ratio | Weighting |
| (NYSEARCA:IAK) | Dow Jones U.S. Insurance Index Fund | Financials Equities | 0.48% | 11.56% |
| (NYSEARCA:RWW) | Financials Sector Fund | Financials Equities | 0.49% | 5.22% |
| (NYSEARCA:XLF) | Financial Select Sector SPDR | Financials Equities | 0.18% | 2.64% |
| (NASDAQ:PFI) | Dynamic Financial | Financials Equities | 0.60% | 2.58% |
| (FDV) | Strategic Value Index Fund | Large Cap Value Equities | 0.65% | 2.12% |
| (NYSEARCA:IYF) | Dow Jones U.S. Financial Sector Index Fund | Financials Equities | 0.48% | 1.99% |
| (NYSEARCA:VFH) | Financials ETF | Financials Equities | 0.23% | 1.49% |
| (NYSEARCA:FXO) | Financials AlphaDEX Fund | Financials Equities | 0.70% | 1.08% |
AIG should continue to increase its index fund weighting once it resumes share repurchases. As of this writing, 84.10% of AIG is already institutionally held, leaving precious few shares for retail investors later.
Most Hated in America
AIG is America's Most Hated company, according to Harris Interactive's 14th Annual Reputation Quotient Survey (PDF), with an RQ score of 48.57 indicating that the company's reputation is at a "critical" low.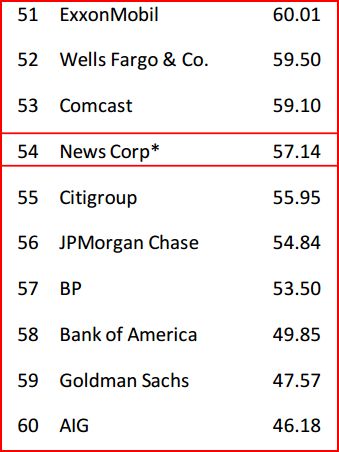 Source: Harris Interactive.
From the Harris Poll, we learn that Americans hate their a) banks b) oil companies, c) Internet providers, and d) insurers. Needless to say, I'm shocked -- shocked -- to find that Americans hate paying utility bills and being charged overdrafts and late fees, often by the same companies they just bailed out.
It seems to me that as long as AIG keeps as far away from Maurice Greenberg as it can get, there's nowhere left to go but up. In fact, AIG's reputation improved by over 2 points in the last year, and based on the current trajectory, it is about to move up the chart as it is replaced by Goldman Sachs.
Speaking of banks, has public opinion dented Bank of America's (NYSE:BAC) earnings? Is Exxon (NYSE:XOM) on the skids? Last I checked, these companies were officially considered to be "necessary evils." Yes, it's terrible, what a cruel world, but what can you do, right? As an investor, it's the necessary part that interests me.
If you can't beat 'em, join 'em.
The Hedges Have Moved In
AIG is now the most widely held Hedge Fund stock in the market today, including Daniel Loeb's Third Point, David Tepper's Appaloosa Management and George Soros's personal money management firm. Could it have something to do with a purported $5 billion summer share buyback, or the fact that AIG's CEO Robert Benmosche dramatically outperformed expectations at Metlife after it de-mutualized? Hey, you never know.
What we do know is that incremental buying will likely keep positive pressure on AIG's share price in 2013.
Conclusion
AIG is done playing defense. If the company demonstrates higher and more consistent earnings within Property/Casualty or Life and Retirement operating segments, continue to improve its capital structure, and consistently generating underwriting profits post-Sandy, AIG will receive another upgrade from both analysts and the ratings agencies. In addition, the company has launched a new division called Connective Mortgage Advisory Co. to sift through Fannie Mae and Freddy Mac properties for long term investment opportunities at heavily discounted prices. Given the recent 15% uptick in mortgage applications and a dearth of available supply in many areas, AIG is perfectly positioned to exploit the housing rebound.
With AIG's limited downside, multiple short term catalysts, considerable tax breaks, a price-to-sales ratio of 0.9, and a CEO behind the wheel with a history of aggressive outperformance, I remain bullish on AIG's prospects in 2013.
Disclosure: I am long AIG. I wrote this article myself, and it expresses my own opinions. I am not receiving compensation for it (other than from Seeking Alpha). I have no business relationship with any company whose stock is mentioned in this article.