General Electric Company (NYSE:GE) shares are trading near a 52-week high, which sounds impressive. However, this stock has actually underperformed many other large-cap stocks in the past few weeks and even months. For a number of reasons, GE shares could continue to underperform on a relative basis, so unless you are satisfied with what might be less than stellar returns in the coming years, it could now be a good time to sell this stock and reallocate those funds into stocks that could be much more rewarding.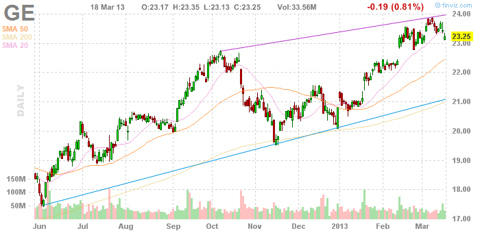 Click to enlarge
As the chart above shows, GE shares are near the top-end of the recent trading range. While General Electric is a fine company, I believe that many investors underestimate the downside risks. I also believe that the upside in this stock is limited due to valuation, the size of the company and its exposure to Europe, China, and the finance division. GE's financial business is significant, and it is one reason why this stock traded well below $10 during the last financial crisis. Here are a few downside risks that investors should consider:
1) GE is not undervalued based on a number of metrics. Analysts expect the company to earn about $1.68 per share in 2013. That puts the price-to-earnings ratio at about 14, while the average stock in the S&P 500 Index trades for around 14 times earnings. GE trades well above book value, which is around $11.82 per share.
2) GE's valuation and size makes it hard to move the needle and this also leaves it heavily exposed to the global economy. GE shares were trading for about $21 in early January and now the stock is trading around $23. Other stocks, which had a much lower valuation have nearly doubled in that same time frame. For example, shares of Hewlett-Packard (NYSE:HPQ) have surged from about $14 to almost $23 in the same time period. If you are looking for value, or a stock that could nearly double this year, GE is probably not for you. Furthermore, the size of GE means it has many moving parts and that gives it exposure to parts of the global economy that may not prosper in the next couple of years. This includes Europe where unemployment is very high and rising, and China where concerns remain that a real estate bubble could collapse. If you are going to take the risks of owning a stock, it should have significant upside potential, but that does not appear to be the case with GE.
3) GE pays a 76 cent per share dividend, which yields about 3.2%. While this yield is slightly higher than the average stock in the S&P 500 Index (NYSEARCA:SPY), which yields around 2%, it is much less appealing when you consider the high payout ratio. For example, since it pays 76 cents per share, and the company is expected to earn roughly $1.68 per share, this means the company is paying out nearly 50% of its annual earnings. That indicates this stock might offer limited dividend growth in the coming years. By contrast, Chevron (NYSE:CVX) yields about 3%, but it only pays about 30% of its earnings out since the dividend is $3.60 per share and analysts expect it to earn over $12 per share.
I liken GE to a major ship with many sails out at all times. When a storm comes, it is hard to get those sails in and change course and we saw that during the financial crisis. That still concerns me, especially when you consider that the stock appears at least fully valued, and the fact that it appears to have limited potential for dividend growth due to an above-average payout ratio. I also believe there is an opportunity cost by owning GE. When the market offers stocks like Hewlett-Packard that nearly doubles in just months, or companies like Chevron that could significantly raise the dividend, there appears to be better places for capital. Furthermore, both Hewlett-Packard and Chevron trade at price-to-earnings ratios that are (even now), much lower than GE.
Here are some key points for GE:
Current share price: $23.40
The 52-week range is $18.02 to $23.90
Earnings estimates for 2013: $1.68 per share
Earnings estimates for 2014: $1.85 per share
Annual dividend: 76 cents per share, which yields 3.24%
Data sourced from Yahoo Finance. No guarantees or representations are made.
Disclosure: I have no positions in any stocks mentioned, and no plans to initiate any positions within the next 72 hours. I wrote this article myself, and it expresses my own opinions. I am not receiving compensation for it (other than from Seeking Alpha). I have no business relationship with any company whose stock is mentioned in this article.
Disclosure: Hawkinvest is not a registered investment advisor and does not provide specific investment advice. The information is for informational purposes only. You should always consult a financial advisor.