After my recent article on MAP Pharmaceuticals (NASDAQ:MAPP) dated January 8th and its recent buyout by Allergan (NYSE:AGN), I started to do some research on other companies that have the potential to be buyout candidates. ResMed (NYSE:RMD) is on my list since the company is a leader in their field and is growing at an impressive rate.
RMD engages in the development, manufacture and distribution of medical equipment for treating, diagnosing and managing sleep-disordered breathing and other respiratory disorders.
Lately, I was listening to RMD's CEO presenting at the Barclays Global Healthcare conference and what I heard was astounding. 2 months ago the company announced their record 72nd year over year revenue growth. That is impressive so I decided to do some more research about this cheap company.
Fundamental analysis
The company's current market capitalisation is $6.24b, with around $1b in cash. RMD has a float of 141 million. 54% is owned by institutions. It also gives out a dividend of 1.6% per year. 13% of the float is short.
Their recent quarter was quite impressive to say the least. Net income was $77.9 million, which was up 24% year over year. Earnings per share were $0.53, that being up 26% year over year.
Over the last 5 years, the compound annual growth rate was 14%. The market in sleep disorders is growing 6 to 7% per year, so this means RMD is continuing to take market share.
Technical Analysis
Let's start looking at the daily chart. One can see how the stock has been basing at the 21 day moving average. It has been consolidating the overbought levels at 48 and looks to be setting up for higher prices. Keep an eye on stochastics as they start trending back up. Keep an eye on the descending trendline as I believe $50 is around the corner.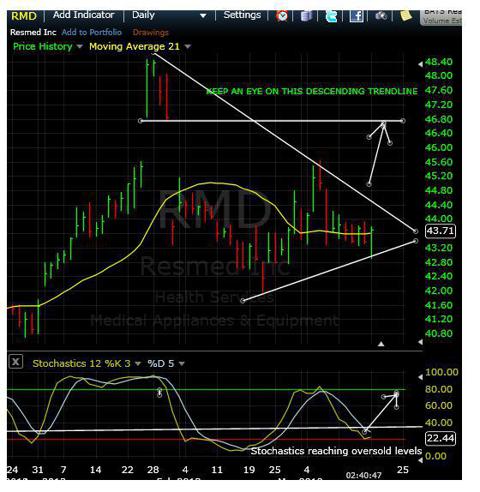 The weekly chart is also quite impressive. Look how the breakout has been consolidating lately.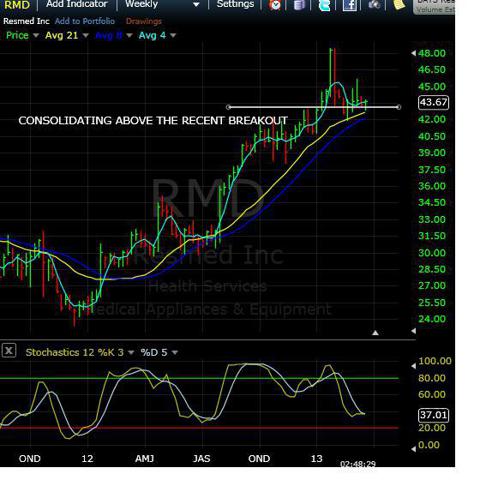 Conclusion
I have been buying RMD on all dips and will add to my position over the 50 day moving average. Recent news coming out about sleep disorders suggests this market is just starting and has a big opportunity to grow. It can even can help pregnant ladies. This article also explains how RMD can be a buyout candidate by Johnson and Johnson (NYSE:JNJ), Medtronic (NYSE:MDT) or GE Healthcare (NYSE:GE). I am giving a $60 target to RMD by October due to their good cash position, increasing revenues, being able to break records year over year and possible buyout candidate.
Disclosure: I am long RMD. I wrote this article myself, and it expresses my own opinions. I am not receiving compensation for it (other than from Seeking Alpha). I have no business relationship with any company whose stock is mentioned in this article.