Harvest Natural Resources (NYSE:HNR) shareholders who tuned in late to the market action on Tuesday morning were in for a nasty surprise.
When they opened their computers shareholders saw that shares in Harvest opened down almost 40%: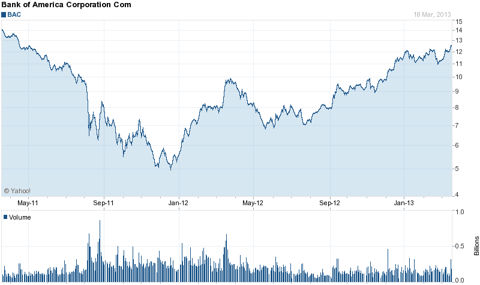 The big drop related to a filing that Harvest Natural made with the SEC, where Harvest Natural informed the market that the company would not be able to file its 10K for December 31, 2012 on time.
But it gets worse. Harvest Natural also disclosed:
- Following discussions with the audit committee of our board of directors, management concluded that there were certain errors related to our incorrect capitalization of certain lease maintenance costs and certain internal selling, general and administrative costs. In addition we identified an error in the presentation of certain cash flow items and determined that certain long-lived assets have been impaired. Extra time is needed to determine the appropriate adjustments to such capitalized costs and the appropriate amounts by which our long-lived assets have been impaired.

- During the annual audit, certain errors were identified that will require the Company to revise and possibly restate its financial statements for certain periods in 2010, 2011 and 2012.

- The Company is in the process of completing its evaluation of its internal controls over financial reporting as of December 31, 2012, in accordance with Section 404 of the Sarbanes Oxley Act. Although such evaluation is not complete, the Company has determined that a material weakness existed in its controls over the accuracy and presentation of its accounting for certain long-lived assets. It is possible additional material weaknesses could be identified as a result of our analysis.

- In addition, due to our liquidity position, our auditors have informed us that their opinion will include a going concern qualification.
The delay in the filing is bad enough, the restatements of prior years being required were worse and the words "going concern" even more disturbing.
Should Investors Steer Clear, Or Is This An Opportunity?
Harvest used to be a stock holding of hedge fund investor Monish Pabrai. That is how I first came across the company.
Pabrai runs a very concentrated portfolio, so if a stock has made it into his portfolio I feel it is worth taking a look at.
Despite my respect for Pabrai I've never actually owned Harvest though because I never felt comfortable with the political risk involved in operating in Venezuela.
Harvest does have some interesting assets:
Asset Number 1 - HNR owns 32% of Petrodelta which operates in Venezuela. Most of the other 68% of Petrodelta is owned by the Venezuela State Oil Company - Petroleos de Venezuela SA.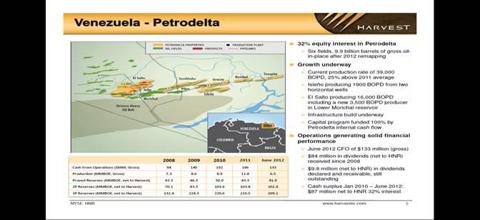 Petrodelta is a profitable company, but over the past couple of years it has a problem. The proceeds from its oil sales have to be distributed to it through PDVSA. Those proceeds haven't been received as Chavez was funneling the cash into his reelection campaign.
Harvest has a nice share of a profitable, producing company here, but the reality is that if they aren't receiving any of the cash flow it might be worth nothing.
There is that political risk I was talking about.
Asset Number 2 - Offshore Gabon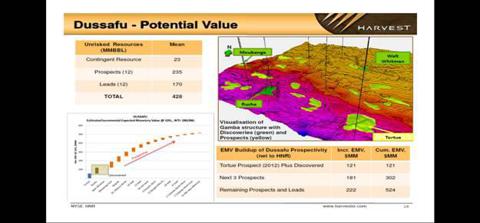 Harvest doesn't have any booked reserves or production off the shore of Gabon. These are exploration targets that could hold up to 428 million barrels of oil with a risk weighted value $524 million net to HNR (according to HNR). A small discovery was already made which at 23 million barrels of contingent resource may or may not be economic.
This is exploration property with big potential, but no current cash generating ability.
Asset Number 3 - Indonesia
These properties in Indonesia are again pure exploration. The size of the prospect inventory is certainly large relative to the size of Harvest, but as is always the case the most likely result of an exploration well is a dry hole.
A discovery of a size that is 10% of the 767 million barrels of prospective resource would be 70 million barrels. Even valued at a conservative $10 per barrel would be worth far more than the current HNR stock price.
So again this property is not one with any cash generating ability.
Asset Number 4 - Oman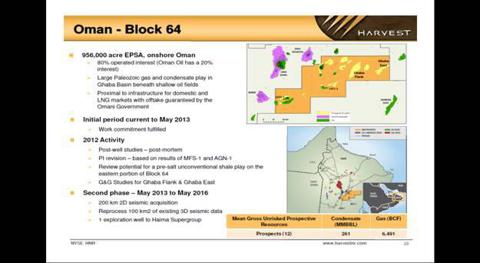 The Harvest Natural assets in Oman are just like the Harvest assets in Indonesia, they are pure exploration with no booked reserves and no producing wells.
Just like in Indonesia Harvest drilled two Oman exploratory wells in 2011. All four wells have found nothing useful.
But, just like Indonesia as noted in the prospective resource assessment below, the Oman block does have potential that could move the value per share needled IF a successful discovery was made.
But, also like the Indonesian and Gabon assets, the Oman assets currently do not generate any cash.
Where Is Cash Going to Come From In 2013?
As I mentioned the assets do look interesting, but here is the problem. Where is Harvest going to get any cash to do something with them?
At the end of 2012 the auditors seem to think the company has pretty much run out of liquidity. What has really put the company in a pickle was the termination of a deal to sell the Venezuelan assets to PT Pertimina for $725 million.
That $725 million is almost triple the current share price of the entire company.
Now with the Venezuelan assets not regularly providing cash flow and every other property being the cash consuming kind (exploration properties) there is no source of cash flow for operations.
The obvious alternative is for Harvest to sell an asset to raise cash, but given the company's situation that is going to be hard to do at a reasonable price.
I'm going to avoid Harvest for these reasons. I hope the company can work its way out of this tough spot for its long-time shareholders.
If Harvest can work out of this squeeze and the Venezuelan assets start generating cash flow again this could be a big winner from this share price.
But for me, just too risky.
Disclosure: I have no positions in any stocks mentioned, and no plans to initiate any positions within the next 72 hours. I wrote this article myself, and it expresses my own opinions. I am not receiving compensation for it (other than from Seeking Alpha). I have no business relationship with any company whose stock is mentioned in this article.