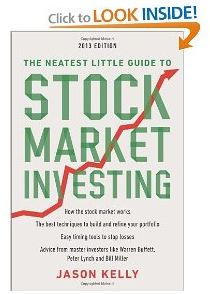 Jason Kelly has issued a new 2013 edition to his perpetually best-selling The Neatest Little Guide to Stock Market Investing. It is a book that I heartily recommend for both beginning and experienced stock market investors. (It sports a 4.9 reader review on a 5-point scale at Amazon).
It is no accident that The Neatest Little Guide has been selling so well since the first edition in 1998. It is not only an accessible guide for newcomers, but it is also sophisticated in its investing strategies. The basic concepts remain timeless. Everything in the book is based on facts supported by sound reasoning. It is an intelligent approach. Terms are explained and used consistently. The writing style is conversational and accessible, with a nice dose of humor. But the book never becomes so informal that important concepts get shortchanged or mangled. As Kelly has taken the book through several editions, he has honed his ideas until they are razor-sharp and very clearly presented.
The Neatest Little Guide has 8 chapters, 3 appendices, and an index. The chapter titles themselves give a good presentation of what you will find here:
1. Speak the Language of Stocks
2. How the Masters Tell Us to Invest
3. How History Tells Us to Invest
4. Permanent Portfolios
5. Get Ready to Invest
6. Research to Riches
7. This Book's Strategy
8. Bon Voyage
I want to highlight a few features that I believe give this book special value.
Chapter 2, How the Masters Tell Us to Invest, is a gem. In about 60 pages, it presents the basic ideas of six of the best stock investors ever. They are:
Benjamin Graham
Philip Fisher
Warren Buffett
Peter Lynch
William O'Neill
Bill Miller
Kelly has studied the writings and teachings of each of these gentlemen. For each one, he presents key "takeaway" concepts. For example, from Benjamin Graham, we learn about market fluctuation and emotion, the difference between the market as a voting machine and weighing machine, stock valuations, and margin of safety.
For each of the Masters profiled, Kelly presents a summary "What You Should Retain from Mr. X" section. I think this is a solid teaching technique. I have studied several of these famous investors myself, and it was interesting to get Kelly's take on what their most important points are and compare that to my own understanding. In several instances, I found my own views broadened by Kelly's perspective.
Chapter 2 ends with a terrific section called Where the Masters Agree. Even though he has profiled investors as disparate as Benjamin Graham and William O'Neill, Kelly distills the common points from their teachings. For example, two such points are to conduct thorough research and buy at a price below the company's potential. Whether you are a value investor or a growth investor, a chartist or a fundamentalist, you can probably agree that those two principles are important elements of being a successful stock investor.
Chapter 6 is called Research to Riches. It covers research from the personal buy-what-you-see advice of Peter Lynch to what you can gain from such sources as Investor's Business Daily and The Value Line Investment Survey. I found Kelly's dissection of a Value Line stock report (one page per stock) to be as good a guide as any I have ever seen. Kelly conducts that dissection in the context of an examination of IBM's (NYSE:IBM) treatment in 1997 compared to 2012. So in the process, you not only learn about Value Line but also get a historical perspective on how Value Line's approach has stood up over time. Not much has changed, which makes Value Line a bedrock source for many investors.
Kelly's information about research runs a gamut of sources, from magazines to newspapers to newsletters (including his own) to requesting an investor packet from individual companies. He covers stock screeners (Yahoo, FINVIZ, Morningstar), charting services, and blogs. It is a great overview of what is available out there.
Kelly has devised a worksheet to cover stocks that are on your personalized watchlist. He recommends covering 20 companies. The worksheet has multiple elements, and he painstakingly walks through every one, including how to use each data point and where to find it. This amounts to a reiteration of the general principles covered earlier, and again that is a great educational technique. ("Tell them what you are going to tell them; tell them; and tell them what you told them.")
At the beginning of the last chapter (Bon Voyage), Kelly has this:
That's about it. This book should help you get going safely with a stock investment program. I like the fact that you won't run out and throw all your extra dollars into a $2 start-up because of something you read here. On the other hand, you won't languish for the next 20 years in Treasury bills for safety's sake. It's not safe to underperform inflation.
The book's first appendix is What You Should Retain from This Book. Again, it is a great teaching device to go back and summarize in 10 pages what Kelly has spent the previous 280 pages covering.
As I said at the beginning, I recommend this book for beginners and veterans alike. It is a great window and entry point into the world of stock market investing. As Kelly himself says, "It's not the only way to make money in stocks, but it's a way that anybody can follow from their kitchen table."
Disclosure: I have no positions in any stocks mentioned, and no plans to initiate any positions within the next 72 hours. I wrote this article myself, and it expresses my own opinions. I am not receiving compensation for it (other than from Seeking Alpha). I have no business relationship with any company whose stock is mentioned in this article.
Additional disclosure: Although I have never met him in person, I consider Jason Kelly to be a friend. We have corresponded many times and spoken on the phone once or twice. He has favorably reviewed my own eBook, Top 40 Dividend Growth Stocks for 2013: A Sensible Guide to Dividend Growth Investing.