RF Micro Devices (RFMD) looked strong today and managed a better than 2% rise even in the face of an overall down market. This small tech concern provides components to both Samsung (OTC:SSNLF) and Apple (NASDAQ:AAPL). The stock is cheap at less than $5 a share and is gaining positive catalysts as well. Everything is pointing to a breakout on strong growth over the next two years and I think the stock can get back to the $7 level it last achieved in late 2011.
Positive catalysts for RFMD:
It is a big winner with the launch of Samsung Galaxy S IV. Brean Capital just issued a report stating that is was one of biggest content share gainers in the new phone market by the Asian juggernaut.
Consensus earnings estimates for FY2014 have gone up more than 10% in the last two months even before this phone tear down confirmation.
In addition, FY2014 begins at the end of the month for this company. Analysts expect earnings to more than double over FY2013. The stock could gain a positive catalyst as the fiscal year closes and these PE valuation metrics look much better.
As the smartphone wars escalate and manufacturers add more features to attract customers, they are adding more of the radio frequency (RF) technology RFMD specializes in. This is a secular trend.
The company just announced a new Gallium Arsenide sourcing strategy that should save it $20mm annually once fully implemented. This would amount to a 7 cent a share increase in earnings if realized.
RF Micro Devices, Inc. designs and manufactures radio frequency components and compound semiconductor technologies primarily in the United States and Asia.
Four additional reasons RFMD is going higher from under $5 a share:
Revenue growth is expected to accelerate to around 20% in FY2014 from FY2013, and a sales gain of just over 7%.
Given those growth prospects, the stock is cheap at 14x forward earnings. Earnings estimates should go up in next few weeks on the back of the Galaxy launch and favorable margin impacts of sourcing strategy.
The company has a solid balance sheet with approximately $100mm in net cash on the books. It also has easily beat earnings estimates each of the last two quarters.
After bottoming throughout the second half of 2012, the stock has behaved stronger in 2013 making a series of higher lows (see chart)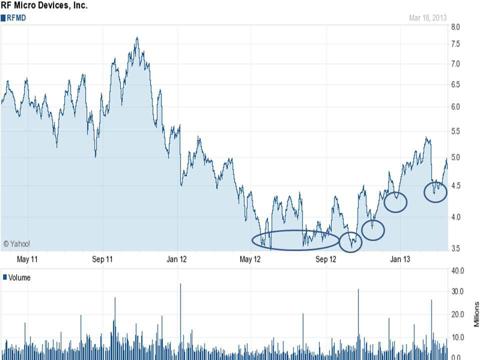 Disclosure: I am long AAPL, RFMD. I wrote this article myself, and it expresses my own opinions. I am not receiving compensation for it (other than from Seeking Alpha). I have no business relationship with any company whose stock is mentioned in this article.