As Comcast's (NASDAQ:CMCSA) recent $16.7 billion acquisition of the remaining stake in NBC Universal shows; the future is in content, and it's not cheap. Netflix (NASDAQ:NFLX) is no stranger to the notion with a renewed emphasis on proprietary content like their new series, House of Cards and its ubiquitous focus on the children's programming niche with companies like Dreamworks. As I see it, Netflix has three challenges going forward: 1) The arms race to secure exclusive content (non-exclusive content will not secure premium payment), 2) Sustain the growth rate in revenues to pay for the increased costs of procuring additional content. 3) Establish value in their platform to retain membership as the market shifts to streaming content due to the rise in smartphones and tablets. Based on valuation, the market seems to think that Netflix is poised to meet these objectives, at least in the near term. I contest however, that Netflix is due for a return to a more sensible valuation, sooner rather than later.
Valuation:
With a stock price still north of $180 and P/E ratio of roughly 640 (about 30 times the average P/E for S&P 500 companies), Netflix is by no means a value play, unless one considers their projected future growth rates to be low ball estimates. According to NASDAQ, Zacks Investment Research, and Yahoo Finance; earnings growth for Netflix for 2013 is expected to be 293%, though only about 18% over the long term (5 years out). You read that correctly, 293% growth for a company with $3.6 billion in revenue last year. The stock currently has a 3 month return of about 100%, yet analysts remain split down the middle in terms of buy/sell recommendations according to the Yahoo Finance recommendation summary of 26 analysts. With a median price target of 122 and high estimate of 200, NFLX finds itself well above consensus analyst valuation levels. With a short interest of over 15% (roughly 55 million shares), one could argue that some of the recent run up in price stems from shorts covering their positions. If that is the case then the short covering only further skews the valuation upward in the short term, and could likewise exacerbate a potential correction downward as people rush for the exits following disappointing news or a bad quarter.
Insider Selling:
Due to the rapid appreciation of the stock price, it's not a surprise that we might see profit taking, especially from insiders if there is a pull back. The appreciation in the stock price over the past 3 months is impressive, especially when one considers that 2012 earnings per share (NYSEARCA:EPS) comes in at less than 10% of 2011 levels (.29 vs. 4.26 respectively ). What is interesting however is that no insiders have bought stock outright in Netflix since the run up in the price of the stock began in May, though they have been selling. According to NASDAQ; Insiders sold over $63 million in Netflix stock (nearly 400,000 shares) in the final week of January alone, including 343,400 shares by a single director who purchased the shares in May and netted an 8 month profit of $30 million on his initial investment of $25 million - not too shabby! Insiders have also been exercising deep in the money options and selling them immediately for a profit. Insider selling, especially after such a short holding period, should always serve as a cautionary pause for outside investors.
Operating Income & Debt Servicing:
Netflix also has a deteriorating coverage ratio (EBIT/ interest expense) due to increases in debt, a 93% drop in operating cash flow, and an 87% decline in operating income YOY ($ 50M in 2012 vs. $376M in 2011). The decrease in operating income appears to be largely a result of a 29% increase in COGS and 27% increase in technology/ development which can be linked to a strategy shift to get more exclusive content on the Netflix platform (particularly for streaming). This shift is an important aspect of Netflix's strategy; recognition that content will be the only way to sustainably compete in the space over time. This shift in strategy will no doubt continue to increase costs and depress operating margins for Netflix as it races to secure exclusive content to retain customers. This point is further illustrated by the fact that Netflix has increased non-current content liabilities from $48 M to over $1 billion in just two years. The subsequent deterioration of operating income (EBIT) and coverage ratio for NFLX signals the increased possibility that it will encounter greater difficulty in servicing its debt or even see an increase in its cost of capital in the future, especially if growth slows. This is especially worrying as Netflix has increase non-current liabilities by roughly 500% since 2010 (including content liabilities). Admittedly, Netflix has increased revenue by approximately 12.6% over the past year, which is enough to cover their increasing cost of goods sold. The increase in gross margin has not translated to operating profit, which only exacerbates the decrease in the coverage ratio should growth slow from its sky high expectations. These are just some of the reasons that Netflix booked just $17 million in profit for 2012, despite $3.6 billion in sales.


Conclusion:
If Netflix's stock price indicates that its valuation is indeed a House of Cards (obvious pun very much intended), then it is clear that a correction downward could be fast and substantial (much like Chipotle (NYSE:CMG) towards the end of 2012). Looking at the 3 month chart for NFLX, it's easy to see that the stock's valuation was steady from the end of 2012 into 2013, and then shot up towards the end of January (earnings announcement) where it has since remained, again relatively stagnant. Must have been a blockbuster report in January, right? That depends; if you consider a 7.5% increase in U.S. streaming subscribers, a 4.4% decrease in U.S. mail subscriptions, and Q1 forward guidance of "break even" compared to analyst consensus of a loss: then yes, it's a blockbuster quarter. I'm also concerned about the growth projections, particularly with the competition in the space from companies like RedBox, Amazon Prime, HBO Go, etc. Keep in mind that Netflix customers can cancel at anytime, making the revenue stream very unpredictable due to low switching costs (again allowing customers to move to where the content is, relatively easily). I'm not suggesting that a significant correction is imminent, although it could be as early as the next unsatisfying quarter despite the puzzling low expectations of realistic profitability on a stock who's P/E and growth rate suggest high market expectations. Increased subscribers were a big part of the last run up, suggesting contrary news could have the opposite effect. In conclusion, there are a lot of reasons not to own this stock, and very few reasons to venture in at this level, let alone hold if you already own. I just don't see the value in a stock with all the warnings of a valuation that seems ready to return to earth, perhaps as swiftly as it has ascended.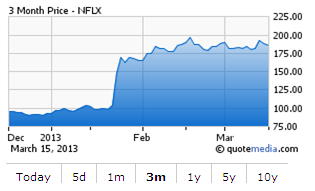 Disclosure: I have no positions in any stocks mentioned, and no plans to initiate any positions within the next 72 hours. I wrote this article myself, and it expresses my own opinions. I am not receiving compensation for it (other than from Seeking Alpha). I have no business relationship with any company whose stock is mentioned in this article.