Tuesday's releases of housing starts and building permits for the month of February both came in better than expected. While housing starts just saw a modest beat (917K vs. 915K), building permits were significantly better than expected (946K vs. 923K) and at their highest level since mid-2008.
The charts below show housing starts on both an absolute (left side) and year/year (right side) basis. We also broke out the starts data in terms of single and multi-family unit starts. As shown, although this month's level is down from the recent peak of 982K in December, starts are still up 27.2% year/year. Single unit housing starts increased by 3K this month which was actually the third highest monthly reading since mid-2008 and represents a 31.4% increase compared to last year. Finally, multi -family starts increased by 4K to 299K representing a 20.5% increase over last year. If you are a housing bull, it is good to see the strength in single unit starts over the last two months.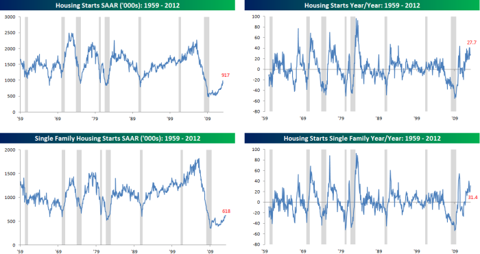 Click to enlarge

Click to enlarge
Building permits in the month of February increased from 904K to 946K this month, representing a 33.8% increase versus last year. This month's increase in building permits was evenly split between single and multi-family units. Single family permits increased from 584K to 600K. That works out to a year/year increase of 25.5% increase. On the multi-family front, building permits increased by 26K to 346K for a year/year increase of 51%.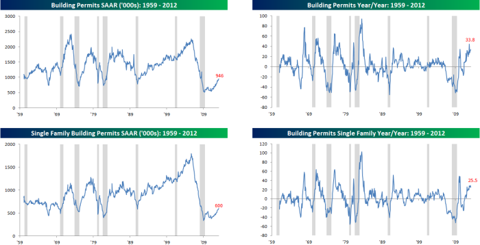 Click to enlarge
Click to enlarge