Like many Canadian energy producers, Penn West Exploration (NYSE:PWE) has suffered from lower realized energy prices and transportation bottlenecks. During the past year, Penn West saw its share price range from a high of $16 to a low of about $9.60. However, Penn West has recently seen its stock surge 15% due to the recent uptick in natural gas prices and optimism about future pipeline expansions. Penn West currently offers a $0.27 quarterly dividend. At current prices, the stock yields about 9.4%.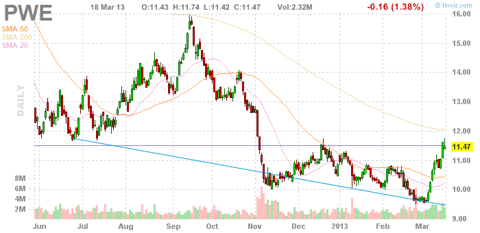 Click to enlarge
Penn West recently released its full year 2012 results. For FY 2012, Penn West generated $1.25B in funds flow from operations ("FFO"). Average production was about 161,195 BOE/d, in line with guidance of 161,000 - 163,000 BOE/d. The production mix was about 65% liquids. Penn West ended 2012 with about $2.7B in debt, for a debt to EBITDA ratio of about 2.1X.
Probably the most valuable asset owned by Penn West are its reserves, with an NPV of $9.1B. As of Q4 2012, Penn West had over 334 MMBOE of proved reserves. When adding probables ("2P"), this increases to 676 MMBOE. Liquids account for 71% of 2P reserves. The reserve mix is 52% light and medium oil, 29% natural gas, 13% heavy oil, and 6% NGLs.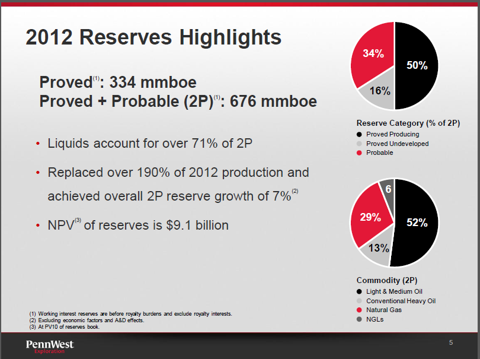 Click to enlarge
During 2012, Penn West completed the disposition of about 16,500 BOE/d for net proceeds of about $1.6B. Penn West has large asset base, with over 5.7M acres of land across Western Canada. During 2013, Penn West plans to consolidate its assets, by selling underutilized, non-core acreage.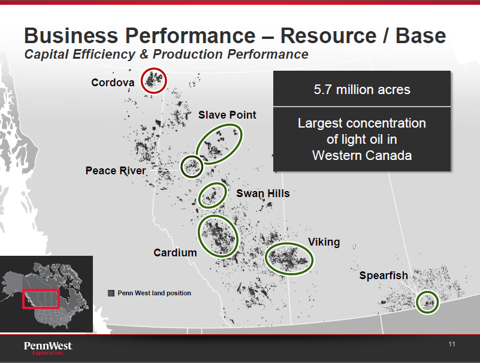 Click to enlarge
Penn West has a target of about $900M in capital spending in 2013, with a possible incremental increase of an additional $300M. Planned rig activity for Q1 2013 is expected to be between 18 to 20 rigs. Penn West FY 2013 production is forecasted to be between 135 - 145 MBOE/d, a decline of 22% from 2012 levels.
During 2013, Penn West cash flow is somewhat protected to the downside, with about 55,000 BOE/d of crude oil production and 125 MMCF/d of natural production hedged. Penn West cash flow would be positively affected by an increase in energy prices, with an $10 upward move in WTI oil prices increase cash flow by $202M. Similarly, Penn West would greatly benefit from a narrowing of the differential between Canadian light oil and WTI, with a $8 tightening increasing cash flow by $258M.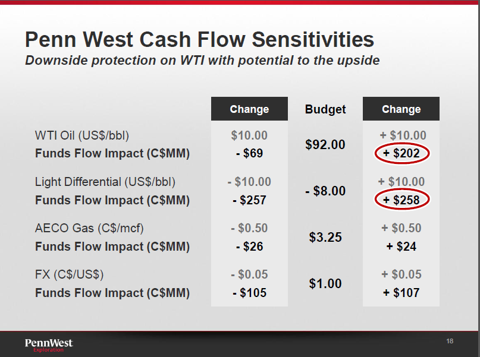 Click to enlarge
Conclusion
Penn West is not a stock for the faint of heart. Cash flow for 2013 will not likely cover both the dividend and capital spending. Indeed, Penn West paid out over $512M in dividends last year, or about 41% of its cash flow. Also note that capital spending is expected to be $900M in 2013. Considering that Penn West only generated $1.25B in cash flow in 2012 and that production is expected to decline 22%, I think it is safe to assume that the current dividend is not sustainable. Please keep in mind that Penn West can also plug this gap with asset sales.
Penn West is clearly betting on an increase in cash flow due to higher realized energy prices. While Penn West is cheap, and undervalued, I would be wary of starting a position, especially after some of the recent management turnover. Like Pengrowth Energy (NYSE:PGH), Penn West is a high risk, high reward stock. However, I feel that its dividend is in more danger, since unlike its peers Pengrowth and Enerplus (NYSE:ERF), Penn West has yet to lower its dividend.
Disclosure: I am long PGH. I wrote this article myself, and it expresses my own opinions. I am not receiving compensation for it (other than from Seeking Alpha). I have no business relationship with any company whose stock is mentioned in this article.