Having an application for Apple's (NASDAQ: AAPL) is not necessarily a must for every business, but it certainly helps. This notion is especially true when a business's customers are asking for it, as was the case with Skype users.
Acquired by eBay (NASDAQ: EBAY) in 2005, Skype's internet phone service has been successful in several demographics. Skype is free between two computers, but does charge for calls to landlines or cell phones, which is how the firm makes their money.
As is reported in the recent article "Skype to launch service for iPhone, BlackBerry", the iPhone app will be just the first of Skype's offerings to better position itself in the rapidly evolving mobile communication market. The company is coming out with services to work with all the major players, including BlackBerry made by Research In Motion (NASDAQ: RIMM) and Google's (NASDAQ: GOOG) Android.
Spending data from Geezeo's MSSI shows that spending at Skype has in fact been affected in the twelve months, like everything else in the economy. From April 2008, the average Geezeo user has decreased their monthly spending on paid Skype calls by 1.64% overall.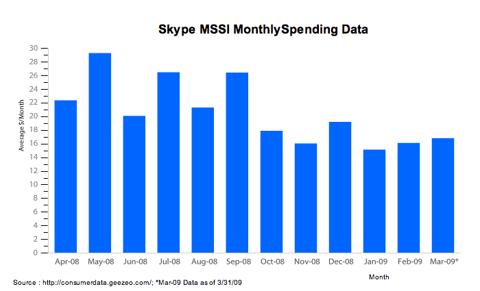 Skype's website ensures that the iPhone application will work with any of the wireless internet variations, be it WiFi, 3G, EDGE or GPRS, which will hopefully help push customers into using the service more while on the go. Allowing the increasingly tech-savvy American consumer to use Skype away from his or her computer was the next logical step for the firm, but it comes at the right time as well. The launch is timed before Apple's expected release of the iPhone 3.0 OS and $99 price version of the phone, both will drive more market share Apple's way.
In the last three months MSSI data shows that monthly spending at Skype has been up and down, but has increased overall by almost 5%. March data shows that spending has increased even more, so expect this trend to continue as Skype becomes more widely usable away from the domestic setting.
This data was compiled by the Geezeo Main Street Spending Index (MSSI).