2012 was certainly not the year that Intel (NASDAQ:INTC) was hoping for. The company's original guidance for revenue growth in the high single digits turned out to be a fairy tale. In the end, revenues actually declined by more than 1.2%. This wasn't just a company specific problem. The PC market saw terrible weakness, perhaps the worst second half in two decades. Microsoft's (NASDAQ:MSFT) Windows 8 launch was not a blockbuster, and a continued shift towards tablets like Apple's (NASDAQ:AAPL) iPad meant even the strongest PC makers struggled.
We're almost through the first quarter of 2013, and Intel's stock has barely budged over the past three months. This is not a total surprise, as the first half of 2013 was expected to remain weak, and I've called Intel a second half story. Today, I want to discuss some expectations regarding Q1, and show why if Intel disappoints, you should use that to your advantage.
Looking at how Q1 may shape up:
Included in Intel's fourth quarter report was guidance for both the first quarter of 2013 and the full year. I'll discuss Q1 first. Intel guided to revenues of $12.7 billion, plus or minus $500 million. The midpoint of that guidance implies about a 1.7% decline from the prior year, with a range going from minus 5.5% to plus 2.3%. Even if Intel comes in slightly ahead of its forecast, I think you are still looking at a year over year decline.
In terms of analyst expectations, analysts were at $12.92 billion when Intel first gave guidance, so Intel disappointed. When I wrote my "second half of 2013" article, analysts had brought their average estimate down to $12.72 billion, slightly ahead of Intel's midpoint. Well, those estimates are still coming down, and the current estimate is at $12.69 billion. That's just below the company's midpoint, and I wouldn't be surprised if the average estimate keeps declining. Intel's top line numbers have been disappointing in recent quarters, so analysts probably don't have high hopes.
On Tuesday, we got one such analyst note that would be a big red flag if true. Piper Jaffray stated that Intel's revenues are tracking to the low end of their range. Piper is using sequential numbers, meaning they are looking at the change from Q4 of 2012 to Q1 of 2013, not the year over year ones. Using the sequential numbers, Intel roughly guided to a 2% to 9% decline in revenues from the $13.477 billion we saw in Q4. A 5.5% sequential decline is roughly $13.735 billion, around where Intel guided to. But Piper thinks Intel will be coming in around an 8% sequential decline. That's $12.4 billion, which is about $300 million below the street average currently. If this is true, Intel will probably miss, because as much as I think the average analyst estimate will come down before Intel reports, I don't see it coming down that much. I wouldn't be surprised if we go into Q1 with an analyst average of $12.6 billion, but if analysts cut their average down to $12.4 billion, this stock is probably under $20 at that point.
When it comes to earnings per share, I'm really not worried, despite where the revenues come in. Intel has handily beaten earnings estimates the past few quarters, even when it has missed on revenues. Part of that has to do with the company's buyback program, which is significantly reducing the share count. Intel's buyback boosted earnings by more than 1.3 cents in Q4, and I expect to see a similar result this time. Also, Intel's gross margin guidance has been rather conservative lately, so there is some room for a beat there. That can make up for the lower than expected revenues.
Rest of the year:
We haven't seen too many changes to the forecast for the rest of the year, which isn't surprising. This is mostly a dead time of year for analyst changes, so we probably won't get the next major change until Intel's Q1 report. However, there have been some slight changes.
For Q2, Intel analysts have slightly edged down their revenue forecast, now calling for a decline of 4.2% to $12.93 billion. For the full year, analysts now expect just 1.2% revenue growth to $53.97 billion. At my last update, analysts were a little more optimistic, expecting 1.4% growth this year. With slightly less revenue growth expected, analysts have cut their full year earnings forecast by a penny to $1.93, with that penny being lost in the second half of the year. They've also cut their 2014 EPS forecast by two cents to $2.09. On the revenue side, analysts are expecting an acceleration of growth in 2014, currently calling for 4.7% revenue growth to $56.51 billion.
A few comparisons:
I wanted to show some key comparisons between a couple of large cap tech names. For this comparison, I'm using Microsoft, Apple, and Cisco Systems (NASDAQ:CSCO). I chose these three because like Intel, they are all projected to grow revenues this year, as well as pay decent size dividends and buy back stock. There are other large cap tech names out there that pay dividends like Dell (NASDAQ:DELL) and Hewlett Packard (NYSE:HPQ), but those names are seeing revenues decline right now.
I'm not going to cover current growth estimates in depth for two reasons. First, Apple, Intel, and Microsoft are growing revenues and earnings faster than Intel right now. Intel is growing revenues in the low single digits right now, while the others are mid to high single digits (Cisco and Microsoft) or mid teens (Apple). The second reason is a simple question. Does growth matter? Apple is growing revenues quite a bit right now, but because earnings are nearly flat, the stock has plummeted. Right now, growth doesn't seem to matter for Apple.
Here is how I'm going to compare these names. I'll compare them as value stocks. The table below shows the current dividend yield, as of Monday's close. I also have shown the amount of stock bought back for each name over the past 12 months (regardless of fiscal year for those that don't use a calendar year), and the current market cap. Also, I'm including the price to earnings multiple these names are trading at, based on calendar 2013 currently expected earnings.

*For Cisco, the buyback is the 12 months ending in January 2013, as their fiscal calendar is a bit different. The P/E number for Cisco uses the four quarters ending in January 2014.
Looking at these names as pure value stocks, meaning just the dividend and buybacks, Intel is certainly the best name right now, which is why it trades at a premium. Intel's dividend is a full percentage point higher per year than any other name, and is nearly two full percentage points higher than Apple's at this point. That is until Apple wakes up and does something. When it comes to buying back stock, Intel has bought back the highest dollar amount of shares over the past twelve months. Yet, it has the lowest market cap. That means that Intel's buyback is much stronger than any other name. That helps to soften declines in the stock, and provides a nice boost to earnings per share. Apple only started buying back stock last quarter, but that nearly $2 billion was under an accelerated program. Apple is only expected to buy about $3 billion a year at this point, while I expect the other names to buy back at least that much, if not $4 billion or more for the next 12 months.
Intel doesn't provide as much growth right now, but I'm not pitching it as a growth stock. I'm pitching it as a value name, and a 4.26% yield plus a huge buyback is nothing to shy away from. Intel's stock is down 21% over the past year, but imagine what that number would be without any dividends or a stock buyback. You probably would be looking at a decline in the 30% range. For those looking for dividends and buybacks in the large cap tech space right now, your best bet is Intel. Again, until Apple does something with its giant cash pile.
Search for a CEO:
As you probably know by now, Intel is in the midst of a search for a new CEO. Paul Otellini announced back in November that he would be stepping down at the company's annual stockholders meeting in May, so the company has about two months left to find a successor. It is entirely possible that they will name the new CEO at the Q1 report, but they might make it a separate announcement. When it comes to Intel, I always listen to the words of my colleague Ashraf Eassa, and here's an excerpt from his latest Intel article:
"Next, I would like to get an update on the CEO search. The uncertainty here is unnerving and any announcement/update is likely to relieve some of the selling pressure from that. My guess is that COO Brian Krzanich gets the role, as he is the most qualified insider. A concern here is that if Mr. Krzanich doesn't get the job and instead an outsider gets it he, among others in the executive team, may choose to leave, especially since he would feel as though he has "topped out" here and could potentially go further elsewhere. I also do not think that it would be wise to bring in an outsider during this critical period as it is more than likely he/she may make some incredibly stupid moves that juice the short-term share price only to seal Intel's long-term fate. I would cautiously hang on to my shares in the event of an outsider taking the helm, but I would watch the new executive's moves very carefully."
I share Ashraf's concern here about how some Intel execs might leave if an outsider is chosen. Ashraf's money is on COO Brian Krzanich, but my money has always been on current CFO Stacy Smith. Smith was promoted back in November when Otellini announced his retirement, as was Renee James, executive vice president of Intel's software and services group. Recently, VMware (NYSE:VMW) CEO Pat Gelsinger quashed rumors that he was a leading candidate for the spot. Gelsinger is a 30 year Intel vet. The article states that Smith's and James' promotions were to groom them for an eventual CEO spot. It's quite possible that Smith takes over this time around, and James would take the spot next time around. My money would be on Smith in this race.
Using disappointment to your advantage:
When it comes to names like Intel where a lot of investors are buying for the dividend, I like to recommend yield buying points instead of dollar buying points. That means that instead of buying at say $21, I'll say buy when the yield hits 4.25%, or something like that. Obviously, as the price decreases, your yield increases.
Given that the stock market is near highs, I wouldn't recommend just throwing money into any name now. I always recommend that investors wait for a pullback, and I'll surely do that with Intel. Intel rallied above $22.50 before its last earnings report, and that $22.50 point is where the stock yields 4%. Since then, you've been yielding more than 4%, which is pretty good. Intel's 4.26% yield as of Monday's close was about 112 basis points higher than a 30-Year US Treasury. It's not a bad dividend to receive.
With Intel yielding 4.26% as of Monday's close, my initial recommendation would be to wait for another roughly 10 basis points in yield. I like to use zeros and fives, so my first entry point would be at 4.35% (roughly $20.69). I'd then wait for another 15 basis points, which puts you at 4.50%, or $20.00 a share. You can structure it however you want to. However, I would recommend averaging down every 5 or 10 basis points (or whatever number you choose). I've provided the following table to show what prices equal what yield.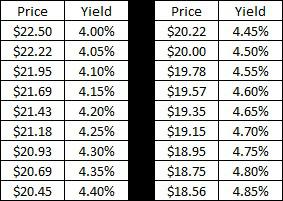 So how do I recommend using disappointment? Well after Intel reported Q4, the stock came down a bit. That gave you a nice bump in yield. If Intel were to disappoint again with its Q1 report, you could again see a drop in the stock. That would give you a higher yield, and maybe you could hit that $20 level, or 4.50% yield.
Final Thoughts:
Intel stands at a crossroads currently. The stock has done nothing over the past three months, despite a 6% jump in the NASDAQ over that time. Some may be concerned about a soft Q1, and Piper recently sounded the alarm. Intel has had some revenue troubles recently thanks to the weak PC market, and a Q1 miss or soft Q2 guidance would certainly impact shares. The good news for investors is that Intel's strong dividend and buyback will soften any decrease in the stock. Intel remains the best large cap tech value stock in terms of dividends and buybacks. I think this stock might head towards $20 before an eventual move higher, if the second half of 2013 turns out to be the rebound everyone is looking for. Until then, investors should average in as yield points get higher.
Disclosure: I have no positions in any stocks mentioned, and no plans to initiate any positions within the next 72 hours. I wrote this article myself, and it expresses my own opinions. I am not receiving compensation for it (other than from Seeking Alpha). I have no business relationship with any company whose stock is mentioned in this article.
Additional disclosure: Investors are always reminded that before making any investment, you should do your own proper due diligence on any name directly or indirectly mentioned in this article. Investors should also consider seeking advice from a broker or financial adviser before making any investment decisions. Any material in this article should be considered general information, and not relied on as a formal investment recommendation.