It wasn't much, and it came after a rather large outflow on Monday, but, for the first time since February 6th, gold was added to the trust for the SPDR Gold Shares ETF (NYSEARCA:GLD) on Tuesday.
As indicated below via data from the SPDR website, GLD holdings rose by 2.7 tonnes following an outflow of 13.3 tonnes on Monday, signaling a possible change in sentiment amongst U.S. investors.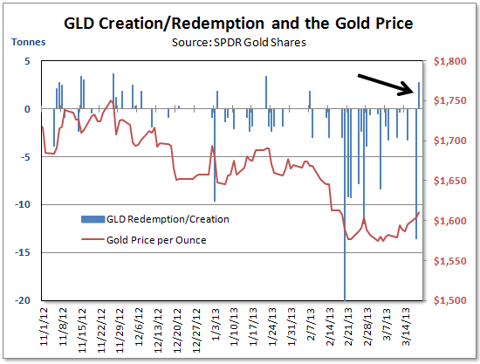 As noted here previously in Are Record Outflows From The SPDR Gold ETF Cause For Concern?, that's all GLD flows really represent - U.S. investor sentiment toward gold.
In recent years, there has been virtually no correlation between the metal's price and the amount of gold bullion moving into and out of gold ETFs. In fact, it's reasonable to conclude from the chart above that recent GLD outflows were the result of the metal being held by relatively weak hands who only sold after the price dropped. It wasn't until the gold price fell from about $1,700 an ounce to nearly $1,600 an ounce last month that large amounts of the metal began exiting the trust.
Steady outflows continued in recent weeks as the gold price bottomed and then rose more than $50 from the February lows. This culminated with a big outflow on Monday as the gold price jumped about $10 an ounce. Gold rose sharply again on Tuesday when U.S. investors apparently had a change of heart. All told, just over 100 tonnes of gold (worth over $5 billion) have left the trust over the last month at an average price that around $30 lower than the current price.
In years past, there was a relatively high correlation between the gold price and GLD holdings as shown below and many analysts characterized ETF holdings as "driving" prices higher.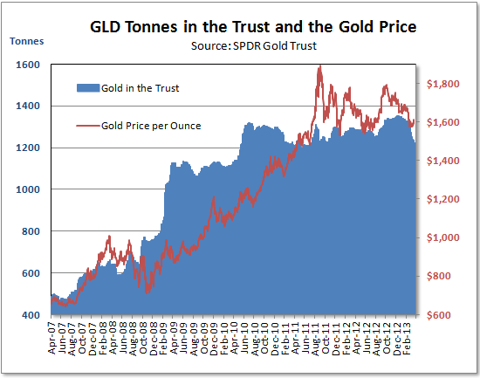 But, since early 2010, GLD holdings have moved up and down in a relatively narrow range as the gold price surged to a record high in late-2011 and then began a long correction. Even after the recent outflows, GLD holdings are not far from the level seen three years ago when the gold price was less than $1,200 an ounce. Current holdings are also not far from that seen when buyers were paying around $1,900 an ounce 18 months later.
In short, gold ETF holdings have become irrelevant when it comes to the gold price and it makes you wonder why the mainstream financial media has made such a big deal about these "record outflows" over the last month. More importantly, the recent changes in gold ETF holdings and movements in the gold price call into question the many lowered gold price forecasts by investment banks.
Recall that this was one of the key reasons cited by many analysts for slashing their price estimates for 2013 and beyond - lack of demand in ETF form that would undercut the gold price. But, that's not what's happening at all and some U.S. investors are starting to realize that. It should be interesting to see how these gold price forecasts by investment bank are revised next if the recent gold rally continues.
Disclosure: I am long GLD. I wrote this article myself, and it expresses my own opinions. I am not receiving compensation for it (other than from Seeking Alpha). I have no business relationship with any company whose stock is mentioned in this article.
Additional disclosure: I also own gold coins.